ASUS X99-Deluxe LGA2011-v3 Motherboard & Intel X99 Chipset Review
By
Bioshock Infinite
BioShock Infinite is a first-person shooter video game developed by Irrational Games, and published by 2K Games. BioShock Infinite is the third installment in the BioShock series, and though it is not part of the storyline of previous BioShock games, it does feature similar gameplay concepts and themes. BioShock Infinite uses a Modified Unreal Engine 3 game engine and was released worldwide on March 26, 2013.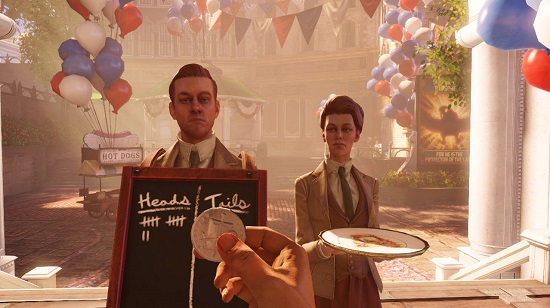 We tested BioShock Infinite with the Ultra game settings.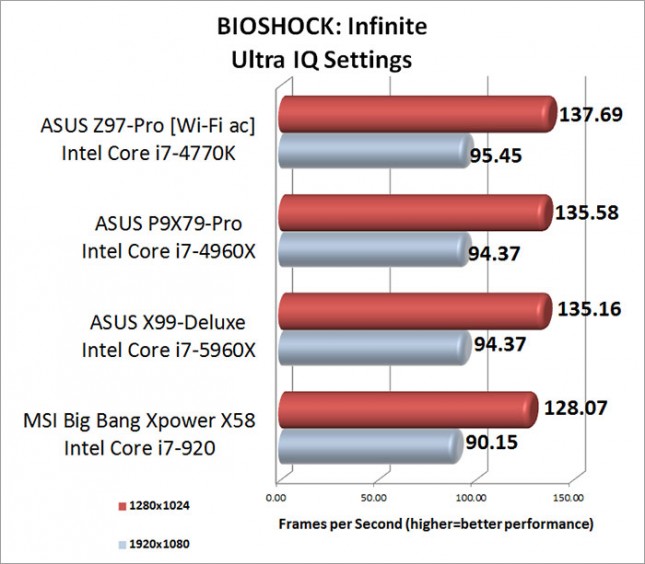 Benchmark Results: The ASUS X99-Deluxe averaged 94.37 frames per second at 1920×1080 which was a dead head with the I7-4960X system. The Intel Core i7-4770K was a touch faster with an average of 95.45 frames per second. While the Intel Core i7-5960X has double the CPU cores, the i7-4770K has the advantage of a higher frequency hitting as much as 3.9GHz across the cores while the Intel Core i7-5960X tops out at 3.5GHz.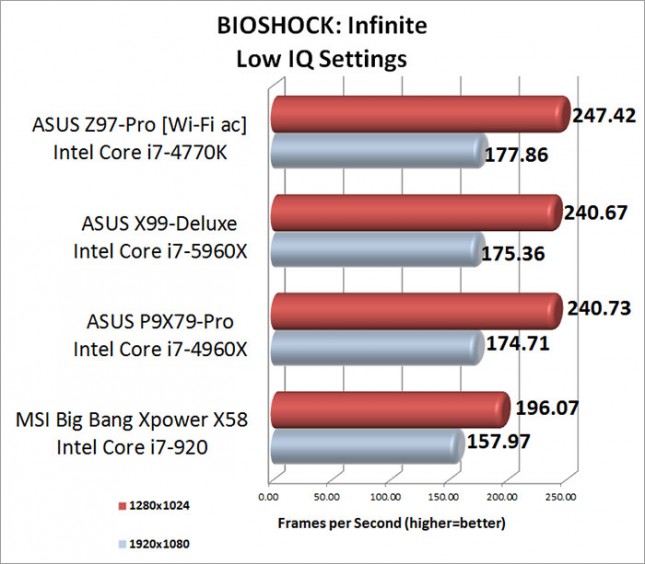 Benchmark Results: Much like the results from testing BIOSHOCK: Infinite at the ultra image quality, the Intel Core i7-4770K to a slight lead over the ASUS X99-Deluxe and Intel Core i7-5960X. At 1920×1080 the ASUS X99-Deluxe system had an average of 175.36 frames per second, the Intel Core i7-4770 averaged 177.86 frames per second. The biggest difference came from the Intel Core i7-920 which was nearly 20 frames per second behind with an average of 157.97 frames per second at 1920×1080.