ASUS X99-Deluxe LGA2011-v3 Motherboard & Intel X99 Chipset Review
By
ASUS X99-Deluxe Intel X99 Motherboard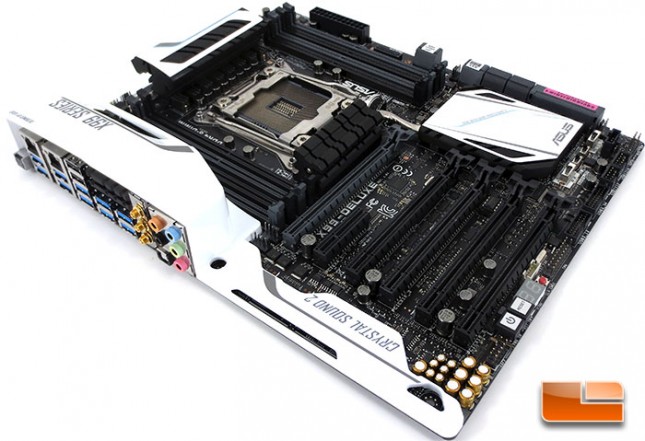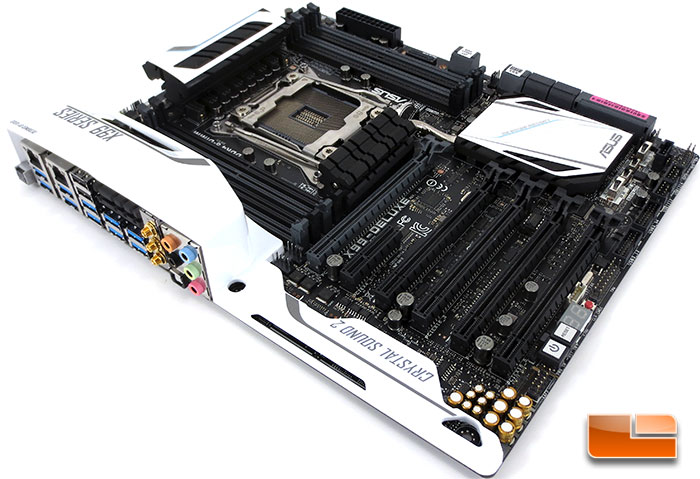 It's finally here, the day we've been waiting for! Intel has now officially launched the latest LGA2011 platform on the new Intel X99 chipset! That's not all though, they are also launching the Intel Core i7-5960X, Intel Core i7-5930K, and the Intel Core i7-5820K! While all that is exciting, right now I have the pleasure of showcasing the first of the Intel X99 motherboards to come across my bench, the ASUS X99-Deluxe! The ASUS X99-Deluxe is currently the lowest cost Intel X99 motherboard from ASUS at only $399! ASUS is also launching their Republic of Gamers Rampage 5 Extreme which will hit the shelves at $499 and the X99-E WS motherboard will cost $519.
One of the key features on the ASUS X99-Deluxe is the Dual Intelligent Processors 5 that ASUS is implementing with this series of motherboards. The DIP5 is a 5-way optimization that is capable of tweaking the entire system. The DIP5 consists of the TPU, EPU, DIGI+ Power Control, Fan Xpert 3, and the Turbo App. Each of the various pieces of the puzzle will work together optimizing their particular piece of the system.
Within the advanced menu for the 5-way optimization are a handful of new options. From within the advanced menu you now have the ability to overclock the processor from it's default ratio and even tweak the CPU Vcore. When you're done adjusting those new options you can load up a AVX stress testing routine to see if the system is stable.The Fan Xpert 3 can set the fans to quiet, performance, all depending on what you want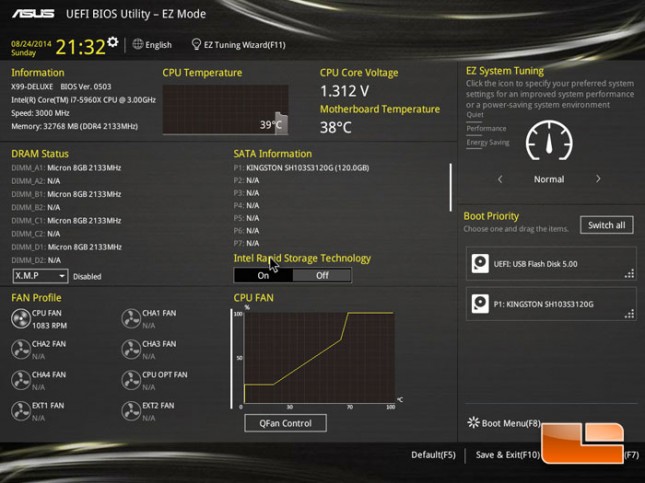 Earlier in the year ASUS unveiled a shiny new look to their UEFI BIOS, and that new look and features has made its way into the new Intel X99 motherboards. The ASUS UEFI BIOS has been my favorite since the initial UEFI launch with the Intel P67 platform way back when, and ASUS has only improved on it!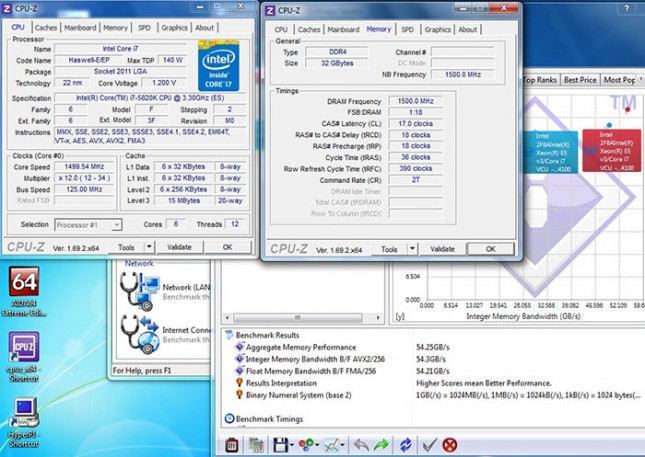 The Intel X99 platform is the first to run the latest DDR4 memory modules, and while it's not clear what frequency kits will be hitting the market right off the bat, overclocking looks promising. Above ASUS is showing off a kit of Corsair DDR4-2133 CMV4GX4M1A2133C15 running at an impressive 3000MHz! That's a memory kit running at 867MHz faster than the JEDEC setting!
The block diagram for the Intel X99 chipset shows off how the system works. Coming directly off of the processor we have the four memory channels (hence quad-channel). Each of the channels is rated for up to 2133MHz, but each of the boards will be supporting various speeds through memory dividers and XMP profiles. The ASUS X99-Deluxe states that it will support up to 3000MHz (O.C.). The Intel Core i7 processor is rated for up to 40 PCIe lanes, all of which are PCIe Gen 3. Though there are also eight PCIe lanes from the X99 chipset that are PCIe Gen 2.0. The Intel X99 chipset supports a total of 14 high speed USB ports. Of the 14 available USB ports, six of them are SuperSpeed USB 3.0 and eight of them are USB 2.0. We can also see above that the Intel chipset has direct lines for both the Intel Integrated gigabit ethernet, as well as the audio codec.
ASUS X99-Deluxe Intel X99 Motherboard Specifications
CPU

New Intel Core i7 Processors on LGA 2011-v3 Socket

DRAM

8 x DIMM, max. 64GB, DDR4 3000(O.C.)/2800(O.C.)*/2666(O.C.)* /2400(O.C.)*/2133 MHz, non-ECC, un-buffered memory
XMP 1.3 Supported

Optimize
System

DIP 5 (5-Way Optimization – DIGI+ Power Control)
DIP 5 (5-Way Optimization – TPU)
Turbo APP
Turbo LAN
USB 3.0 Boost
Direct Key connector
HW Fast Boot Support

Network

Intel I218-V
Intel I211-AT
Bluetooth v4.0
3T3R Dual BandWi-Fi 802.11 a/b/g/n/ac with Wi-Fi GO! & Wi-Fi Engine

Expansion
Slots
BIOS

USB BIOS Flashback with USB BIOS FlashbackWizard
EZFlash2
AI Suite III (EZ Update)
Crash Free BIOS 3
New UEFI EZ mode featuring friendly graphics user interface and Wizards
All fan available to tune with DC and PWM mode
Wizard for Simple OC and RAID
New user friendly interface for My Favorites & Shortcuts
Boot Logo Size Adjustment
SATA Port Renaming
F12 BIOS Print

Power
Solution

Digital 8 Phase Power Design with Asus CPU Power Utility & FIVR Control
2+2 Phase Digital Power Design with Asus DRAM Power Utility
9 Steps Load-Line Calibration
Real-time adjustment
Anti-Surge Protection
ESD Protection
DRAM Protection
DIP 5 (5-Way Optimization) with EPU switch

Mass
Storage

12 (4 grey via native PCH controller1, 4 black via native PCH controller2, 2 via SATA Express PCH native, 2 via SATA Express ASM106SE )
1x PCIE GEN3 X4M Key socket 3, supports type from 2242 to 2280
RAID 0, 1, 5, 10 via IRST 13
2TB+ RAID
14 USB 3.0 (4 front via PCH native, 10 rear via ASM1042AE and ASM1074 USB 3.0 Hub)
6 USB 2.0 (4 mid; 2 rear via native PCH)

Bundled
Software

Ai Suite 3
Wi-Fi GO! (Wi-Fi Engine)
Media Streamer
Home Cloud Server
Turbo APP
Turbo LAN
Crystal Sound 2

Bundled
Hardware

Wireless Charger
NFC Express Station

Crystal
Sound 2
Audio

ALC1150
Left /Right Channel Track Separation
New Audio Preset
Shielding design
EMI Protection Covering
Audio AMP
Nichicon Audio Capacitors

Debug
Tools

MemOK!
ASUS DRAM SPD Information
Q-LED
5 Way Optimization (TPU)
2 Step TPU Switch
BIOS based OC Tuner
Ai Tweaker
GPU Tweak
O.C Profile
C.P.R.
Power / Reset / CLRTC / MemOK! / USB BIOS Flashback / DirectKey Onboard Buttons
TPU / EPU / SLI,GFX / EZ XMP / 5-pin Thunderbolt Header / 5-pin EXT_FAN connector Onboard Switch / Header

Thermal
Design

Aesthetic Streamline IO cover and Heat pipe
6 x Fan connectors: 2 x CPU / 4 x Chassis; 3x extension fan connectors via Fan Extension Card
PWM/DC Auto Switching Mode support for CPU Fan
Q-Fan
FAN Xpert 3

Other
Features

MyLogo2
ASUS HyperM.2 X 4
Ai Charger+
USB Charger+
ASUS Q-Connector
ASUS Q-Slot
Asus Q-Shield
ASUS Q-DIMM
Now that you have the specifications above memorized, let's move to the next page where we can take a look at the retail packaging and bundle that accompanies the ASUS X99-Deluxe!