ASUS X99-Deluxe LGA2011-v3 Motherboard & Intel X99 Chipset Review
By
System Power Consumption & Wireless AC Network Performance
The ASUS X99-Deluxe was the second lowest power draw of all of our systems. At idle the X99-Deluxe was pulling only 75 Watts. The only system lower is the ASUS Z97-Pro that was pulling 65 Watts, but lets keep in mind that the Intel Core i7-4770K has half of the cores and half of the memory modules that the ASUS X99-Deluxe does. Firing up the AIDA64 stability test, the ASUS X99-Deluxe topped out at 204 Watts, 20 Watts lower than the Intel Core i7-4960 which was at 224 Watts with 25% fewer cores. Running the latest iteration of 3DMark, the ASUS X99-Deluxe was pulling a maximum of 255 Watts at the wall, the ASUS X97-Pro was pulling 235 Watts, while the MSI Big Bang XPower X58 system was pulling the most with 313 Watts!
We wanted to test the Wi-Fi GO! wireless adapter in a real world application so we connected the antenna's. installed it inside running Windows 8.1 64-bit and configured it using Automatic settings for both 2.4Ghz and 5Ghz bands. To test the wireless performance we used our custom water cooled Mini-ITX PC that was directly connected to the ASUS RT-AC66U Dual-Band Wireless-AC1750 Gigabit 802.11ac Router.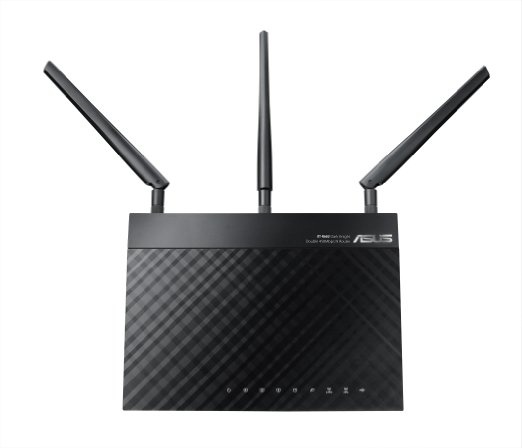 We used the desktop to run LAN Speed Server and then ran LAN Speed Test on the system with the wireless card to test throughput.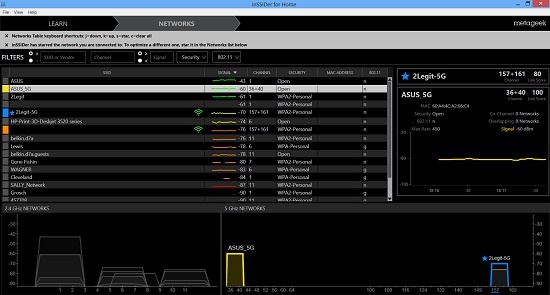 We left the router in default mode, so the SSID name for untouched and we let it automatically choose the channel to connect to. This means that the router was left in Unsecure Mode (for fastest data throughput), and with WMM / QoS turned ON. After connecting, we ran the PC application LAN Speed Test (LST) to measure file transfer and network speeds. LST builds a file in memory and then transfers the packet without the effects of windows file caching. It then reports the time and calculates the network speed. We ran inSSIDer to make sure the networks were not overlapping with any of the 20+ surrounding ones and they were not.
Wi-Fi 1MB Packets: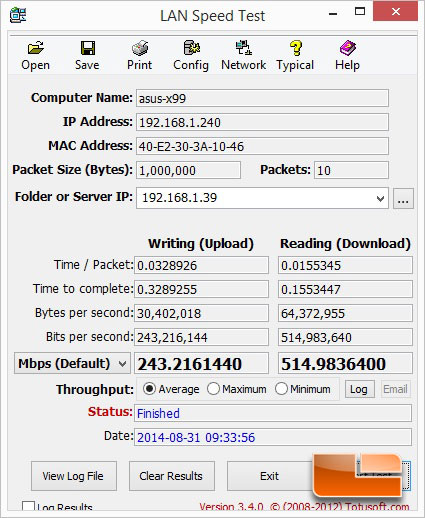 The write speed of the ASUS X99-Deluxe Wi-Fi Go! was a very solid performance at 243.216MB/s, the read was even better with a download speed of 514.98MB/s!
Wi-Fi 100MB Packets: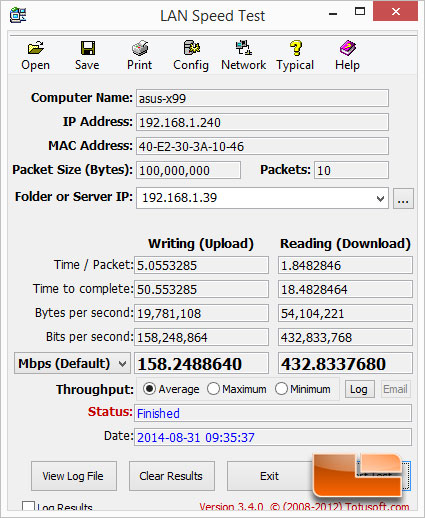 Bumping up the packet size to 100MB, we did lose a bit of performance, the write speed dropped to 158.25BM/s from 243MB/s with the 1MB packets. The read speed dropped as well, down to 432.834MB/s while the 1MB packets were hitting a download speed of 514MB/s.