What Is The Best Sub-$100 Intel Z77 Motherboard? Find Out In Our Roundup!
By
ASRock Z77 Pro3 Overclocking
Overclocking greatly varies due to what hardware is being used and who is doing the overclocking. Always remember that no two pieces of hardware will perform the same, so our results will differ from what you might be able to get.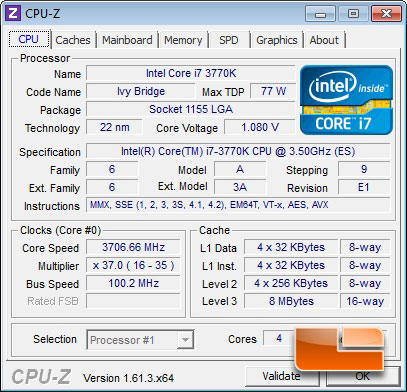 The Intel Core i7 3770K utilizes a Bclk of 100MHz, under full load the Intel Core i7 3770K uses a multiplier of x35 to achieve the final clock speed of 3.5GHz. Since we are using a K series processor which has an unlocked multiplier we will be able to increase the default x35 multiplier to achieve our overclock today. The Intel Core i7 3770K has a turbo multiplier of x39 which will cause the system to run at 3900MHz (100MHz x 39) with a lightly threaded application.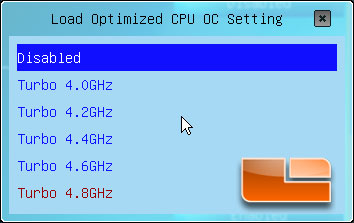 The ASRock Z77 Pro3 UEFI BIOS allows us to load various presets for our Intel Core i7 processor. We can start out up a measly 4.0GHz overclock, or choose more aggressive overclocks. We can increase our overclock by 200MHz up to the maximum overclock of 4.8GHz.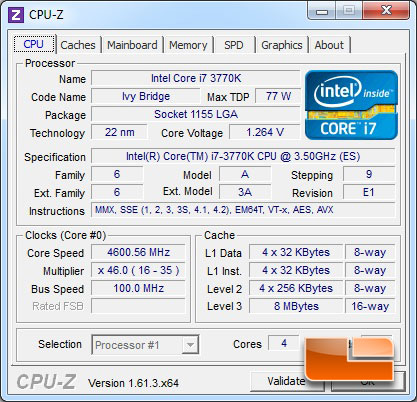 By taking advantage of the Optimized CPU OC Settings we were able to hit a rock solid overclock of 4.6GHz. We attempted the 4.8GHz setting, unfortunately that was a little to aggressive for our particular Intel Core i7 3770k. The maximum that we have been able to hit on our previous Intel Z77 motherboards without sub ambient cooling has been 4.7GHz.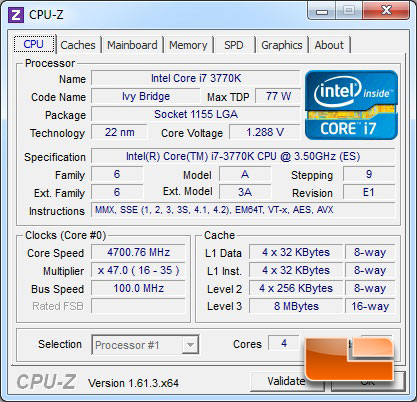 Once we were done with the optimized CPU OC settings, we reset the BIOS and proceeded to see how far we could push our Intel Core i7 3770k. We weren't disappointed with the performance of the ASRock Z77 Pro3. Our maximum stable overclock with ambient cooling has been 4.7GHz, and we were able to hit that without and issue today!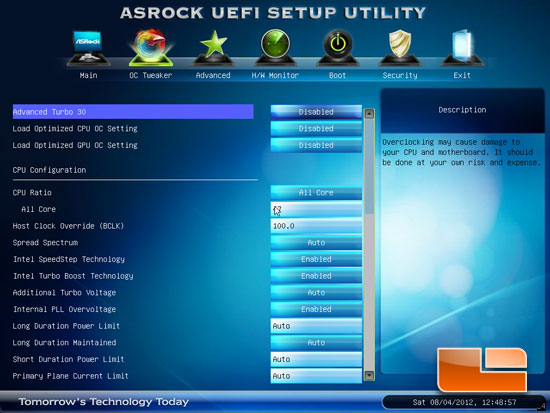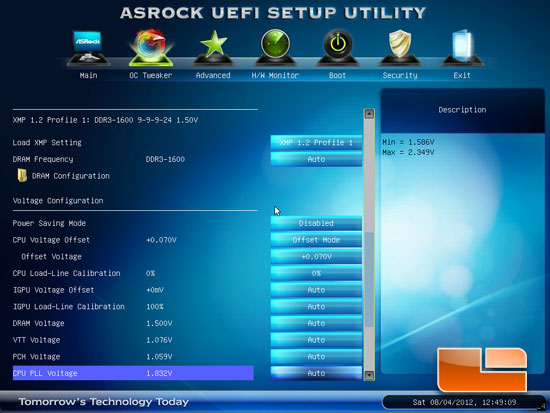 Above we can see the settings that we had to change to bring our 3770K to 4.7GHz. We only needed to tweak three different settings. The CPU multiplier was increased to x47, the CPU voltage was increased by .07 in offset mode, and the CPU Load-Line Calibration was set to 0%. All of the other settings were left on auto during our overclocking session.