WD_BLACK SN850 2TB PCIe Gen4 NVMe SSD Review
By
Game Load Time Testing

Game Load Time Testing
To test game load times we used the benchmark for the game title Final Fantasy XIV: Shadowbringers that was released in July 2019. We bumped up the resolution from 1080P to 1440P, but other than that we left all the settings at their stock values. Pretty much every SSD on the market today claims to be aimed at gamers, so this test shows you how the drives we tested perform on an actual game title in a series that every gamer has heard of.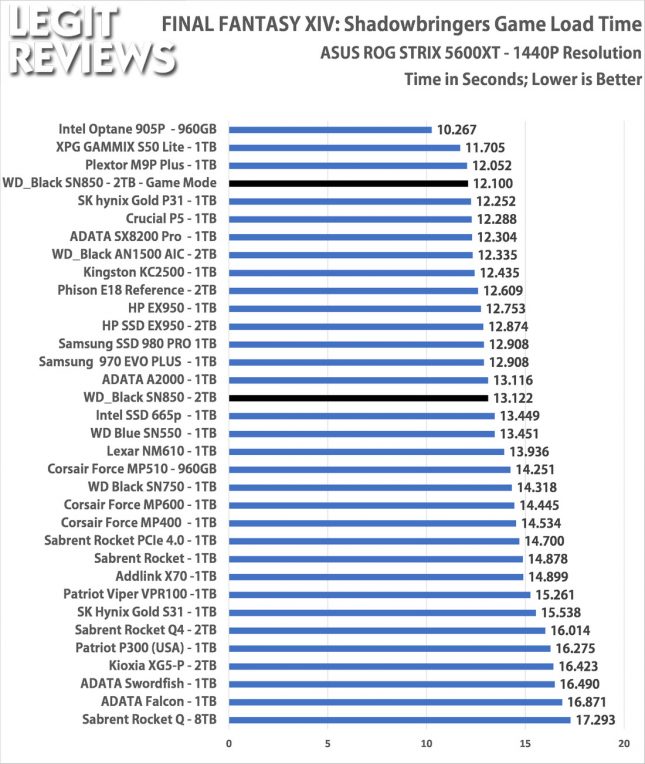 Benchmark Results:When it comes to game load times the WD_Black SN850 calls itself a game drive on the retail packaging, but struggles to deliver performance that is any different than we see on the vast majority of PCIe Gen3 SSDs straight out of the box with a time of 13.1 seconds.
That all changes though when you open the WD_Black Dashboard and enable game mode. Enabling 'Gaming Mode' places the SSD into its most responsive state as it would be during a data transfer and the low-power states are disabled. This means no blocks are off at any time in this mode. Re-running this test in Gaming Mode shaved off a full second in game load times and put the WD_Black SN850 in the top of the chart!
WD says that gaming mode can be left on permanently for a dedicated gaming PC that is always connected to AC power. It is not a feature that you'd want to use on a laptop with DC power as the low-power states are disabled and will shorten battery life.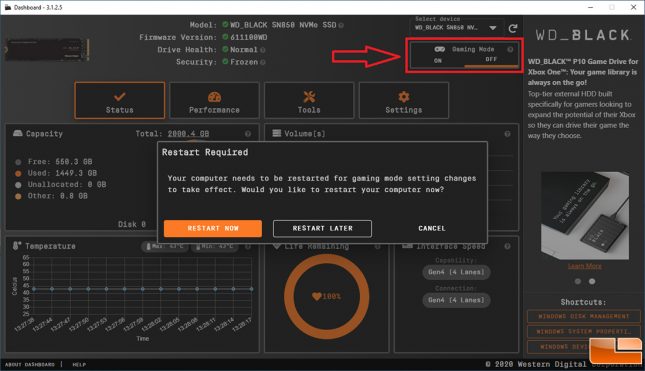 A system restart is required to enable the WD_Black Gaming Mode, but for a dedicated gaming PC it seems to be the best mode to run in!