Toshiba OCZ RD400 M.2 PCIe NVMe SSD Review – 512GB
By
AS SSD Benchmark
AS-SSD (1.8.5636.37293) Benchmark:
We have been running the AS-SSD Benchmark app for over some time now and found that it gives a broad result set. The programmer has worked very hard on this software and continues to make updates often so if you use it, show him some love and send him a donation. There are now three tests that are found within the tool and we'll show the results from all three of them.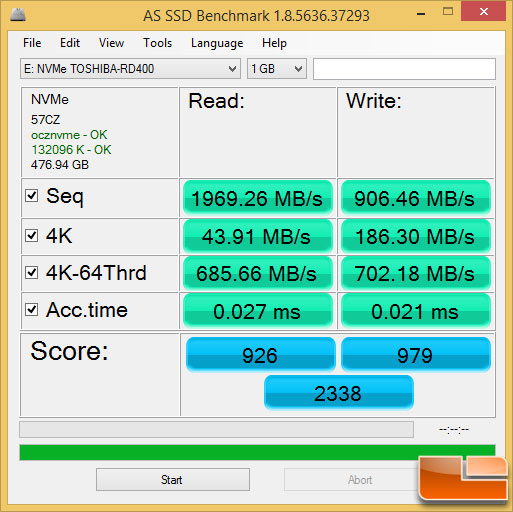 Benchmark Results: AS SSD showed the Toshiba OCZ RD400 512GB drive had an overall score of 2338 points, which is excellent.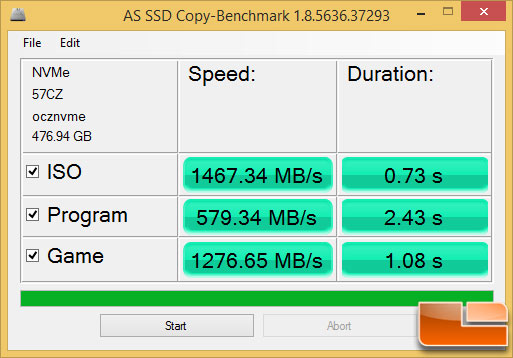 Benchmark Results: The copy benchmark test results showed pretty strong results that we'd expect from pretty much and new PCIe Gen3 x4 SSD being released here in 2016. The ISO score of 1467MB/s is one of the strongest that we've ever seen from a single SSD.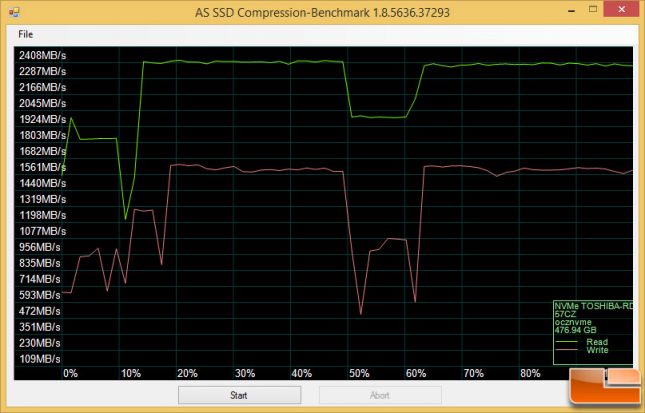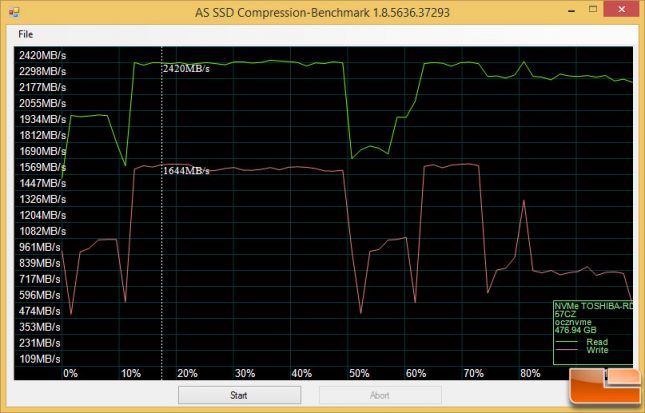 Benchmark Results: For this benchmark chart you would ideally want to see a straight line as you don't want any compression performance loss as the test goes from 0% compressible to 100% compressible data during the benchmark test period. The Toshiba OCZ RD400 had a number of dips that we couldn't explain and we have shown our results to OCZ in the hopes that they can help interpret what exactly is causing this.
Toshiba OCZ Response: "Due to the high bandwidth offered by PCIe and the increased parallelism that NVMe brings, the RD400 exhibits a performance curve that scales up with higher block sizes and queue depths. Although there is no compression engine in the RD400, as evidenced by how 10% compressibility performs equivalent to 100% compressibility, the best explanation is that parts of this particular benchmark happen at different block sizes and/or queue depths and hit different parts of the performance curve."