Toshiba OCZ RD400 M.2 PCIe NVMe SSD Review – 512GB
By
OCZ SSD Utility – NVMe Driver – Advanced Warranty Program
All of the OCZ RD400 series drives are able to use OCZ's management software tool called the OCZ SSD Utility. You might remember this application being called SSD Guru, but it has been renamed.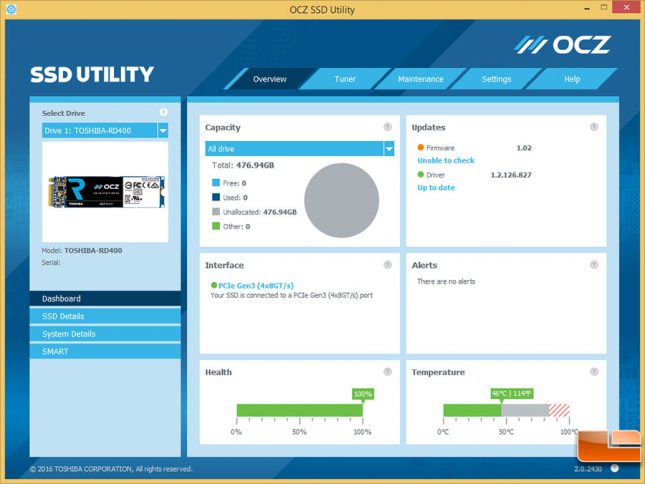 OCZ's SSD Utility is a nice utility that is free to download and it allows you to secure erase your drive, check its health, update the firmware and more.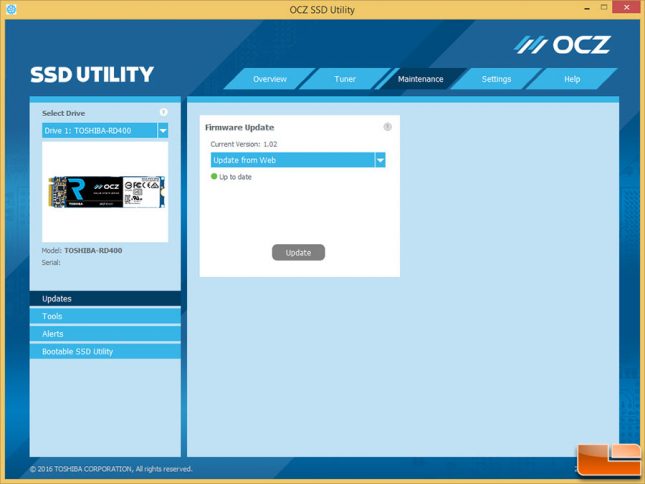 You can secure erase the RD400 with this app and even make a bootable version of the SSD utility to run Secure Erase if you are using the drive as your primary partition. The OCZ RD400/400A does not come with an Acronis True Image cloning software, but that software is pretty low cost if you need to do data backups or drive cloning.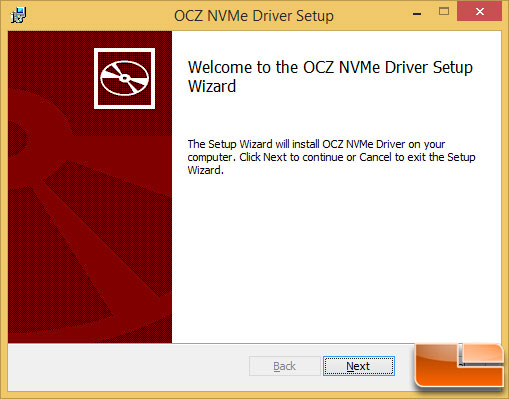 To get the most performance possible from a Toshiba OCZ RD400 SSD you'll need to install the OCZ NVMe driver that they came up with as it delivers a higher level of performance than the standard Microsoft inbox driver. We used OCZ NVMe Driver 1.2.126.827 for our testing.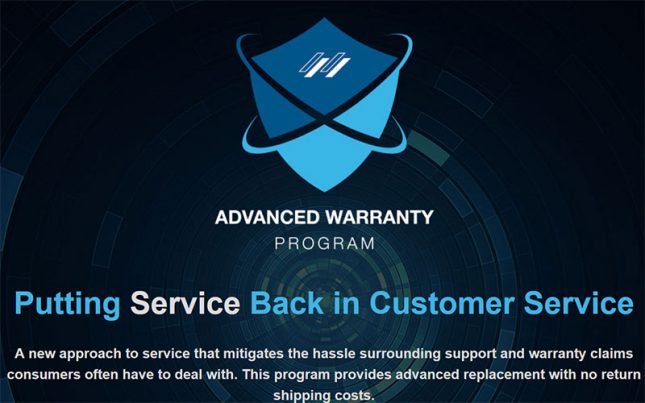 The OCZ RD400/RD400A series is also backed by a 5-year OCZ Advanced Warranty Program (AWP). The OCZ AWP is actually a really nice warranty program that has no shipping costs that the customer are stuck with and if the SSD is defective they'll get a brand new one. The warranty service also allows for advance product replacement and you don't have to have the receipt to warranty the drive as they can look up the manufacturing date from the serial number and go by that. We suggest keeping your receipt handy though as it might help in some situations. The OCZ AWP is one of the very few no cost to you replacement programs out there.
Let's take a look at how the drive benchmarks!