Toshiba OCZ RD400 M.2 PCIe NVMe SSD Review – 512GB
By
OCZ RD400 M.2 SSDs Boast 2,600MB/s Read Speeds
The Toshiba XG3 family of client NVMe M.2 PCIe SSDs were quietly launched back in August 2015. The Toshiba XG3 1TB drive just happened to be the highest capacity M.2 2280 drive available on the market and was optimized for high performance PCs. The drive has been found to be pretty damn fast and many found it capable of rivaling the Samsung SSD 950 Pro series, but good luck finding one to buy as it is OEM market though as notebook makers like MSI have been using it. Today, Toshiba OCZ released the RD400 series that will be be widely available on the consumer market and has specifications that will rival the Samsung SSD 950 PRO!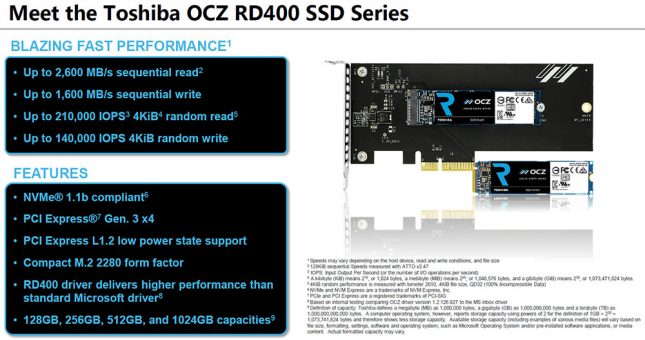 The Toshiba OCZ RD400 NVM Express M.2 solid state drive series, designed to be used in designed for mobile, desktop, or workstations and comes in 128GB, 256GB, 512GB and 1024GB capacities. This is also the first 1024GB (1TB) NVMe solution to ship to the consumer market!
Toshiba OCZ RD400 SSD Series Pricing on May 24th, 2016
| | | | | |
| --- | --- | --- | --- | --- |
| OCZ RD400 SSD Series | Model Number | Read/Write MBps | MSRP | $/GB |
| RD400 128G | RVD400-M2280-128G | 2200 / 620 | $109.99 | $0.86 per GB |
| RD400 128G with AIC | RVD400-M2280-128G-A | 2200 / 620 | $129.99 | $1.02 per GB |
| RD400 256G | RVD400-M2280-256G | 2600 / 1150 | $169.99 | $0.66 per GB |
| RD400 256G with AIC | RVD400-M2280-256G-A | 2600 / 1150 | $189.99 | $0.74 per GB |
| RD400 512G | RVD400-M2280-512G | 2600 / 1600 | $309.99 | $0.61 per GB |
| RD400 512G with AIC | RVD400-M2280-512G-A | 2600 / 1600 | $329.99 | $0.64 per GB |
| RD400 1TB | RVD400-M2280-1T | 2600 / 1550 | $739.99 | $0.72 per GB |
| RD400 1TB with AIC | RVD400-M2280-1T-A | 2600 / 1550 | $759.99 | $0.74 per GB |
Street pricing on the OCZ RD400 series starts as low as $0.61 per GB on the 512GB drive and then goes up from there on the 128GB, 256GB and 1TB capacity models. The sweet spot is most certainly the 512GB capacity with regards to pricing and we are shocked that OCZ even bothered to release a 128GB drive in this day and age as pricing is high and most enthusiasts are no longer purchasing 128GB capacity drives due to their lower performance. The 1TB flavor comes at a slight price premium over the 256GB and 512GB drives, but that makes sense as it is the first 1TB drive in this form factor to come out.
These price points put the OCZ RD400 below the Samsung SSD 950 PRO series drives! The M.2 to PCIe adapter comes at a $20 premium, a fair price to pay as we prefer to run an M.2 card in an adapter card as they seem to get more airflow that way versus being install flat onto a motherboard.

The performance specifications on this drive are no joke with up to 2,600 MB/s sequential read and up to 1,600 MB/s sequential write performance. The performance of course varies due to the capacity of the drive you are looking at, so be sure to reference the chart below for the specifics. The OCZ RD400 512GB drive is the model that we'll be looking at today and it has an Total Bytes Written (TBW) rating of 296TB or 162 GB per day. Toshiba sets daily usage guideline by dividing the TBW rating by 365 days x 5 years for those that are curious what that number is for the other drives.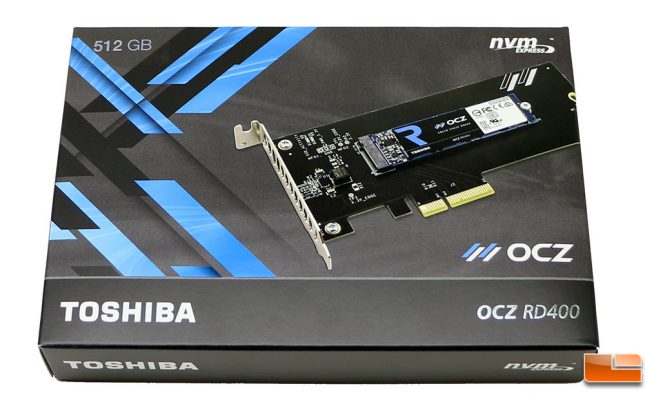 The Toshiba OCZ RD400 retail packaging looks great and has some of the key features listed on the back. We were sent the model with the add-in card, which is sold under part number RVD400-M2280-512G-A.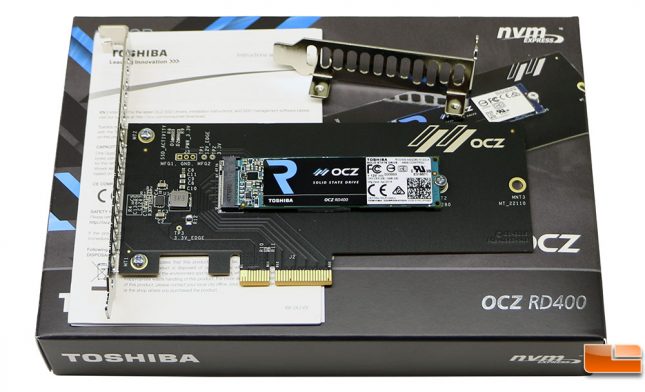 Inside the retail packaging you'll find a half-height bracket, the M.2 to PCIe adapter with the RD400 SSD already attached and an instruction manual.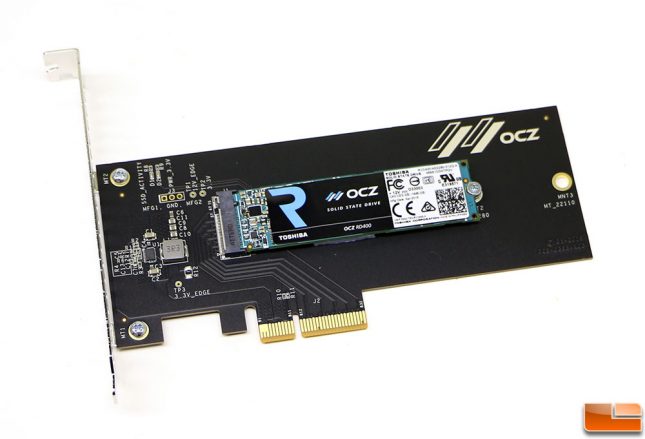 It would have been nice if all the PCBs were the same color, but the blue PCB on the SSD doesn't look too bad when installed into black adapter card.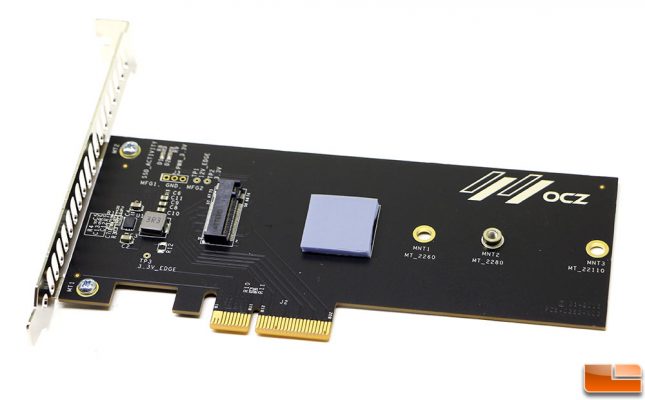 The adapter features a thermal pad that helps dissipate heat from the back of the card. We aren't sure how well this works since none of the components are on the back of the card, but it likely doesn't hurt cooling performance.

The front of the drive has all the goodies covered up thanks to a large branding sticker.

With the label removed you can finally see the Toshiba NVMe drive controller, Samsung LPDDR3 DRAM cache and two 15nm MLC NAND Flash packages.
When it comes to power states there are six power states on a Toshiba RD400 series drive. For operational theres the standard state (PS0) that the drive should function in most of the time its active and 2 levels of thermal throttling (PS1, PS2) to keep the drive running under extreme heat, which happens to be when it gets over 80C. The peak power Active Power Consumption on this particular drive would be 6.0W. Then there are 3 non-operational states that the drive will automatically enter based on inactivity. PS3 consumes about 160mW, PS4 runs at 12mW, and the lowest level PS5 (L1.2 link state) consumes 6mW, which is on par with SATA DevSlp levels. These power numbers are based off a 512GB drive, the 1024GB (1TB) drive had a peak power of 6.4W.

Flipping the drive over you'll find the manufacturers label that has the full part number, capacity, original firmware version, serial number and all that good stuff on it.