Sapphire NITRO+ Radeon RX 580 Limited Edition Video Card Review
By
AMD Radeon RX 580 Arrives – RX 480 Enhanced
The AMD Radeon RX 500 series was released this week and the new Polaris based graphics card series consists of the Radeon RX 580, RX 570, RX 560 and RX 550. These cards are mostly all based on the Polaris architecture found on the RX 400 series as they use the same cores. AMD tinkered under the hood of the Polaris GPU a bit and took advantage of improvements in the manufacturing process to get higher clock speeds than they could get last year when the RX 400 series was launched.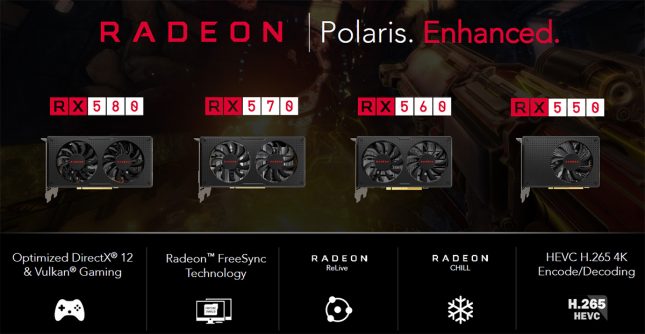 When the AMD Radeon RX 480 was released last summer the boost clock was 1,266 MHz and now on the Radeon RX 580 that has been increased up to 1,342 MHz. Not a huge increase, but it is still a 6% increase in the boost clock and that when you combine that with the 1,000MHz increase in the GDDR5 memory clock speeds you end up with a new series of cards that are slightly faster than the original models. AMD says that the Radeon RX 580/570 cards will be about 10% faster than the Radeon RX 480/470 cards, so if you own a Radeon RX 400 series card you'll likely not be getting the upgrade itch just yet (that will be Vega).
AMD Radeon RX 500 Versus Radeon RX 400

Model

Radeon RX 580

Radeon RX 570

Radeon RX 480

Radeon RX 470

Launch Date

April 2017

April 2017

June 2016

August 2016

Codename

Polaris 20 XTX

Polaris 20 XT

Polaris 10 XT

Polaris 10 Pro

Architecture

GCN 4th

GCN 4th

GCN 4th

GCN 4th

Process (nm)

14

14

14

14

Transistors (mn)

5,700

5,700

5,700

5,700

Approx Die Size (mm)

232

232

232

232

Full Implementation of Die

Yes

No

Yes

No

Processors

2,304

2,048

2,304

2,048

Texture Units

144

128

144

128

ROP Units

32

32

32

32

Peak GPU Clock (MHz)

1,340

1,244

1,266

1,206

Peak GFLOPS (SP)

6,175

5,095

5,834

4,940

Memory Type

GDDR5

GDDR5

GDDR5

GDDR5

Memory Size (MB)

4,096 / 8,192

4,096

4,096 / 8,192

4,096

Memory Bus (Bits)

256

256

256

256

Memory Clock (MHz)

8,000

7,000

7,000 / 8,000

6,600

Memory Bandwidth (GB/s)

256

224

224 / 256

211

Power Connectors

6

6

6

6

TDP (Watts)

185

150

150

120

GFLOPS per Watt

33.37

33.97

38.89

41.17

Launch MSRP

$199+

$179+

$199+

$179+
AMD didn't send over any reference models this time around, so we were given the Sapphire NITRO+ Radeon RX 580 Limited Edition graphics card. This is a factory overclocked model and just happens to be the fastest Radeon RX 580 that you can buy today from Sapphire.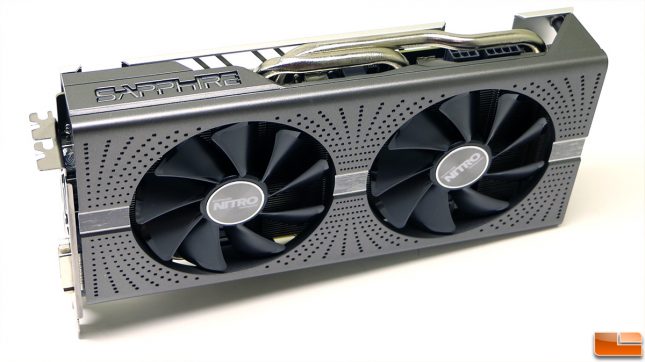 The NITRO+ Radeon RX 580 LE measures in at 10.25-inches in length and features a gun metal gray plastic fan shroud that looks pretty good. Sapphire went with two removable 95mm ball bearing fans on this model and thanks to Sapphire Intelligent Fan Control III they only start spinning when the GPU temperature reaches 52C. The GPU cooler has two 8mm and two 6mm heatpipes that help transfer heat away from the GPU to two large cooling fin arrays.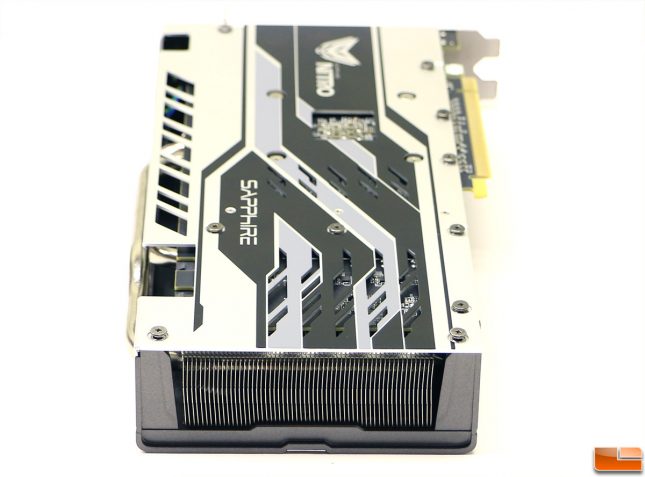 The heatsink on this card is super thick and takes up most of the room available under the fan shroud on this dual-slot card.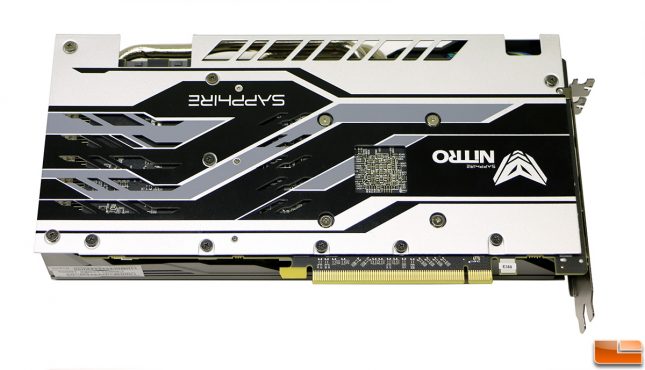 Sapphire included a full coverage aluminum backplate that has a nifty design on it to help keep the back of the card protected, help add rigidity to keep the PCB from bending and helps increase heat dissipation. .
Along the top edge of the card you'll find the BIOS DIP switch on the far left and then on the far right you'll see an 8-pin and a 6-pin PCIe power connector configuration to ensure the Polaris GPU gets all the power that it ever should need. Sapphire lists this card as having a 225W TDP and recommends a 500 Watt or greater power supply for proper operation.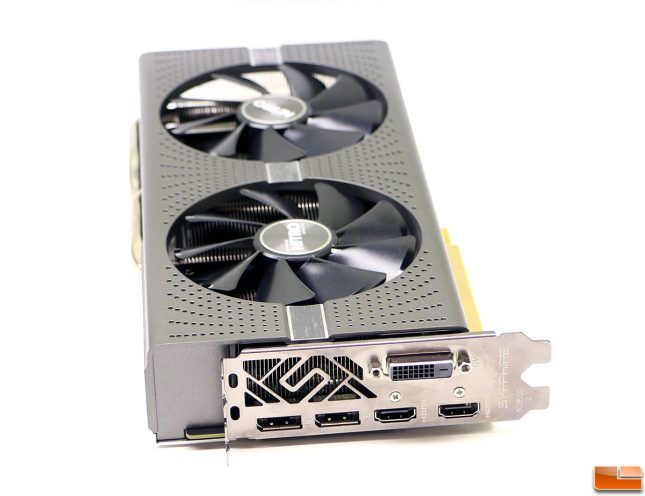 When you comes to video outputs for display connectivity you have two DisplayPort, two HDMI and one Dual-Link DVI connectors.
Let's take a look at the test system and then run the benchmarks!