Samsung 850 EVO Series SSD Review – 120GB and 500GB
By
The EVO Gets Updated
A little over a year ago we got our first look at Samsung's 840 EVO drive, the first drive to prominently feature energy efficient TLC NAND along with really solid performance. It's a drive that was a big hit with consumers because it was priced well and was super power efficient. Plus Samsung's SSD marketing campaign didn't hurt either (remember this gem?). This time around the 850 EVO still features TLC NAND but now it's of the 3D Vertical NAND (V-NAND) variety making it the first to market on the client drive. While other makers haven't even ventured into the TLC NAND market, Samsung is already on their second generation TLC drive. Available capacities are 120GB, 250GB, 500GB and 1TB with MSRP's ranging from $99.99 to $499.99. They sent us over a 120GB and 500GB drive to see what we think.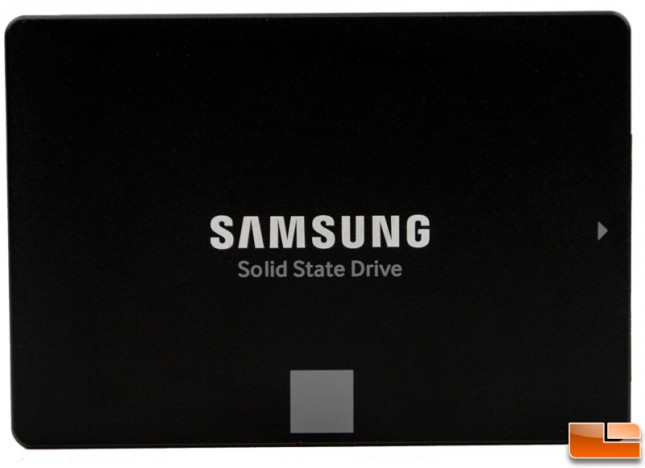 I could wax on for a few pages about the technical aspects of 3D V-NAND and potentially put you to sleep but I'd rather share this video which does a nice job providing a somewhat technical yet entertaining overview that most will be able to understand. It's actually from the release of the 850 PRO model that came out earlier this year.
The 850 EVO also receives a new MGX controller to go along with the new NAND. The outcome of that is performance has been slightly bumped up from the 840 EVO drive, but mainly in the IOPS writes which receives a nice boost.

Both the 840 and 850 EVO drives carry the same 540MB/s reads and 520MB/s writes specifications. The warranty has also been increased from 3-years to 5-years.
Samsung 850 EVO Features and Specifications:
Usage Application:
Client PCs
Capacity:
120GB, 250GB, 500GB, 1TB (1000GB)
MSRP:
120GB: $99.99 – M27LN120
250GB: $149.99
500GB: $269.99 – M27LN500
1TB: $499.99
Dimensions (LxWxH):
100 x 69.85 x 6.8 (mm)
Interface:
SATA 6Gb/s (compatible with SATA 3Gb/s and SATA 1.5Gb/s)
Form Factor:
2.5 inch
Controller:
120/250/500GB: Samsung MGX controller
1TB: Samsung MEX controller
NAND Flash Memory:
Samsung 32 layer 3D V-NAND
DRAM Cache Memory:
256MB (120GB) or 512MB(250GB & 500GB) or 1GB (1TB) LP-DDR2
Performance:
Sequential Read: Max. 540 MB/s
Sequential Write: Max. 520 MB/s
4KB Random Read (QD1): Max. 10,000 IOPS
4KB Random Write(QD1): Max 40,000 IOPS
4KB Random Read (QD32): Max. 98,000 IOPS (500GB/1TB) 97,000 (250GB) 94,000 (120GB)
4KB Random Write(QD32): Max. 98,000 IOPS (500GB/1TB) 88,000 (120GB/250GB)
Data Security:
AES 256-bit Full Disk Encryption (FDE)
TCG/Opal V2.0, Encrypted Drive(lEEE1667)
Weight:
Max. 66g(1TB)
Reliability MTBF:
1.5 million hours
TBW:
120/250GB: 75TBW & 500GB/1TB: 150TBW
Power Consumption:
Idle: Max. 50mW
Active Read/Write (Average): Max 3.7W(1TB)/Max 4.4W(1TB)
Device Sleep: 2mW(120/250/500GB), 4.mW(1TB)
Supporting features:
TRIM (Required OS support), Garbage Collection, S.M.A.R.T
Temperature:
Operating: 0C to 70C
Non-Operating: -40C to 85C
Humidity:
5% to 95%, non-condensing
Vibration:
Non-Operating: 20~2000Hz, 20G
Shock:
Non-Operating: 1500G, duration 0.5m sec, 3 axis
Warranty:
5 years limited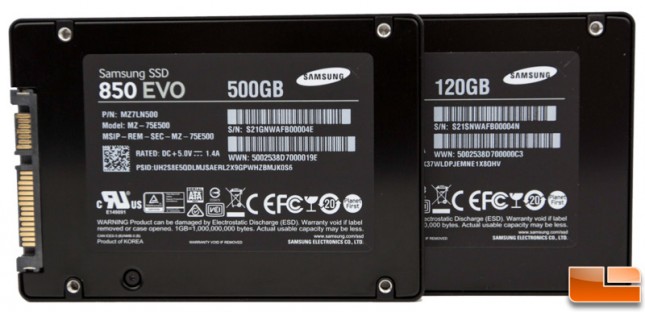 The exterior design looks very much like its predecessor with the colors reversed. Black is the dominant color and the accent square on the front is grey. The 850 Pro is the same though with an orange accent color.