Samsung 850 Pro 1TB SSD Review
By
Samsung 850 Pro – Performance For 10 Years:
Samsung SSDs have been extremely popular which is mostly due to their excellent performance but it doesn't hurt that they've marketed pretty aggressively. Their 840 series, including the EVO and PRO versions, sold very well and were looked upon favorably by many of the review sites including this one. As such, we were excited to get our hands on the new 850 PRO drive (See the press release) to see what Samsung has done to improve upon the 840. There are several items of note but we'll start with the NAND. Samsung has made some advancements in the flash memory used with a new proprietary 32 layer 3D vertical NAND (V-NAND) technology. It allows for up to two times the density and higher performance than traditional 20nm NAND with the added bonus of increased endurance.
The second big change is the warranty. Most drives carry a three or even five year warranty but Samsung has really made a statement with a fantastic 10-year warranty (though our pre-release product box still states 5-year). Most users will probably switch out drives before this warranty expires and no one else offers anything close. While the 850 PRO carries the same MEX ARM-based controller we saw with the 840 EVO they've made some firmware tweaks and added support for super low power draw while in device sleep (DEVSLP) mode – a measly 2mW. Performance tops out at 550MB/s reads and 520MB/s writes with IOPS hitting the 100K mark in reads and 90K in writes. Many of these performance specifications have improved over the 840 PRO.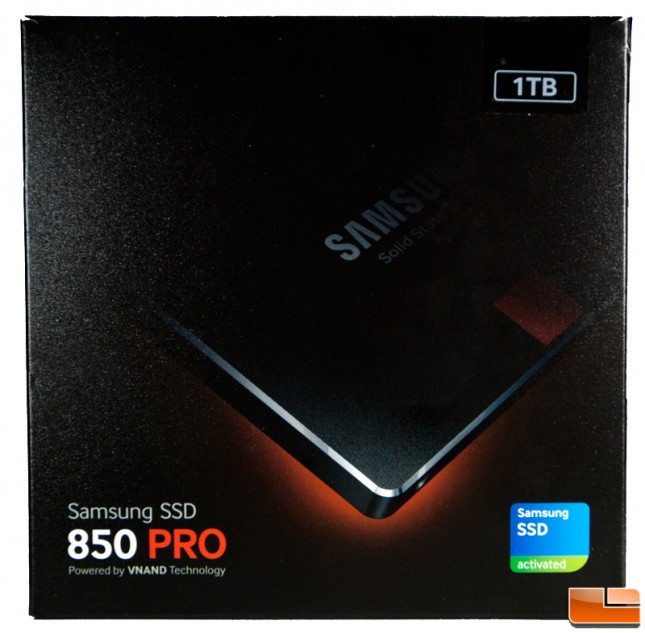 Samsung 850 PRO SSD Series Features and Specifications:
Usage Application: Client PCs
Capacity: 128GB, 256GB, 512GB, 1TB
Dimensions: 100 x 69.85 x 6.8 (mm)
Interface: SATA 6Gb/s (backwards compatible with SATA 3Gb/s & SATA 1.5Gb/s)
Form Factor: 2.5″
Controller: Samsung 3-core MEX Controller
NAND Flash Memory: Samsung 32 layer 3D V-NAND
DRAM Cache Memory: 256MB (128GB), 512MB (256GB & 512GB), 1GB (1TB) LPDDR2
TRIM Support: Yes (with OS Support)
Garbage Collection: Yes
S.M.A.R.T.: Yes
Data Security: AES 256-bit Full Disk Encryption (FDE) & TCG/Opal V2.0, Encrypted Drive (IEEE1667)
Weight: Max 66g (1TB)
Terabytes Written: 150TBW
Power Consumption:

Active Read (avg): Max 3.3W (1TB)
Active Write (avg): Max 3.0W (1TB)
Idle: Max 0.4W
Dev Sleep: 2mW

Temperature:

Operating: 0C to 70C
Non-Operating: -40C to 85C

Humidity: 5% to 95% non-condensing
Warranty: 10 Years limited
SAMSUNG 850 PRO

MZ-7KE128BW
MZ-7KE256BW
MZ-7KE512BW
MZ-7KE1T0BW
MSRP:

$129.99

$229.99

$429.99

$729.99

Performance:
128GB
256GB
512GB
1TB
Sequential (MB/s)
Read:

550

550

550

550

Write:

470

520
520
520
Random IOPS (4KB QD1)
Read:

10,000

10,000

10,000

10,000

Write:

36,000

36,000

36,000

36,000

Random IOPS (4KB QD32)
Read:

100,000

100,000
100,000
100,000
Write:
90,000
90,000
90,000
90,000
*Orange values indicate improved performance over the Samsung 840 PRO
Samsung includes a warranty booklet and installation guide, along with a few small stickers.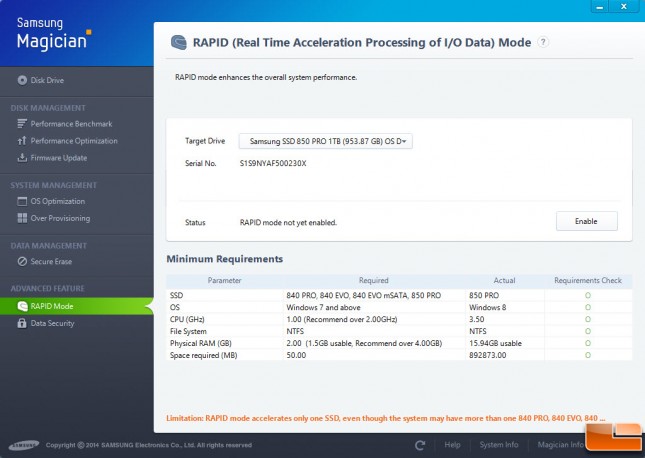 The Samsung Magician software (we are using a beta version 4.4) is also a fantastic companion tool for their drives. You can see all kinds of information about the drive and its health along with performance various functions like benchmarks, secure easing, optimizing the OS and customizing the amount of over provisioning. Performance can also be boosted with the enabling of RAPID mode which leverages unused system RAM to cache data. We saw this with the 840 drives and it works great.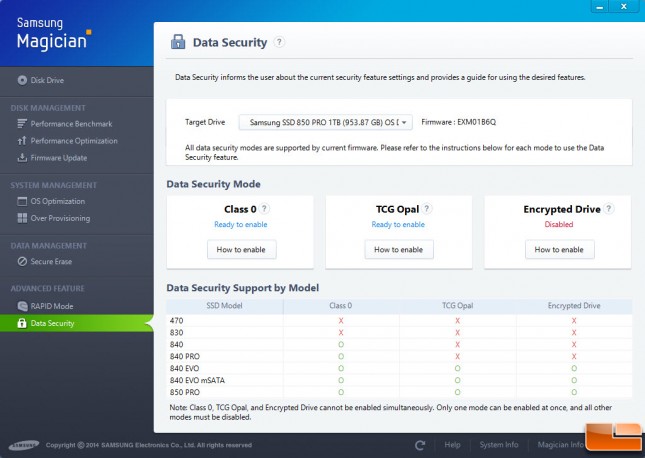 The Magician tool can also be used to enable drive encryption and shows the various levels of encryption supported by Samsung's current drives.