Samsung 840 EVO 500GB SSD Review
By
Samsung Continues To Exert Pressure
Samsung has boldly inserted themselves into the forefront of the consumer SSD market with apparent ease thanks to some innovation and a few outstanding drives. Just a few years ago, no one would have even mentioned their name in the same sentence with 'SSD' but now they are very much on the minds of consumers. Just taking a stroll through several computer hardware oriented online communities reveals a lot of positive chatter about the drives which come largely driven from online reviews and word of mouth recommendations as Samsung hasn't done a ton of marketing for their drives. Or maybe it just doesn't feel that way. Competitors, on the other hand, may have a different perception and have to be feeling the pressure. Especially those that are reliant on others for components for their builds whereas Samsung is completely self sufficient and can offer lower costs to consumers while still retaining a decent margin. We've recently had looks at the 840 and 840 Pro series of drives and now we've gotten our mitts on the 840 EVO version.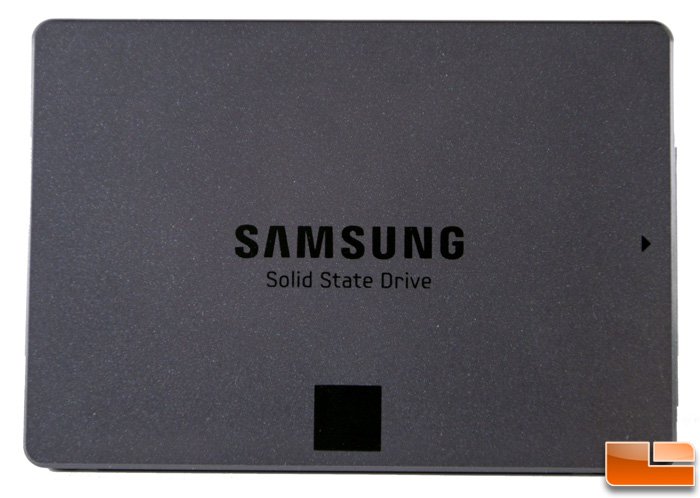 The EVO drives features TLC NAND that we saw in the 840 drive with the EVO having slightly smaller 19nm architecture. Add to that the latest Samsung MEX controller and the specifications look more like the 840 Pro drive with reads topping out at around 540MB/s and writes at 520MB/s. This is partially thanks to their TurboWrite technology that boosts writes but not dependent on data compression to do so. Performance isn't hampered by the AES 256-bit hardware-based encryption which leaves the controller free to focus on taking care of business. One feature that's intriguing is the RAPID Mode that Samsung claims boosts performance beyond that of the rated specifications. We take a closer look at that later but it sounds very promising. The EVO is one of the few drives available in a 1TB ($650) capacity as well as 750GB ($510), 500GB ($370), 250GB ($178) and 120GB ($103). They have a nice little marketing video available that's gear a bit towards the non-technical crowd who may want to breathe some extra life into their PC. OK, the acting is sub-par and it's received an almost viral amount of criticism but it gets the message out and no press is bad press.
[youtube]http://www.youtube.com/watch?v=BPdCS8p6LjA[/youtube]
Samsung 840 EVO Features and Specifications:
Capacity: 120GB, 250GB, 500GB, 750GB and 1TB
Dimensions: (L* W* H) 100 x 69.85 x 6.8 (mm)
Interface: SATA 6Gb/s (compatible with SATA 3Gb/s and SATA 1.5Gb/s)
Form Factor: 2.5-inch
Controller: Samsung MEX controller
NAND Flash Memory: 1x nm Samsung Toggle DDR 2.0 NAND Flash Memory (400Mbps)
DRAM Cache Memory: 256MB (120GB) or 512MB(250GB & 500GB) or 1GB (750GB & 1TB) LPDDR2
Sequential Read:
Sequential Write:

Max. 520 MB/s (250GB/500GB/750GB/1TB)
Max. 410 MB/s (120GB)

4KB Random Read (QD1):
4KB Random Write(QD1):
4KB Random Read(QD32):

Max. 98,000 IOPS (500GB/750GB/1TB)
Max. 97,000 IOPS (250GB)
Max. 94,000 IOPS (120GB)

4KB Random Write(QD32):

Max. 90,000 IOPS (500GB/750GB/1TB)
Max. 66,000 IOPS (250GB)
Max. 35,000 IOPS (120GB)

TRIM Support: Yes (Requires OS Support)
Garbage Collection: Yes
S.M.A.R.T: Yes
Encryption:

AES 256-bit Full Disk Encryption (FDE)
PSID printed in SSD label

Weight: Max. 53g (1TB)
Reliability: MTBF: 1.5 million hours
Power Consumption:

Average :100mW (Typical)
Idle : 45mW (Typical, DIPM ON)

Temperature:

Operating: 0C to 70C
Non-Operating: -55C to 95C

Humidity: 5% to 95%, non-condensing
Vibration:

Operating: Random: 2.17Grms (7~800Hz)
Non-Operating: Random: 3.08Grms (7~800Hz)

Shock: 1500G & 0.5ms (Half sine)
Warranty: 3 years limited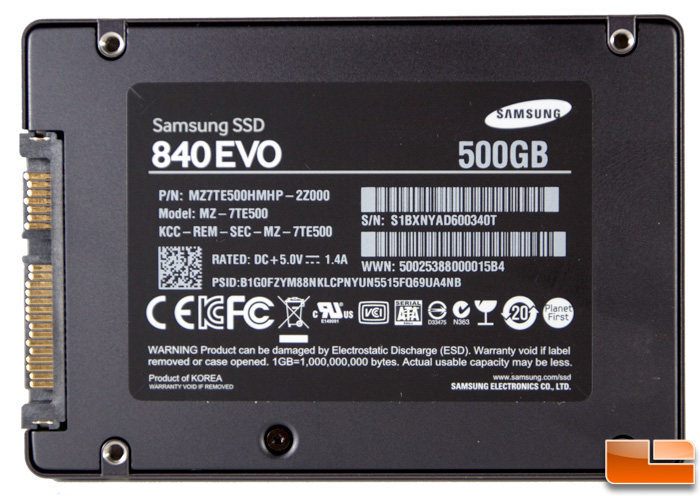 The exterior is identical to the 840 Pro except the orange square along one of the long sides has been changed to black – more so than that of the rest of the shell so it stands out a bit. Around back is the product sticker which, if you look closely, sports the PSID (physical security ID) directly on the label for resetting the drive should the encryption password be forgotten. The Z-height is 7mm to fit into just about any form factor PC available plus it comes with a 2mm shim should you need it.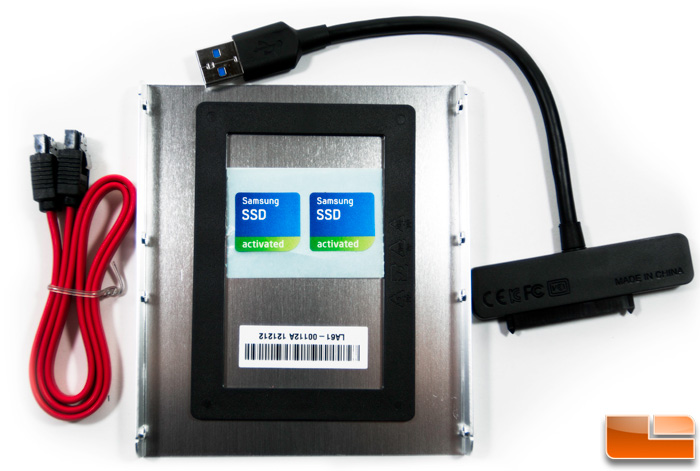 In the bundle we have a CD containing the Magician software, a SATA III data cable, a 2.5″ to 3.5″ adapter plate and a USB 3.0 to SATA cable for migration from an existing drive with the included migration software. Like the 840 drive, it carries a 3 year warranty unlike the Pro version which carries a five year warranty and Samsung has a very good technical support infrastructure to assist customers who do encounter issues. Speaking of warranties, we're about to void ours…