PowerColor Red Devil Radeon RX 570 4GB Video Card Review
By
PowerColor Puts The Devil Inside The Radeon RX 570
Last month AMD released their new Polaris based graphics card series that consists of the Radeon RX 580, RX 570, RX 560 and RX 550. AMD's board partners are slowly making it to market with cards based on these designs and today we'll be taking a look at the PowerColor Red Devil Radeon RX 570 4GB GDDR5 graphics card. This devilish card can be yours for the low price of $189.99 shipped, which isn't too bad bad of a price point for a custom board design that comes factory overclocked and ready for some intense 1080P or 1440P gaming sessions.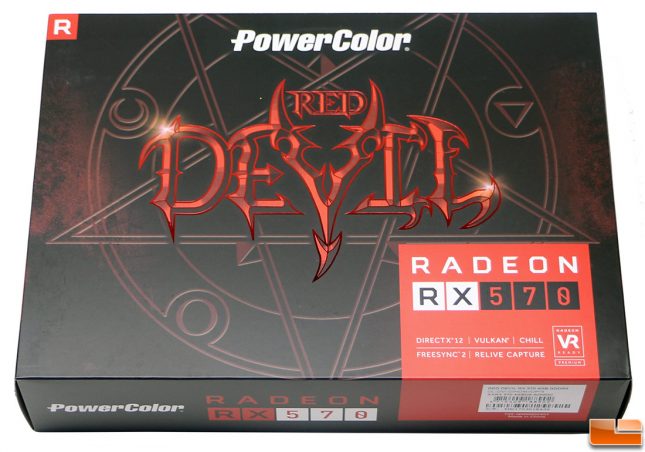 The new AMD Radeon RX 570 uses the Polaris 10 XT GPU and it features 2,048 stream processors that are clocked at 1244 MHz on AMD's reference design. PowerColor took that number as a starting point and pushed that clock speed up to 1320 MHz. Not a huge increase, but it is still a 6.1% increase in the boost clock and that should give you a nice bump in your overall gaming performance. Unfortunately, PowerColor didn't bother overclocking the cards 4GB of GDDR5 memory, so it is left at 1750 MHz (7000 MHz effective) for 224 GB/s of memory bandwidth.
AMD Radeon RX 500 Versus Radeon RX 400

Model

Radeon RX 580

Radeon RX 570

Radeon RX 480

Radeon RX 470

Launch Date

April 2017

April 2017

June 2016

August 2016

Codename

Polaris 20 XTX

Polaris 20 XT

Polaris 10 XT

Polaris 10 Pro

Architecture

GCN 4th

GCN 4th

GCN 4th

GCN 4th

Process (nm)

14

14

14

14

Transistors (mn)

5,700

5,700

5,700

5,700

Approx Die Size (mm)

232

232

232

232

Full Implementation of Die

Yes

No

Yes

No

Processors

2,304

2,048

2,304

2,048

Texture Units

144

128

144

128

ROP Units

32

32

32

32

Peak GPU Clock (MHz)

1,340

1,244

1,266

1,206

Peak GFLOPS (SP)

6,175

5,095

5,834

4,940

Memory Type

GDDR5

GDDR5

GDDR5

GDDR5

Memory Size (MB)

4,096 / 8,192

4,096

4,096 / 8,192

4,096

Memory Bus (Bits)

256

256

256

256

Memory Clock (MHz)

8,000

7,000

7,000 / 8,000

6,600

Memory Bandwidth (GB/s)

256

224

224 / 256

211

Power Connectors

6

6

6

6

TDP (Watts)

185

150

150

120

GFLOPS per Watt

33.37

33.97

38.89

41.17

Launch MSRP

$199+

$179+

$199+

$179+
The PowerColor Reed Devil Radeon RX 570 4GB graphics card that we'll be reviewing today can be found under part number AXRX 570 4GBD5-3DH/OC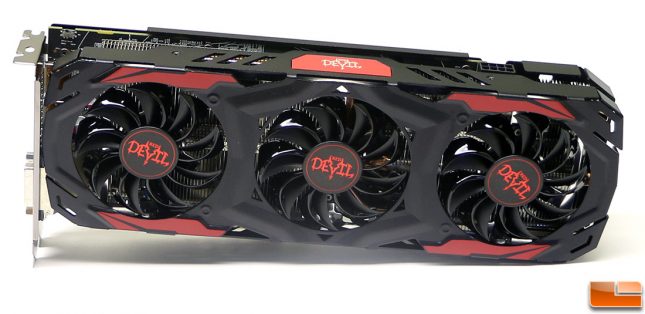 The PowerColor Red Devil Radeon RX 570 is a rather long card that measures in at 11.625-inches in length, so make sure it will fit into your case before you buy this bad boy. PowerColor went with a red and black color scheme that looks pretty good and we like the fact that the fan shroud is made of aluminum.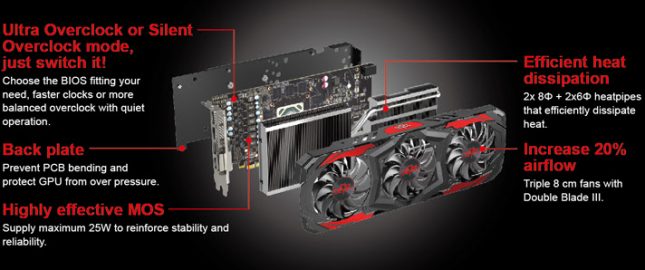 When it comes to the fan design the powers that be over at PowerColor went with three 80mm 2-ball bearing fans with their latest Double Blade III fan technology. PowerColor says these fans have 20% more airflow than traditional 80mm fans. The fans on this card don't kick on unless the GPU temperature reaches 60C, so you'll have silent gaming at lower GPU loads. Behind the three fans you have a two large heatsink fin arrays that have two 8mm and two 6mm heatpipes that efficiently dissipate heat away from the GPU. PowerColor did put thermal pads over the 6+1 digital multi-phase power delivery system, which is good as each MOS is designed to support 25 Watts of power rather than the 22.5 Watts found on the reference design.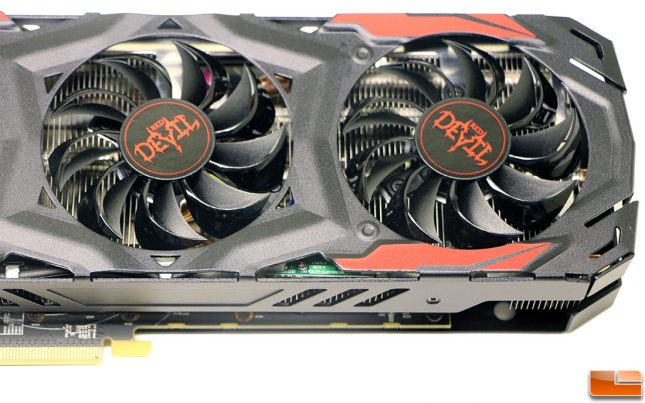 One minor oversight on the aesthetics on this card would be the green PCB used for the fans as you can see it at some angles.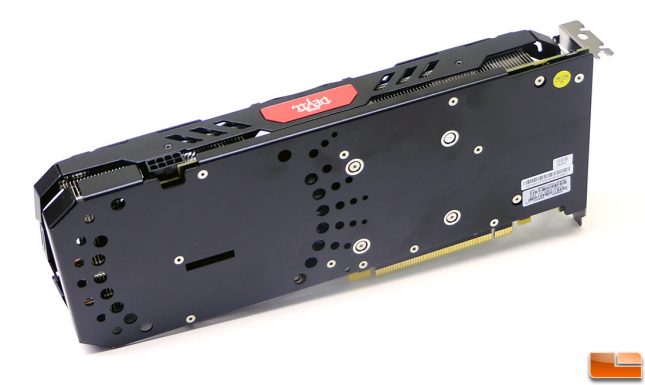 On the back of the card PowerColor included a full coverage aluminum backplate to help keep the back of the card protected and to help add rigidity to keep the PCB from bending. No thermal pads are on the back of the PCB to help with heat dissipation.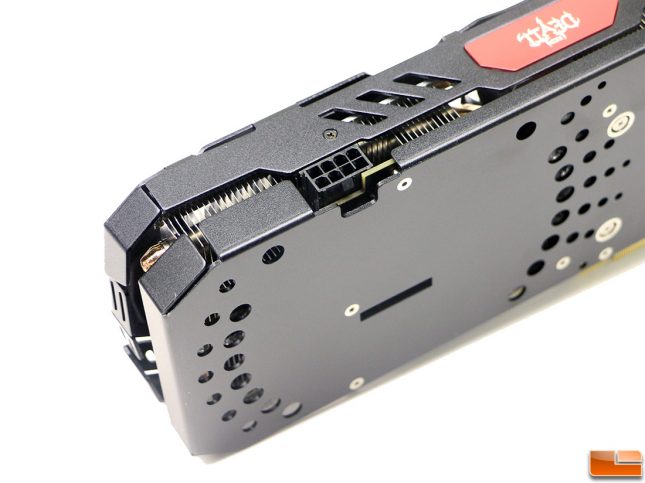 Along the top edge of the card you'll find the you'll see a single 8-pin PCIe power connector configuration to ensure the Polaris GPU gets all the power that it ever should need. With the PCI Express x16 connector and the 8-pin connector this board can consume 225 Watts of power and that should be more than enough for a Radeon RX 570 that is overclocked as high as one can get it. PowerColor recommends a 450 Watt or greater power supply for proper operation.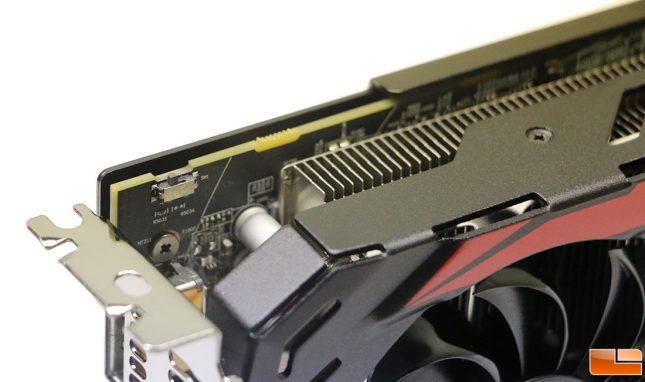 Along the top left edge of the Red Devil Radeon RX 570 you'll come across a BIOS DIP switch that allows you to switch between 'Ultra Overclock' or 'Silent Overclock' mode. The Silent Overclock mode puts the core clock at 1270MHz and Ultra Overclock puts it at 1320MHz. We left the card on 'Ultra Overclock' for our testing.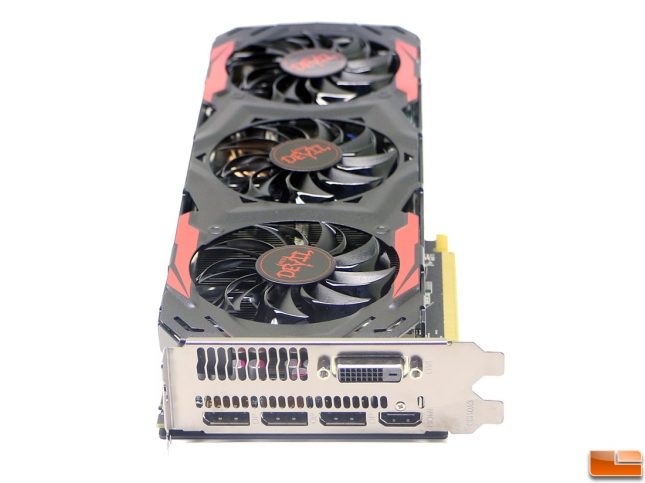 When you comes to video outputs for display connectivity you have three DisplayPort 1.4 HDR, one HDMI and one Dual-Link DVI connectors.
Let's take a look at the test system and then run the benchmarks!