OCZ Trion 150 480GB SSD Review
By
OCZ Trion 150 SSD Series – Better Than The Original?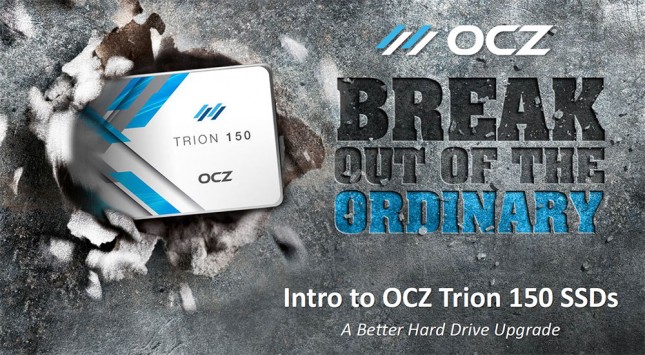 Last year OCZ Storage Solutions released the Trion 100 SSD series with Toshibas A19nm Triple-Level Cell (TLC) NAND Flash and aimed it at consumers looking for an affordable upgrade for their old school hard drive. Some of you might recall that we evaluated the OCZ Trion 100 480GB SSD and we weren't really that impressed. Its tough to get a product to stand out these days against the Samsung 850 EVO series, but none better than OCZ to pull an upset. Why is that? OCZ Storage Solutions is a wholly-owned subsidiary of Toshiba and the Trion 100 series used all Toshiba guts (NAND, Controller, Cache and even the firmware). It's been over half a year since the Trion 100 was released and it is being replaced by the new Trion 150 SSD product series.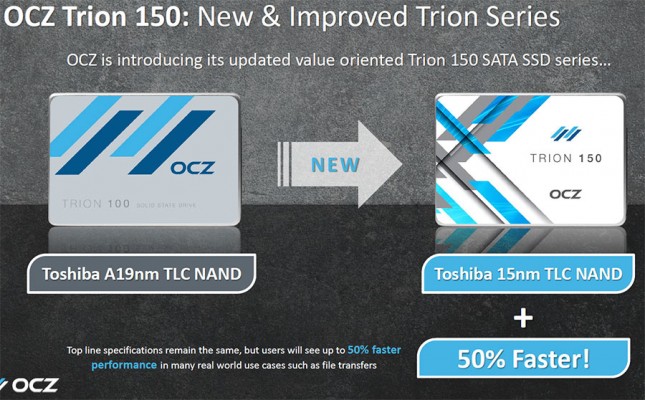 The OCZ Trion 150 series features same exact Toshiba TC58 SSD controller that was used on the Trion 100 series, but is now using Toshiba 15nm 2D planar Triple-Level Cell (TLC) NAND flash memory with improved firmware. OCZ shows the Trion 150 series as having up to 550MB/s, sequential write speeds up to 530MB/s and random write I/O performance up to 90,000 IOPS. OCZ Trion 150 series drives will be available in 120GB, 240GB, 480GB, and 960GB capacities as well. If this all sounds familiar it is because the OCZ Trion 100 and Trion 150 series share identical high-level performance numbers and the big difference is the NAND and firmware. Despite the speed ratings being the same, OCZ says that real world use cases like file transfers will be up to 50% faster on the Trion 150!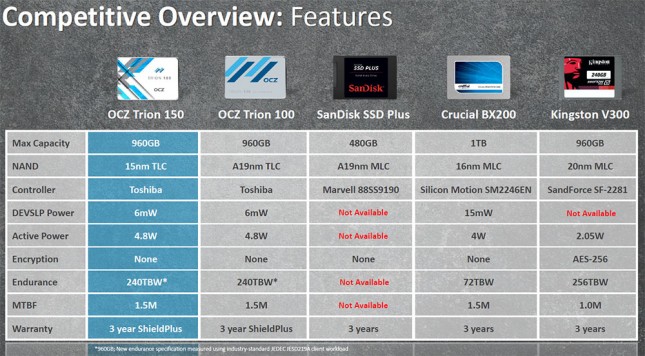 Besides the NAND Flash change from A19nm TLC to 15nm TLC and some firmware adjustments that we aren't privy to there really aren't any new features on the OCZ Trion 150 series. You have DevSLP, endurance ratings of 240TB TBW and a 3-year ShieldPlus warranty.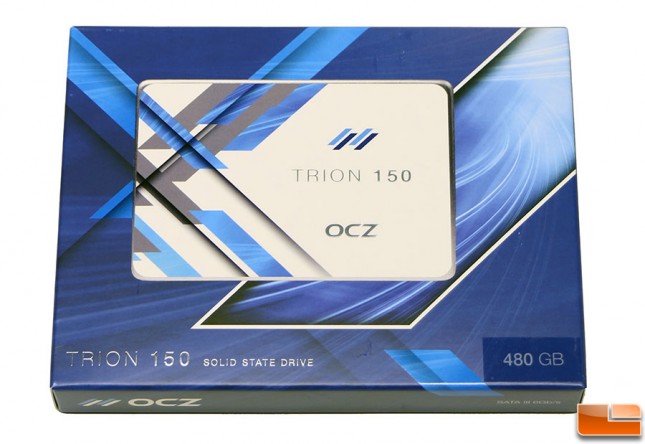 Today we'll be looking at the OCZ TRION 150 480GB SSD that is sold under part number TRN150-25SAT3-480G. OCZ offers the Trion 100 series in four different capacities, so you can pick between 120, 240, 480 and 960 GB models depending on your storage needs and budget.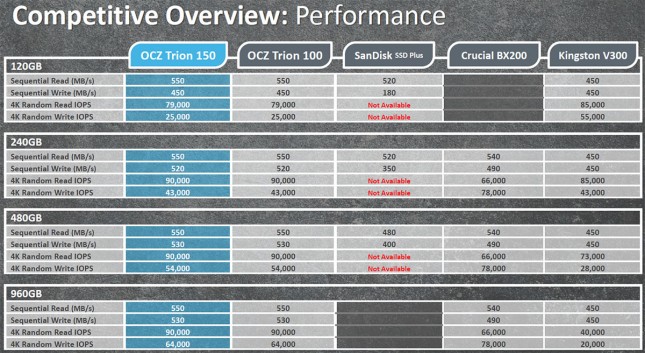 Each drive in the Trion 150 Series has slightly different performance ratings, so be sure to pay close attention when selecting a drive. The OCZ Trion 150 480GB drive that we are looking at today is rated at 550 MB/s read and 530 write for sequential and 90,000 IOPS read and 54,000 IOPS write for Random 4K performance. Note that there is no high level performance difference between the OCZ Trion 150 versus the OCZ Trion 100. The handy table above shows how that compares to the OCZ Trion 100, SanDisk SSD Plus, Crucial BX200 and Kingston V300 drives that are also in the entry-level SSD space.
OCZ Trion 150 SSD Series Pricing on February 12th, 2016
| | | | |
| --- | --- | --- | --- |
| OCZ Trion 150 SSD Series | Model Number | Newegg Price | $/GB |
| Trion 150 120GB | TRN150-25SAT3-120G | $49.99 | $0.42 per GB |
| Trion 150 240GB | TRN150-25SAT3-240G | $69.99 | $0.29 per GB |
| Trion 150 480GB | TRN150-25SAT3-480G | $139.99 | $0.29 per GB |
| Trion 150 960GB | TRN150-25SAT3-960G | $269.99 | $0.28 per GB |
Street pricing on the OCZ Trion 150 series drives is at $0.42 per GB on the 120GB drive and then $0.29 or less on the 240, 480 and 960GB capacity models. OCZ wanted to keep the price as low as possible with this drive so you won't find any 9mm adapters, installation brackets, screws or Acronis True Image software with the Trion 150 series!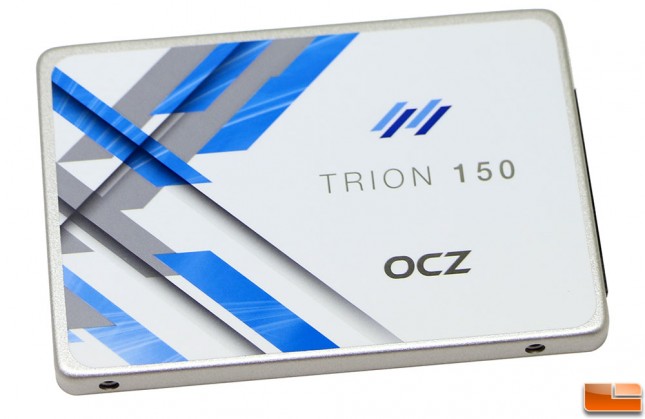 The OCZ Trion 150 series is only available as a SATA III 2.5-inch SSD that has a 7mm z-height. The silver enclosure has a large sticker on the front with the OCZ logo and the series name of the drive.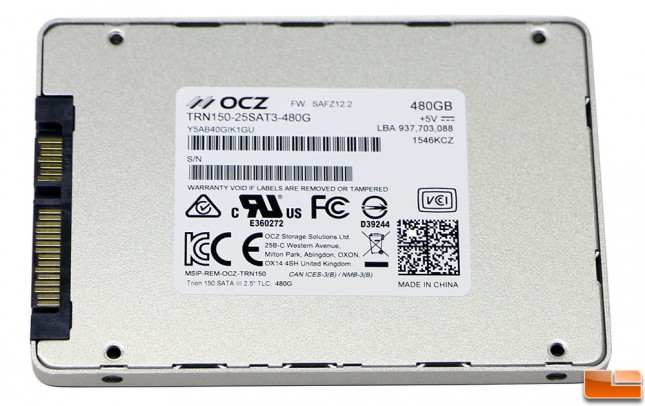 Flipping the drive over you'll find the actual product label of the Trion 150 that has the full part number, capacity, original firmware version, serial number and all that good stuff on it. All of the OCZ Trion 150 series drives are able to use OCZ's management software tool called SSD Guru.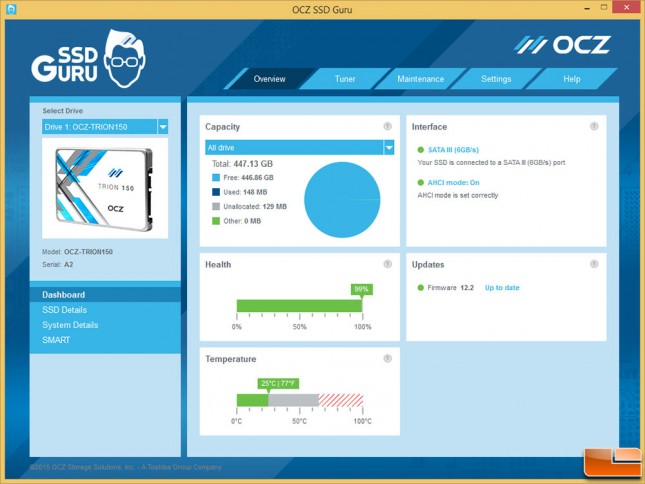 OCZ's SSD Guru is a nice utility that is free to download and it allows you to secure erase your drive, check its health, update the firmware and more. To secure erase the Trion 150 you'll need to make a bootable version of SSD Guru, but the utility walks you through that process and OCZ also has a guide on how to do it here. You can also use other utilities like Parted Magic if you'd like!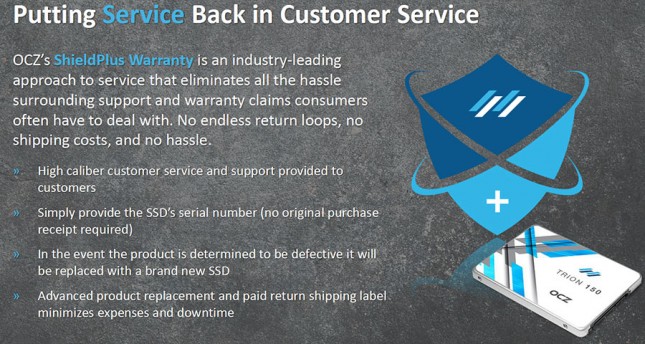 The OCZ Trion 150 series is also backed by a 3-year OCZ ShieldPlus warranty. The OCZ ShieldPlus warranty is actually a really nice warranty program that has no shipping costs that the customer are stuck with and if the SSD is defective they'll get a brand new one. The warranty service also allows for advance product replacement and you don't have to have the receipt to warranty the drive as they can look up the manufacturing date from the serial number and go by that. We suggest keeping your receipt handy though as it might help in some situations. The OCZ ShieldPlus warranty program as it's one of the very few no cost to you replacement programs out there.