OCZ Trion 100 480 GB SSD Review
By
OCZ Trion 100 Series – Toshiba TC58 and TLC NAND Flash Memory
OCZ Storage Solutions today launched the Trion 100 series of Solid-State Drives (SSDs) that are the company's latest value-oriented storage option for those wanting an affordable SATA III SSD. The OCZ Trion 100 series is an all Toshiba solution that features a Toshiba TC58 SSD controller paired with Toshiba A19 2D planar Triple-Level Cell (TLC) NAND flash. TLC SSDs have been made popular in recent years by Samsung and SanDisk as they have been shipping TLC drives in volume on their entry level drives. TLC memory is more affordable to manufacture, so the drives on the market utilizing TLC NAND Flash memory have allowed for lower SSD pricing. TLC NAND Flash memory is less durable than Multi-Level Cell (MLC) memory, but when parred with the proper controller that has error-correcting abilities it has been proven that TLC NAND is acceptable for use in consumer SSDs. Now that OCZ has a TLC SSD solution they should be better able to compete with the big name brands when it comes to pricing.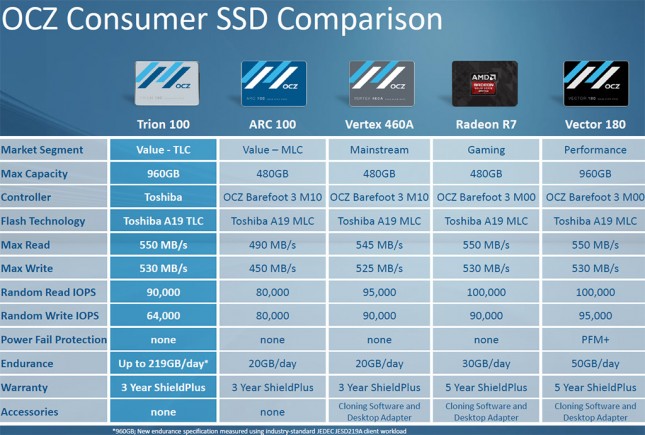 The other big new feature is that the Trion 100 supports DevSleep and other advanced power saving modes. OCZ has released a number of mainstream and high-end SSDs over the past year and none have supported DevSleep, so this is big deal for those looking for a drive with a mode. DevSleep is a power state that exists between slumber and off and offers substantial power savings over what can be had with a drive in a slumber state.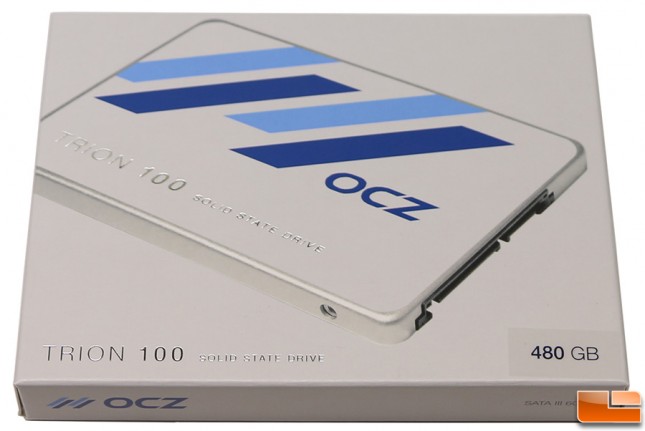 Today we'll be looking at the OCZ TRION 100 480GB SSD that is sold under part number TRN100-25SAT3-480G. OCZ offers the Trion 100 series in four different capacities, so you can pick between 120, 240, 480 and 960 GB models depending on your storage needs and budget.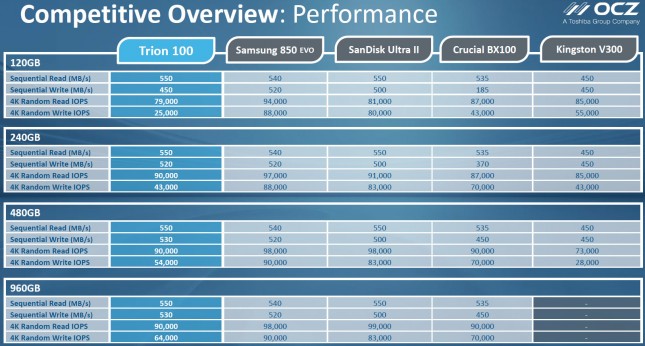 Each drive has slightly different performance ratings, so be sure to pay close attention when selecting a drive. The OCZ Trion 100 Series 480GB drive that we are looking at today is rated at 550 MB/s read and 530 write for sequential and 90,000 IOPS read and 54,000 IOPS write for Random 4K performance. The handy table above shows how that compares to the Samsung SSD 850 EVO, SanDisk Ultra II, Crucial BX100 and Kingston V300 drives that are also in the entry-level SSD space.
OCZ Trion 100 SSD Series Pricing on July 9th, 2015
| | | | | |
| --- | --- | --- | --- | --- |
| OCZ Trion 100 SSD Series | Model Number | SRP | Amazon Price | $/GB |
| Trion 100 120GB | TRN100-25SAT3-120G | $56.99 | $59.99 | $0.50 per GB |
| Trion 100 240GB | TRN100-25SAT3-240G | $87.99 | $89.99 | $0.37 per GB |
| Trion 100 480GB | TRN100-25SAT3-480G | $184.99 | $179.99 | $0.37 per GB |
| Trion 100 960GB | TRN100-25SAT3-960G | $369.99 | $359.99 | $0.37 per GB |
Suggested Retail Pricing (SRP) on OCZ Trion 100 series drives is priced at $0.47 per GB on the 120GB drive and then $0.39 or less on the 240, 480 and 960GB capacity models. We expect actual retail pricing to be lower when the drives make it to the retail market this week and fully expect them to be competitive with the Samsung 850 EVO series as that is certainly the budget consumer drive series right now that all companies are being compared to. Just hours before the launch we noticed that Amazon now has the OCZ Trion 100 SSDs listed with the pricing on the 120GB and 240GB models higher than the SRP, but lower on the larger 480GB and 960GB models.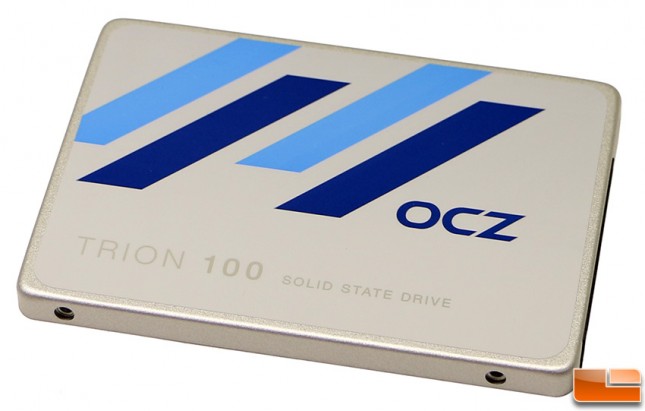 The OCZ Trion 100 series is only available as a SATA III 2.5-inch SSD that has a 7mm z-height. The silver enclosure has a large sticker on the front with the OCZ logo and the series name of the drive.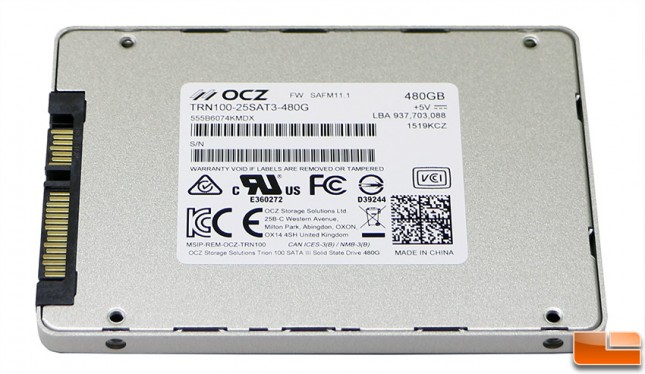 Flipping the drive over you'll find the actual product label of the Trion 100 that has the full part number, capacity, serial number and all that good stuff on it. All of the OCZ Trion 100 series drives are able to use OCZ's management software tool called SSD Guru.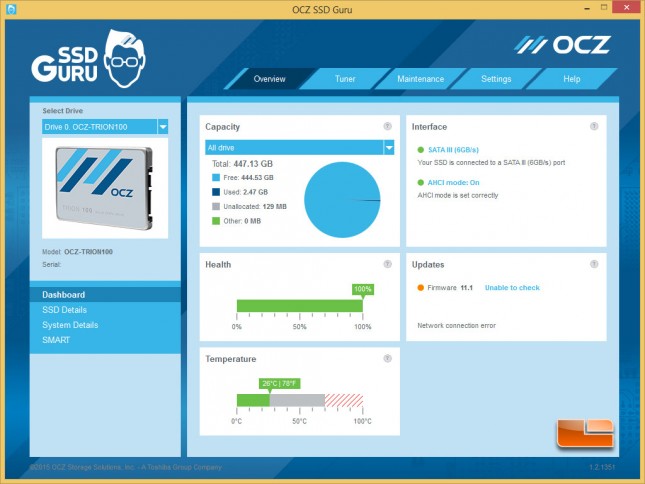 SSD Guru is a nice utility that is free to download and it allows you to secure erase your drive, check its health, update the firmware and more. To secure erase the Trion 100 you'll need to make a bootable version of SSD Guru, but the utility walks you through that process and OCZ also has a guide on how to do it here.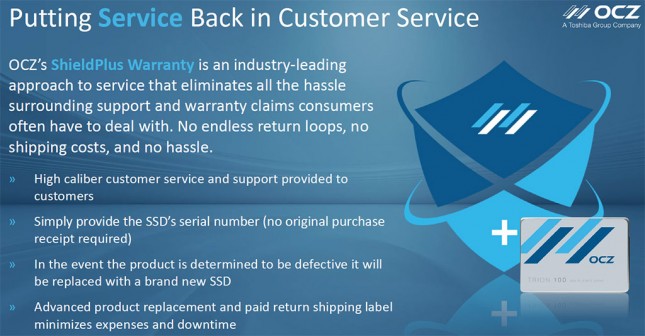 The OCZ Trion 100 sries is also backed by a 3-year OCZ ShieldPlus warranty. The OCZ ShieldPlus warranty is actually a really nice warranty program that has no shipping costs that the customer are stuck with and if the SSD is defective they'll get a brand new one. The warranty service also allows for advance product replacement and you don't have to have the receipt to warranty the drive as they can look up the manufacturing date from the serial number and go by that. We suggest keeping your receipt handy though as it might help situations where a day or two matter! OCZ Storage Solutions is now a Toshiba Group Company and they have really striven to regain customer confidence and we are big fans of the OCZ ShieldPlus warranty program as it's one of the very few no cost programs out there.