OCZ Trion 100 480 GB SSD Review
By
OCZ Trion 100 480GB SSD Power Consumption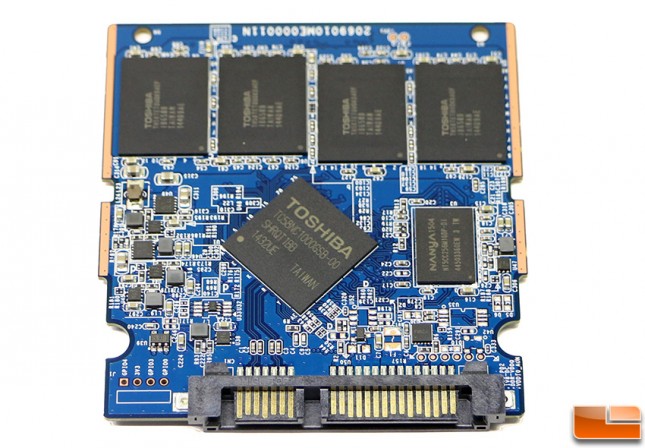 Having low power consumption is important to many enthusiasts and we were shocked to learn that the Samsung SSD 850 EVO 2TB uses 38% more power during write operations than the Samsung SSD 850 PRO 2TB drive. Here are the power consumption numbers given by Samsung for both the 850 PRO and 850 EVO 2TB drives.
OCZ Trion 100 480GB: 6mW Device Sleep / 830mW Idle / 2.6W Average Active Read / 4.8W Average Active Write
Samsung SSD 850 EVO 500GB: 2mW Device Sleep / 50mW Idle / 3.0W Average Active / 3.5W Average Active Write
We figured we'd give it a quick look to see what is going on with the two drives on our own power testing gear. We measured the power at idle and load power states using both sequential and random read/write test data.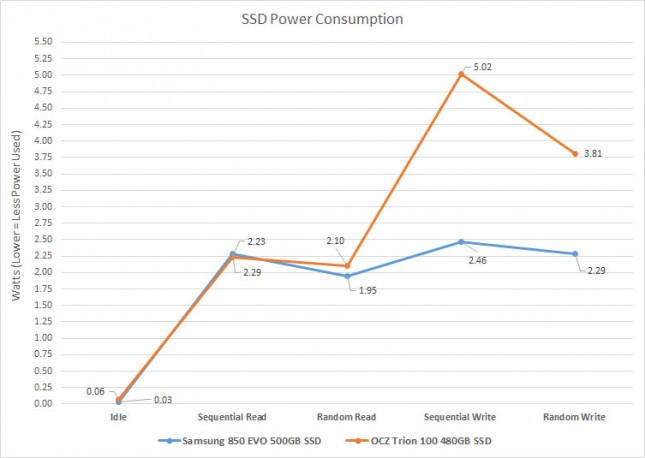 When it comes to an idle power state we found the 0.03 W on the Samsung SSD 850 EVO 500GB drive and 0.06 Watts of power the OCZ Trion 100 480GB drive with our Intel X99 desktop platform. It's amazing how little power the latest SSDs need when in an idle state. When it comes to peak power we found both drives were using similar amounts of power with regards to read speeds, but there was a major difference in the write speeds. We ended up going back and re-doing our power numbers three times to make sure they were right for both drives! On sequential 4MB file writes we hit over 5 Watts on the OCZ Trion 100 480GB drive versus just 2.5 Watts on the Samsung SSD 850 EVO 500GB drive. We were a bit shocked to see the OCZ Trion 100 SSD using twice as much power on the idle and sequential write tests, but our test numbers on the Samsung drive came back dead on to the thousandth on the three separate occasions that we tested the power!