NVIDIA GeForce RTX 2080 Ti SLI Review with NVLink
By
VRMark and LuxMark Benchmark
VRMark is a relatively new benchmark aimed at those that might be thinking about buying an HTC Vive or an Oculus Rift and knowing what hardware will give them the best VR gaming experience. VRMark includes two VR benchmark tests that run on your monitor, no headset required, or on a connected HMD. At the end of each test, you'll see whether your PC is VR ready, and if not, how far it falls short.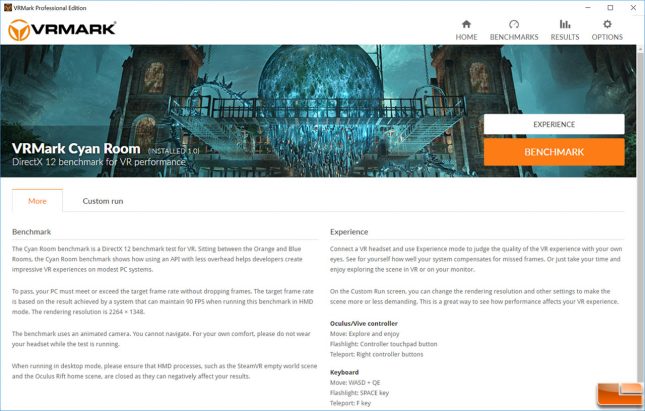 We used the Cyan Room to benchmark our cards as it is a DirectX 12 benchmark. Sitting between the Orange and Blue Rooms, it features a large, complex scene and many eye-catching effects.
Cyan Room shows how using an API with less overhead can help developers deliver impressive VR experiences even on modest PC systems. The target frame rate for the Cyan Room benchmark when running in desktop mode is 109 FPS. The rendering resolution is 2264 1348, which is 1132 1348 per eye.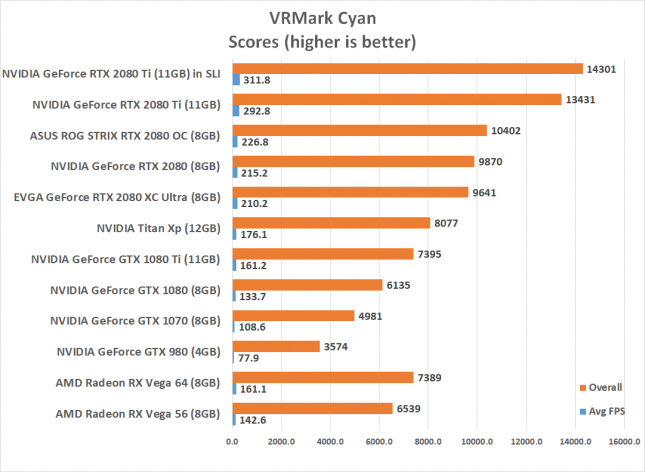 Benchmark Results: The NVIDIA GeForce RTX 2080 Ti delivers 293 FPS for a score of 13,431 points on VRMark Cyan, so we are getting to the point that we are CPU is going to be the bottleneck. Tossing a second GeForce RTX 2080 Ti in the system bumped up performance to 311.8 FPS and that gave us a score of 14,301. This is only a 6.5% performance increase, but SLI isn't needed on this benchmark to begin with as one RTX 2080 Ti delivers more than enough performance.
LuxMark v3.1 Benchmark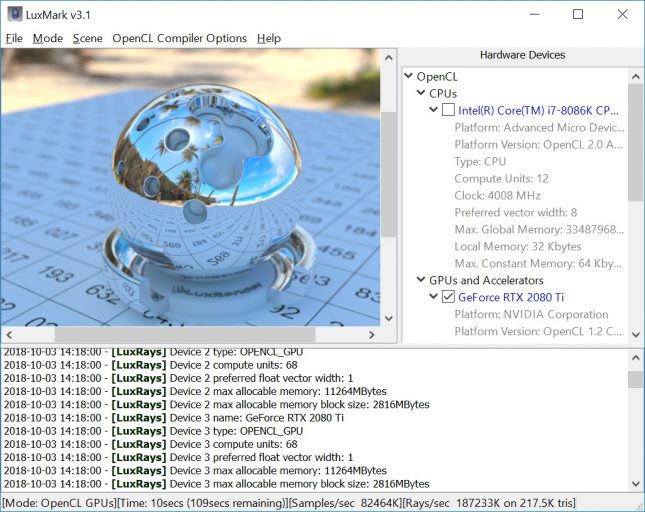 LuxMark is a OpenCL cross-platform benchmark tool that has been around since 2009. It was intended as a promotional tool for LuxCoreRender and remains a popular benchmark for those interested in OpenCL performance. LuxMark is now based on LuxCore, the LuxRender v2.x API available under Apache Licence 2.0 and freely usable in open source and commercial applications.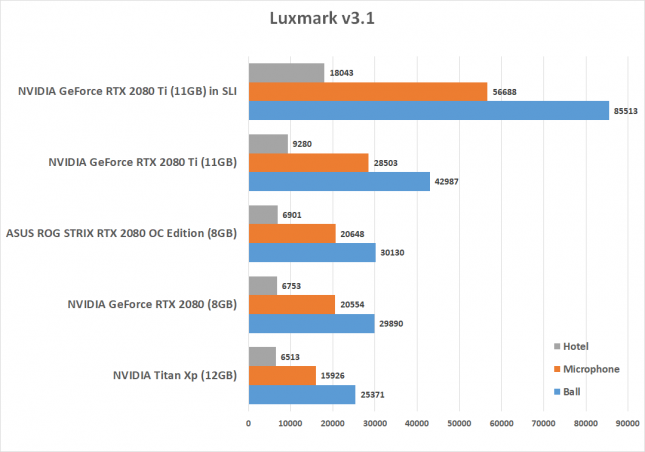 Benchmark Results: The NVIDIA GeForce RTX 2080 Ti scored 42,987 points on the ball scene and with a second card in the system and SLI enabled we managed to reach 85,513 points. We are getting 98.9% scaling on this scene! We also got 98.9% scaling on the Microphone scene and 94.4% scaling on the Hotel scene. Amazing scaling results by NVIDIA here on this OpenCL benchmark.