Intel Optane Memory Tested As Boot Drive, Secondary and RAID 0
By
Intel Optane Memory – More Benchmarks To Look At
Last month Intel/Micron 3D Xpoint memory technology came out and it is the first new memory technology to hit the market in the last 30 years. One might expect the new memory technology to have been introduced on the a flagship consumer product that claims to be the fastest in the world at something, but Intel rolled it out on a caching drive called the Intel Optane Memory Series. Intel put the most advanced memory technology available today on a caching drive that will help make a hard drive competitive with a mainstream SATA SSD. Not exactly a product that will grab headlines and excite the enthusiast community, but we are very excited that Intel Optane SSDs are coming out soon. Intel Optane SSDs will be a consumer product that enthusiasts and gamers will be very excited about after seeing the early performance numbers on the Intel Optane Memory Series and the data center focused Intel Optane SSD DC P4800X Series.
The new Intel Optane Memory Series are available now as add-in components in 16GB ($53.39 on Amazon) and 32GB ($76.00 on Amazon) capacities with a 5-year warranty period. Performance on the Intel Optane 32GB drive is rated at up to 1350 MB/s read and 290 MB/s write with 4K Random Read performance of up to 240,000 IOPS and 65,000 IOPS write. The read performance numbers are solid, but clearly this drive isn't designed to have good write performance.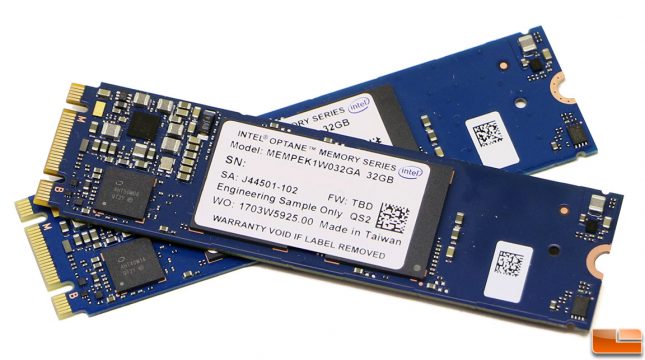 When we covered the Intel Optane Memory Series launch last month the focus was entirely on the drive from a caching perspective as that is the point of the product. We ended up with some angry e-mails and comments on social media about why we didn't test the raw performance of the drive and even test it as a boot drive. We don't see too many people buying the 32GB model as a boot drives due to the $76 price point, but we were curious how an Intel Optane Memory module would perform as a primary boot drive, a secondary drive and then as a RAID 0 array with two of them. We managed to get our hands on a second Intel Optane Memory Module 32GB, so we fired up our storage test platform and gave it a quick look.
Intel Optane Memory 32GB Performance
Sequential Read (up to) 1350 MB/s
Sequential Write (up to) 290 MB/s
Random Read (up to) 240000 IOPS
Latency – Read 9 s
Latency – Write 30 s
Power – Active 3.5 Watts
Power – Idle 1 Watt
Endurance – 182.5 TBW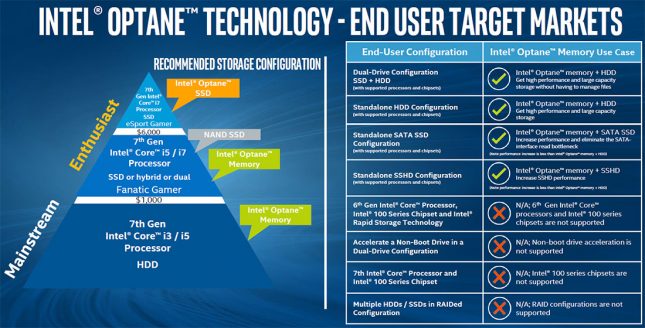 It might be a complete waste of time, but we wanted to wet our whistle before Intel Optane SSDs come out. Intel Optane SSD series drives might be pretty expensive though as the Intel Optane Technology marketing slide above shows Intel recommending Intel Optane SSDs for high-end eSport Gamer systems that cost over $6,000. We already know that Intel 3D XPoint isn't going to be cheak as the Intel Optane Memory Module 32GB costs $2.38 per GB at the current price of $76 and the Intel Optane SSD DC P4800 375GB runs $1520 in a limited early-ship program or $4.05 per GB.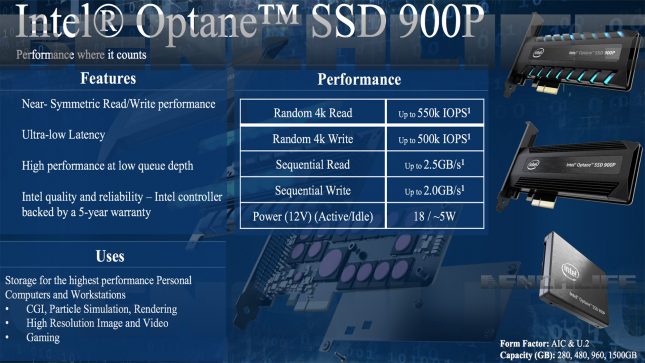 Based off those prices and leaks about the Intel Optane SSD 900P series we can guesstimate whatwe are looking when it comes to consumer SSD pricing with 3D XPoint technology. If we take the low cost of $2.38 per GB that the Intel Optane Memory Module and take that over to the Intel Optane SSD 900P 480GB drive you are looking at $1,142. Even if Intel was able to lower the price to $2 per GB that would put the 480GB drive at $960. That price will be very prohibitive and something that most will be unable to afford. It looks like existing NAND powered SSDs won't be going anywhere anytime soon as Intel will need to get costs down on 3D XPoint big time for it to ever replace NAND.
Let's stop talking and get to the numbers!