Intel Optane Memory Tested As Boot Drive, Secondary and RAID 0
By
Anvil Storage Utilities
Anvil Storage Utilities 1.1.0
Along with the move to a new platform, we decided to make a change in one of the benchmarks. There's a relatively new benchmark called Anvil Storage Utilities that is in beta but close to production. It's a very powerful tool that measures performance through a variety of tests which can be customized. Since some of the tests more or less duplicate what we get from other benchmarks we use already, we decided to use the IOPS (Input/Output Operations Per Second) testing on 4kb file sizes at a queue depth of 1, 4, 8, 16, 32, 64 and 128. IOPS performance is something SSD makers tout quite a bit but we generally don't do a lot of IOPS testing because frankly a lot of users can't relate to IOPS metrics as well and it tends to be more meaningful to the enterprise/server crowd. Still, it is another performance indicator with relevance and while some drives post good MB/s numbers, their IOPS scores aren't always commensurate which this test will prove out.
Anvil SSD Benchmark with 100% Compression (incompressible data):
Intel Optane Memory 32GB – Boot Drive: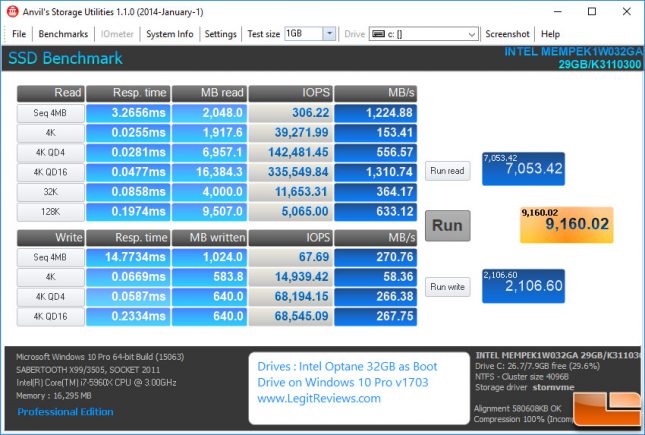 Intel Optane Memory 32GB – Secondary: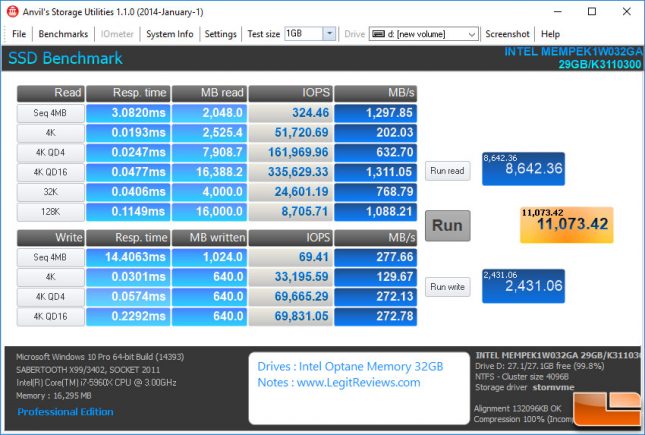 Intel Optane Memory 32GB – Secondary RAID 0: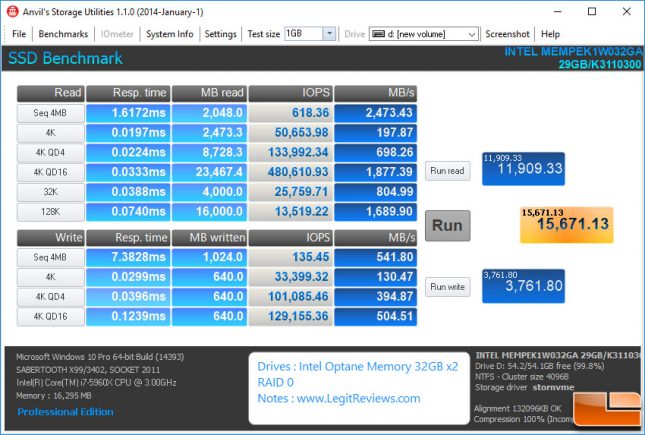 Benchmark Results: The Anvil SSD Benchmark showed that with 100% compression (incompressible data) the Intel Optane Memory 32GB PCIe NVMe SSD scored 9,160 points with the stock Windows NVMe Driver as the Windows 10 boot drive and then 11,073 points as a secondary driver. With two Intel Optane Memory drives in a dynamic software RAID 0 we got a score of 15,671 points with nearly 2,500 MB/s sequential read and 550 MB/ sequential write speeds. Note that Windows write-cache buffer flushing was left enabled on the drive.
Secondary Drive Comparisons: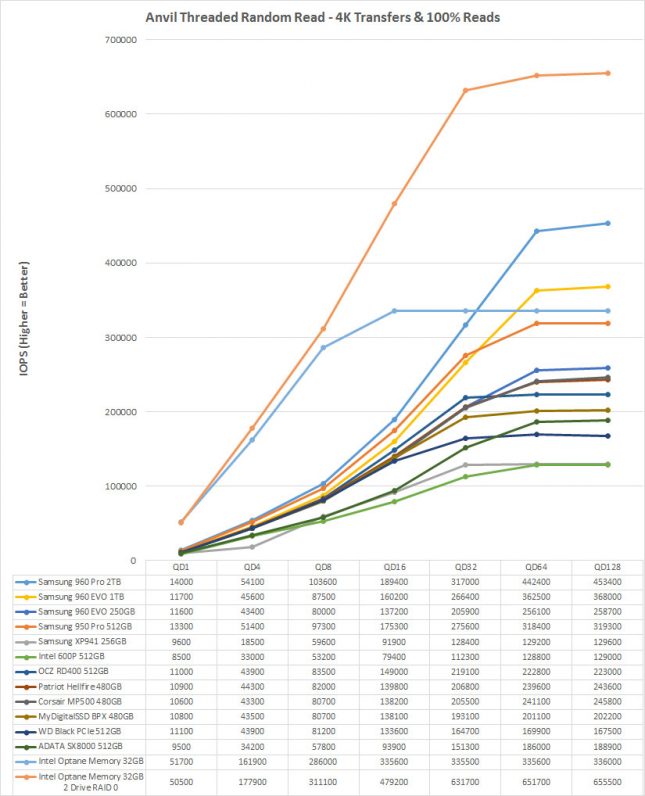 Benchmark Results: We used Anvil to check the 4K Random Read performance and found we we topped out at 336,000 IOPS on the 32GB drive and 655,500 IOPS on two 32GB Intel Optane Memory drives in RAID 0, which is far and away the highest on our chart although it is the only RAID 0 result on the chart. The QD1 thru QD8 4K Random Read performance was simply mind blowing with 51,700 IOPS at QD1 and then 161,900 IOPS at QD4 and 286,000 IOPS at QD8 on a single Intel Optane Memory 32GB gum stick. Compared to the Intel SSD 600P PCIe NVMe 512GB SSD that is 6x more 4K Random Read IOPS at QD1, 5x more 4K Random Read IOPS at QD4 and 5x more 4K Random Read IOPS at QD8! Hopefully this is a sign that the upcoming Intel Optane Memory SSDs will have killer low queue depth performance!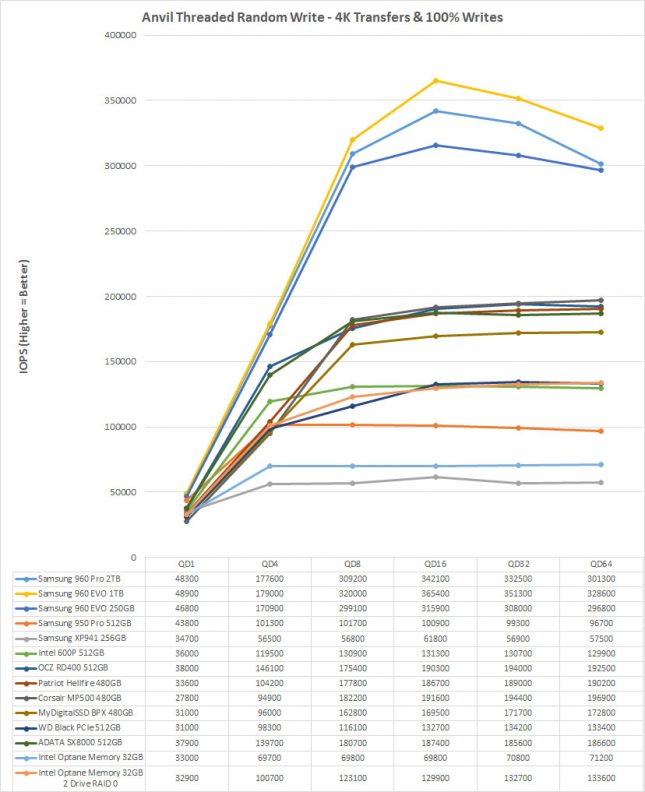 Benchmark Results: When it came to 4K Random Write performance, the Intel Optane 32GB drive topped out at 71,200 IOPS at QD32 and then in RAID 0 we managed to his 133,600 at the same queue depth. 4K Random Write performance isn't the strength of this drive as it was designed to be a caching module and not a primary storage drive.