Intel Optane Memory Tested As Boot Drive, Secondary and RAID 0
By
Final Thoughts & Conclusions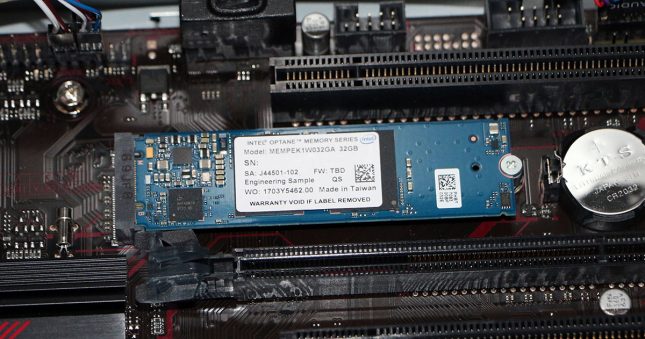 Looking at new technologies like 3D XPoint memory is always fun and we can see where Intel and Micron have been putting years of R&D work to get to this point. 3D Xpoint is the most innovative memory technology to debut since Legit Reviews started in 2002 and this is just the beginning. The performance numbers on Intel Optane SSDs that have leaked out so far are more than twice as fast as the Intel Optane Memory SSD that we benchmarked here today, so the best has yet to come. The performance is really exciting, but we just hope Intel can keep the price reasonable.
The new Intel Optane Memory Series is available now as add-in components in 16GB ($53.39 on Amazon) and 32GB ($76.00 on Amazon) capacities with a 5-year warranty period
Intel Optane Memory Street Pricing:
Those prices won't have 3D XPoint killing off NAND Flash drives anytime soon, but that may not be the plan. 3D XPoint technology might just go one to compliment NAND and help fill the performance space between NAND and DRAM. We also see 3D XPoint being beneficial to existing NAND based SSDs as it could be used for caching purposes rather than forcing some of the MLC or TLC NAND to operate like SLC NAND. Intel and Micron have come up with a really innovative memory technology here and it will be interesting to see what is done with it. This year we'll see a handful of drives using it, but 2018 is when we really start to see it take off. Samsung and other companies don't seem too worried about 3D XPoint as they just recently introduced 4th generation, 64-layer triple-level-cell V-NAND flash memory and have developed a high performance, ultra-low latency SSD solution, the Z-SSD that is due out this year. Samsung claims the Z-SSD, powered by Z-NAND, will have four times faster latency and 1.6 times better sequential reading than the Samsung PM963 NVMe SSD. The Samsung PM963 as a sequential read speed of up to 1,800 MB/s, so that means it will have around 2,880 MB/s for sequential read speeds. The leaked data on the Intel Optane SSD 900P have the sequential read speed at 2,500 MB/s. Who knows what company will win the 4K Random Read/Write performance race and at what queue depth! All we know is the high-end SSD market is going to get really interesting later this year and that is good for all that care about performance. Bring on Intel Optane SSDs and Samsung Z-SSDs as we are ready!
Legit Bottom Line: Intel Optane Memory is just a tease as the Intel Optane SSDs are coming soon and we can't wait!