Gigabyte Aorus Z270X-Gaming 9 Motherboard Review
By
Gigabyte Aorus Z270X-Gaming 9 Motherboard Review
As many companies are doing, Gigabyte is diversifying their product lines; separating their mainstream product lines and their premium gaming lines. Aorus might not be a name many are familiar with, this is where Gigabyte will focus on their premium gaming products that includes GeForce GTX gaming laptops with VR capabilities, gaming oriented motherboards, graphics cards, mechanical keyboards, and mice. These products provide ultimate performance and focus's on what PC gamer wants in their hardware.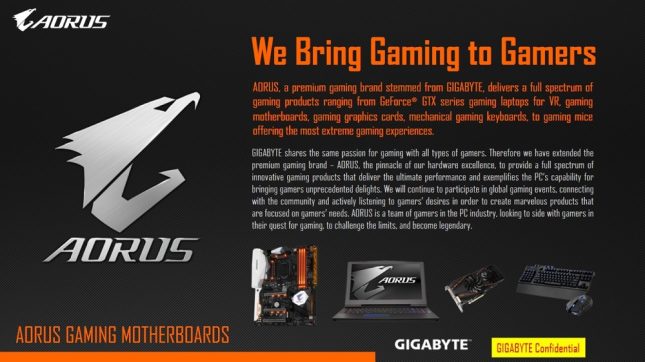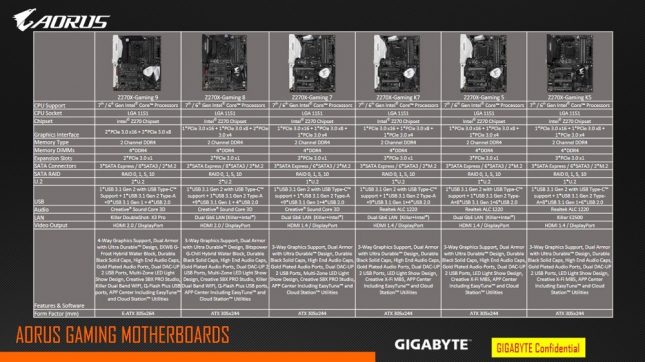 We have been hearing about Intel's Kaby Lake processor for a while now, it includes advancements for 4K UHD content, improved IGP, higher clock speeds, faster boost speed, and more. Along with the improvements in the processor, comes their new motherboard chipset, the Intel Z270. Gigabyte Aorus has sent us one of the latest motherboards that is designed for the extreme enthusiast, the Z270X-Gaming 9. This is Aorus's top of the line motherboard for their initial release of the Intel Z270 series motherboards.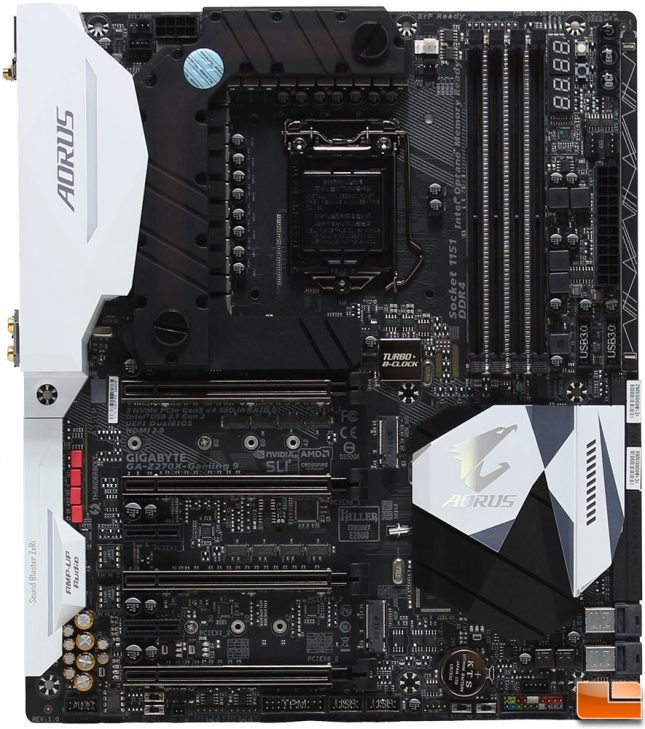 The Aorus Z270X-Gaming 9 motherboard, is an E-ATX motherboard, and has many features; some of which we have seen before on previous motherboards. For example, we have seen integrated RGB LED's on the motherboard, on the Z270X-Gaming 9, Aorus has taken that a step further and enabled multi-zone RGB lighting which is capable of 16.8 million RGB colors, and 8 different lighting effects! That's not all for the lighting options, we'll look at the others later.
Lighting enhancements aside, the Gaming 9 is extremely capable when it comes to storage. It has options for SATA, SATA Express, M.2 and U.2 drives! USB connections include USB 3.1 Gen 1, and Gen 2 (both Type-A and Type-C). LAN options include Killer DoubleShot-X3 Pro, supported by dual gigabit Killer E2500 ethernet ports, and a Killer 1535 Wireless AC option.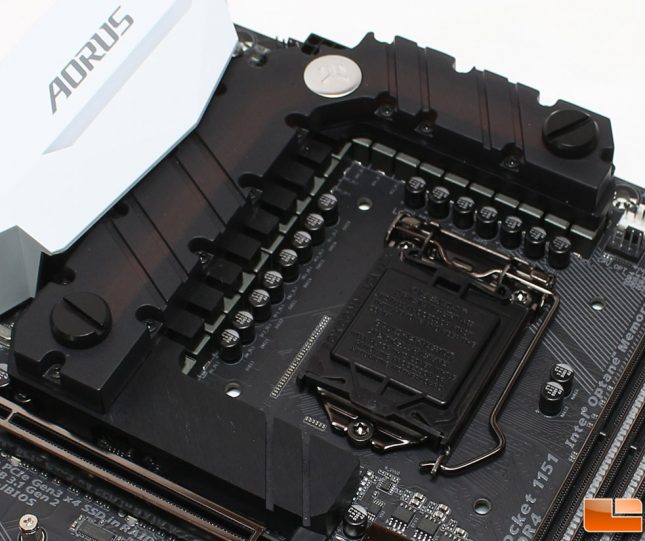 As the Gaming-9 is their current flagship motherboard, so it is designed for overclocking and to be pushed to the limit. To help keep vital components cool, there is an EK designed G-Frost Hybrid Water Block installed around the CPU. The EK G-Frost Hybrid Water Block directly cools the VRM and MOSFETs. On the two ends are two G1/4″ threaded fittings, which will make adding this to your custom liquid cooling solution easy. The top and bottom portions of the waterblock are made of aluminum, and has a copper insert to transfer the heat, while a custom O-Ring keeps the liquid contained within the unit. In addition to the custom water block, there are also dedicated headers for liquid cooling pumps. Being a flagship motherboard, you can expect to pay a premium for it, the Gigabyte Aorus Z270X Gaming-9 has a MSRP of $499.99 which includes a 3 year warranty.
If you find the Gaming-9 isn't exactly for you, Gigabyte Aorus will have a range of motherboards available at launch starting at $179.90 with the Z270X Gaming K5, going up to the flagship Z270X Gaming-9. With this range of motherboards you should be able to find the perfect Gigabyte Aorus Z270X motherboard for you when they go on sale starting January 5th, 2017.
Gigabyte Aorus Z270 Motherboard Line-up
Model
MSRP
Z270-X Gaming-9
$499.90
Z270X Gaming-8
$389.90
Z270X Gaming-7
$239.90
Z270X Gaming K7
$199.90
Z270X Gaming-5
$194.90
Z270X Gaming K5
$179.90
Features and Specifications
4-Way Graphics Support
Dual Armor with Ultra Durable Design
EKWB G-Frost Hybrid Water Block
Multi-Zone LED Light Show Design
Dual DAC-UP 2 USB Ports
Gigabyte Aorus Z270X Gaming 9 Specifications
CPU Support
Intel 7th / 6th Gen Core Processors
CPU Socket
1151
Chipset
Intel Z270 Chipset
Graphics Interface
2x PCIe 3.0 x16

2x PCIe 3.0 x8

Memory Type
2 Channel DDR4
Memory DIMMs
4x DDR4
Expansion Slots
2x PCIe 3.0 x1
SATA Connectors
3x SATA Express

8x SATA 3

2x M.2

SATA RAID
RAID 0, 1, 5, 10
U.2
2x U.2
USB
1x USB 3.1 Gen 2 with USB Type-C

1x USB 3.1 Gen 2 Type-A

9x USB 3.1 Gen 1

4x USB 2.0

Audio
Creative Sound Core 3D

Sound Blaster 120dB+ SNR Certified

LAN
Killer DoubleShot X3 Pro

2x Killer E2500 Gigabit

1x Killer 1535 Wireless AC

Video Output
HDMI 2.0 / DisplayPort
Form Factor
E-ATX
Warranty
3 Years
For a premium motherboard, Gigabyte Aorus has done a great job at making sure the packaging and accessory pack meets expectations. The outside of the box, presents the usual information; the front has their branding, model and several key features listed, while the back delves into specific features. All of which allow the user to know what they can expect from the Z270X Gaming-9. Opening the box, the motherboard has been placed in a form fitting foam block, with a plastic cover. Below the motherboard, we find a large number of accessories, and a secondary box that contains even more accessories.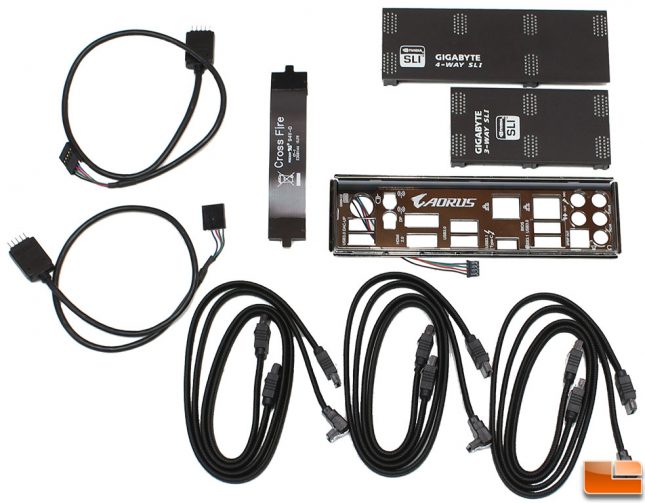 Gigabyte Aorus has included a rather extensive accessory pack with the Gaming-9. They separated the accessory pack into two groups. The first was loose in the box, like we typically see. This portion of the pack included two RGB LED strip header leads, six premium cloth wrapped SATA cables, the rear I/O plate with LEDs built in, a 3-way and 4-way SLI bracket, plus a CrossFire flexible connector. So far, I'm impressed with the accessory pack. On to the box with the second set of accessories.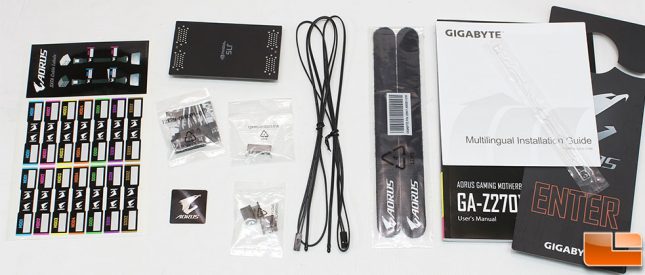 Inside the box, is the typical User's manual, quick installation guide, and driver DVD. Additionally, there is a Gigabyte Aorus door knocker, an alternate acryllic accent LED strip, two large velcro Aorus branded straps, two thermal leads, DisplayPort/HDMI port covers, quick attach front panel connector, a 2-way SLI connector, and a sheet of cable tags. Gigabyte Aorus provides an impressive accessory pack, including everything required to get the system up and running, plus many extras.
Let's unpack the motherboard and take a closer look at it.