Gigabyte Aorus Z270X-Gaming 9 Motherboard Review
By
Gigabyte Value Added Software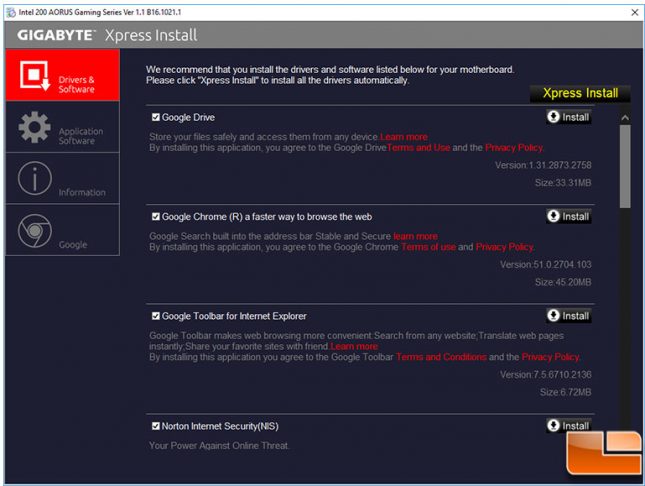 Included with the user manual, and install guide is a DVD that includes a wide range of software and drivers. To facilitate the install, the Gigabyte Xpress Install application makes it easy to select exactly what you want to install. Along with the drivers, Google Drive, Google Chrome, Google Toolbar and Norton Internet Security is included on the DVD. Below the software are all the necessary drivers to do a successful setup. As this is an early release, drivers are not available on the website at this time, they will be soon and is usually the best option to get the latest drivers. You can either install everything one at a time, or allow the Xpress Install application to do the install for you by clicking the Xpress Install button; everything that has been selected will get installed.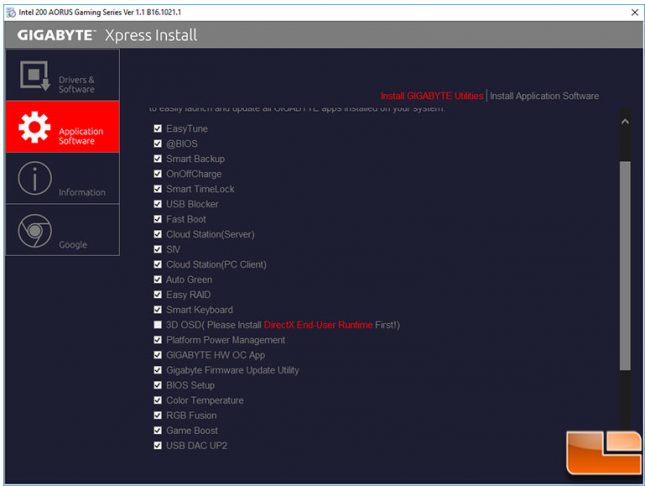 In addition to the other software, Gigabyte also has their custom applications to install. Many of these might not be used by many users, so select the ones you want and then allow them to be installed. If you are familiar with the Intel Extreme Tuning tool, Gigabyte has also included that.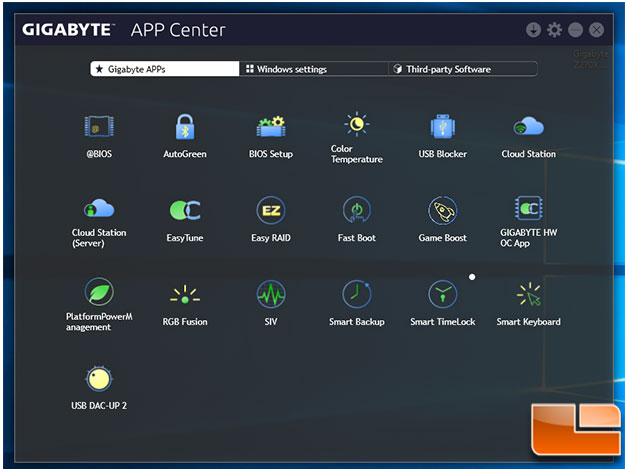 All of Gigabyte's custom applications get installed into their App Center, which is a nicely laid out hub for applications. In addition, it provides an interface similar to the control panel for Windows, and easy access to other Third-party software. We won't take a look at most of the Gigabyte applications, we will take a look at just a few of them.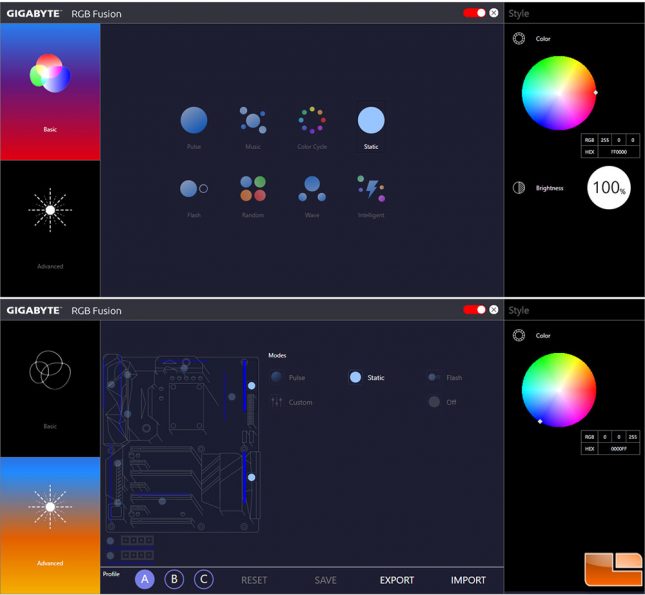 As the Gaming 9 has a lot of RGB LEDs built on it, Gigabyte has provided two ways to control them, either through software or within the BIOS. RGB Fusion is what they call their application to control the RGB LEDs. Within the application, you can choose from any of the eight pre-programmed light shows. Some of these, will provide additional options for color scheme, brightness, and speed. In the Advanced mode, you can customize the various LED zones. Here you can see the ten LED zones, plus the two LED light strip headers. Each zone can be configured for either of three modes, or a custom solution. Within the Advanced section, if your LED light strip does not synch up, you can try calibrating the LED strip with RGB Fusion. In addition, you can program in three different profiles so suit your individual situation.
Included in the software pack is Easy Tune, a way to overclock your system within Windows. Within the application, there are several preset modes you can select, along with an "Auto Tune". The Auto Tune feature will overclock your system for you, performing a stress test to check for stability. If you want to get into the specifics there are a wide range of options to adjust to fine tune the system. For example, overclocking the CPU you can adjust the host clock, along with adjusting the multiplier for each core. To do fine tuning, you can also get down to adjust the voltages. For overclocking memory, you get similar features, however you can also adjust the timings. You can set up two different profiles for your specific overclocking needs, and quickly recall either of them.