Intel 7th Gen Kaby Lake Processor Architecture Details Released
By
Intel believes that we are on the cusp of a new era for the PC and that the PC continually evolves and adapts to the trends around us. The new PCs coming to market now are the most innovative ever with not only touch interfaces, but IR cameras, pens, bio-metric inputs and so on. The PC is still on the leading edge for the immersive industry and the new Intel 7th Generation Core processors will help keep it that way.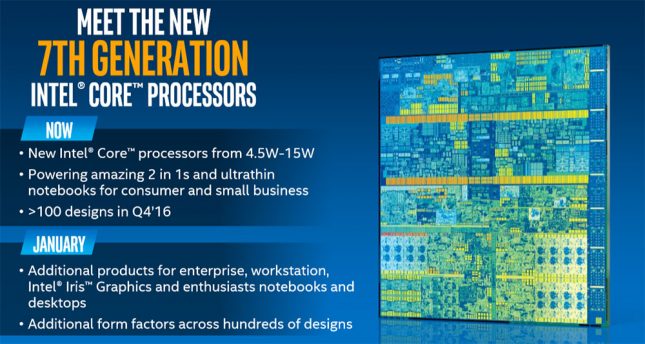 Today marks the official unveiling of the 7th Generation Intel Core Processors and we are happy to inform you that the processors are in mass production this very second and that the first mobile devices (2 in 1s and ultrathing notebooks) will be available to purchase in September. Intel says that their partners plan on having over 100 devices available for purchase in Q4 2016. In January 2017 the Kaby Lake desktop processors will be released along with the vPro skus for the enterprise market and more targeted mobile processors for the high-end gaming and VR markets. Intel thinks that another 350 designs to come to market from the channel and OEM partners. To get the most of the immersive internet you need the right processor and for that Intel believes the 7th Gen Intel Core Processors are the best choice.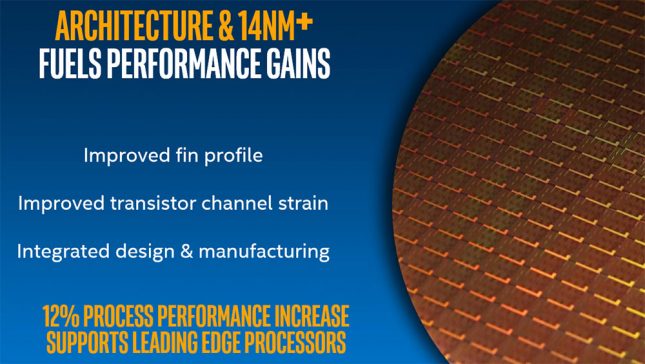 The 7th Generation Intel Core Processors are based on the Sky Lake architecture, but with more improvements. Intel 7th Generation processors are built using what Intel is calling the 14nm+ manufacturing process. Intel moved to the 14nm manufacturing processor with their 6th Generation of Sky Lake processors and have found a number of areas that could be improved upon since doing so at this node.
The 14nm+ process features transistor improvements thanks to taller fin profiles and wider gate pitch. Intel also improved the interconnect speed through both pitch and the aspect ratio. Intel is seeing 12% performance increase at the transistor level thanks on the 7th Gen processors versus the 6th Gen processors due to these process improvements.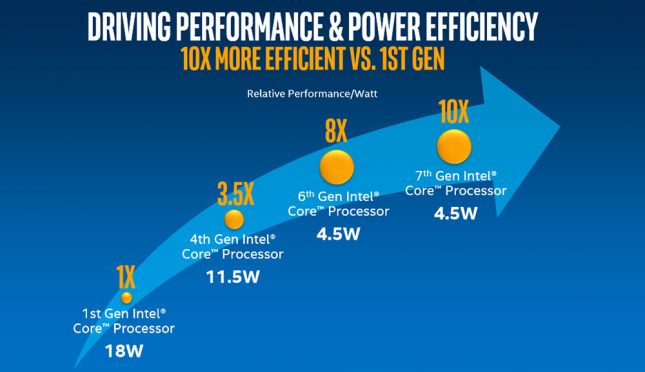 Intel 7th Gen 'Kaby Lake' processors are 2x more efficient with regards to relative performance per Watt when compared to Intel 6th Gen 'Sky Lake' processors. Both series have 4.5W TDP processors, so that means the performance is that much better. Intel is using the overall performance score in SYSMark 2014 to come up with this number.
If you go back to the first Intel Core series processor in 2010 the lowest powered mobile processor had an 18W TDP. Intel has gotten a 10x in efficiency as performance has gone up more than 2.5x while power has been reduced to 4.5W from 18W.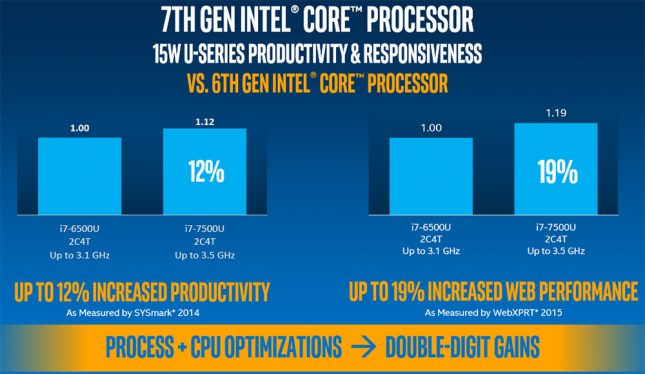 The upcoming Intel Core i7-7500U 'Kaby Lake' processor is significantly faster than the Intel Core i7-6500U processor at the same CPU TDP (15W). The slide above shows that the Intel Core i7-7500U is 12% faster in SYSMark 2014 and 19% faster in WebXPRT 2015. Thanks to the aforementioned 14nm+ silicon level improvements, Intel has been able to increase the boost clock frequencies. Note that Intel was able to get a 400MHz boost clock increase year over year!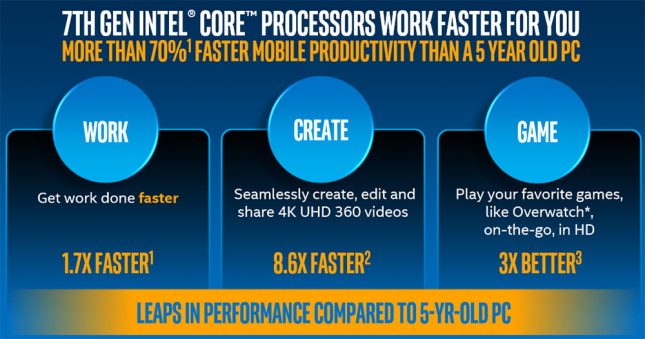 For those that haven't updated their computer in years the performance gains are even more impressive. For example, if you were updating a 5 year old PC and doing standard day-to-day work productivity tasks (converting Microsoft Word Docs to PDFs, sorting Power Point slidesrunning Excel Macros) you'd see 1.7x speedup. If you are trying to create 4K video or 360-degree video content you see an 8.6x improvement with a 7th Generation Core processor versus a 5-year old PC. When it comes to Intel HD Graphics Processor you'll see a 3x improvement for gaming on-the-go.
Intel showed us a gaming demo where they played Overwatch on a gaming laptop with a Full HD display with medium image quality settings and was getting above 30 FPS without a discrete graphics solution!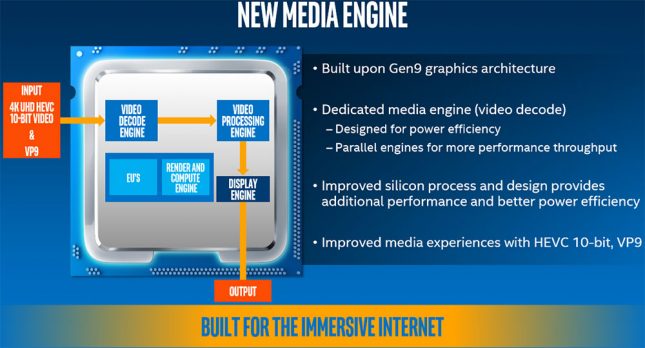 When it comes to 4K UHD content the PC is still the better device for consuming, creating and working with that media. This is because PC's have large screens, powerful processors, large fast storage locally, great software and the best input devices around. Intel now has updated their dedicated media engine (video decode) on the 7th Gen Kaby Lake processor that will make it easier than ever to create and share 4K content.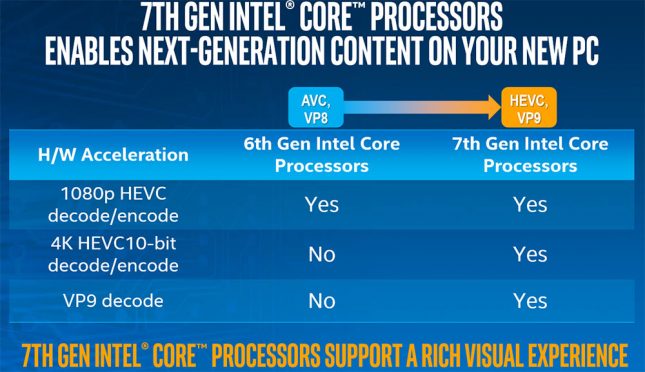 Intel moved from VP8 to VP9 (decode) and HEVC 10-bit decode/encode capability in 7th Gen processors. This is because 25 Billion hours of video content has been watched on Youtube thanks to the VP9 codec and all of that was in HD. This means Intel had to move to a more efficient codec as the 6th Gen Skylake processors only supported AVC and VP8 on video content up to 108oP on hardware. Anything over 1080P was done with software on Skylake. On the new 7th Gen Kaby Lake processors this can now be done in hardware with the new updated media block.
Intel showed a demo where an employee shot multiple short 4K movies on a personal vacation that he wanted to edit with MAGIX Fastcut video editing software. His seven video clips totaled 55 minutes in length and were 23.6GB of data. Using an Intel laptop powered by an Intel 7th Gen processors he was able to create a 30 second preview of the single video he created almost real time. The preview was uncompressed video that was dynamically pulled together from the video, so he can edit in basically real-time until he was happy with the brightness of the clips. On a 5-year old PC this would take minutes if not hours to apply the changes and then be able to watch the clip.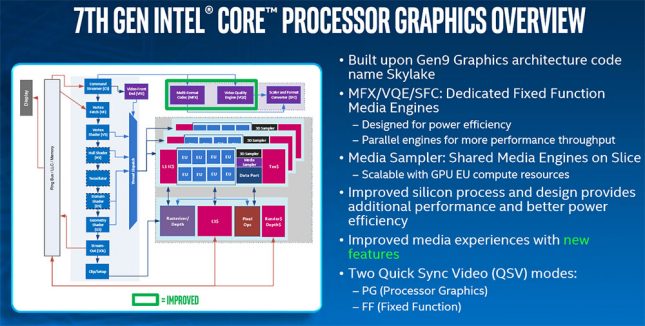 What changes did Intel do to make processor graphics better? All of the 7th Gen Intel Core processors have at least GT2 graphics (Gen9 Graphics with 24 EU's) that debuted on Skylake, but with additional improvements. Typically you have a bunch of fixed function units outside the the rendering compute engine and those are called unslice. Intel has placed more media engines (functions) on the slice. In the slide above the two purple boxes that have been highlighted by the green box shows that Intel has improved the Multi-Format Codex (MFX) and the Video Quality Engine (VQE).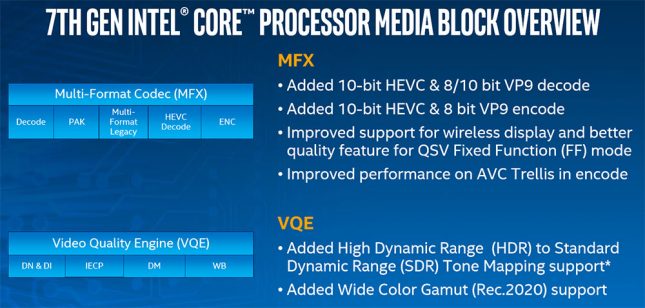 Here are more details on the updated areas highlighted by the green box in the previous slide. The Multi-Format Codec (MFX) 'box' has the traditional decoder and multi-format legacy support. Intel still sees the AVC codec still being used for the next 3-5 years and sees no value to remove it from onslice. HEVC 8-bit decode was first added with 6th Gen processors, so the key new feature added was 10-bit HEVC encode/decode as well as VP9 encode to the MFX block. Why is Intel not supporting VP9 10-bit encode? Google has not finalized the VP9 10-bit encode spec, so Intel is waiting on that.
The Video Quality Engine (VQE) that was first introduced on 4th Gen processors now has wide color gamut (Rec.2020) support and High Dynamic Range (HDR) to Standard Dynamic Range (SDR) Tone Mapping Supporting. This is the engine that normally handles image processing features are done (deinterlacing, noise reduction, color enhancement, color corrections and so on). Intel has also power optimized this engine and it only used 40-50 mW of power. By supporting HDR and and wide color gamut it should ensure the best experience on 4K HDR panels.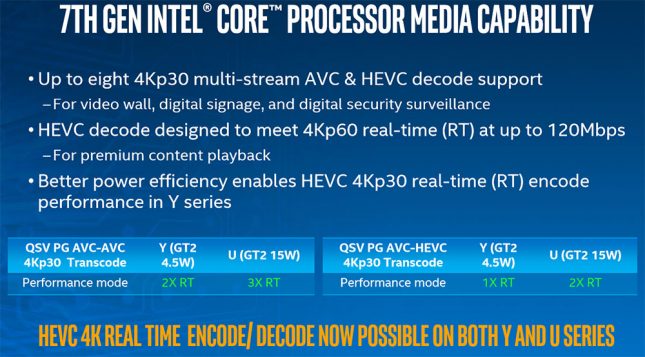 This slide shows the capability of what 7th Gen processors. The high-throughut decoder has always supporting multi-stream, but now you have support for up to eight 4Kp30 multi-stream AVC & HEVC decode support. Intel is ready for premium 4Kp60 content at 120Mbps as well on both the 4.5W Y-series and 15W U-series 7th Gen processors.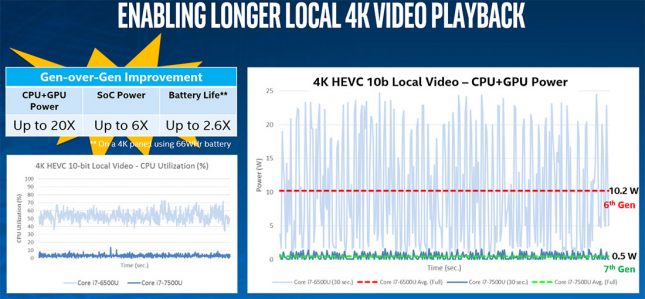 Ready for a real world example about how these improvements matter? One of the largest end user benefits from all this is power consumption. On the 6th Gen Intel Core processors, Intel is using a hybrid decode that uses both the GPU and CPU to run a 4K HEVC 10-bit local video. You'd be using about 50% of the processor to run the clip and the average power draw on the CPU/GPU you are looking at 10.2W on a system using the Intel Core i7-6500U processor. On the new 7th Gen Intel Core Processor you are using basically none of the processor since the decode is all being down in the media block and the CPU/GPU power draw is just 0.5W on an Intel Core i7-7500U processor. (Intel was using Tears of Steel in 4K to get these performance numbers.) This is a 20x improvement in CPU/GPU power and best of all you are looking at up to 2.6x longer battery life when doing local 4K video playback!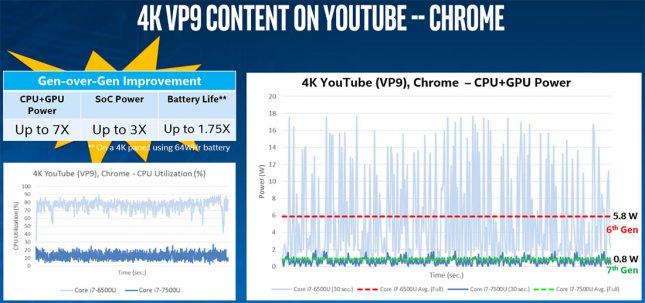 What about 4K content that isn't local? If you go to Youtube today and are using the Chrome browser you'll be feed a 4K video stream with VP9. The benefits of VP9 would be high quality at over half the bit rate of h.264. An Intel Core i7-6500U used 5.8W of power on the CPU/GPU versus 0.8W of power on the Intel Core i7-7500U.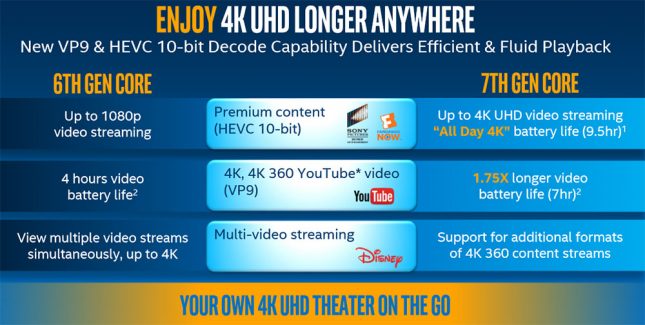 This means you can do 4K UHD video streaming and have 'All Day 4K' battery life. You also have enough performance to run multiple 4K 360 content streams, so you have multiple UHD video stream friendly mobile devices right around the corner!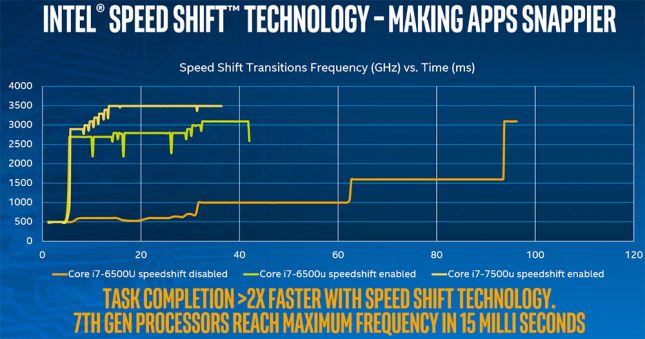 One other benefits of the 14nm+ technology is that Intel was able to get 400-500MHz higher boost clocks thanks to all the small changes they made while the power envelope remains the same. Before an Intel Core i7-6500U would boost up to 3,100 MHz with Intel Speed Shift Technology. The new Intel Core i7-7500U stabilizes out at 3,500 MHz and gets to that speed sooner, so system responsiveness should be better than ever. 7th Gen processors reach maximum clock frequencies in just 15 millseconds!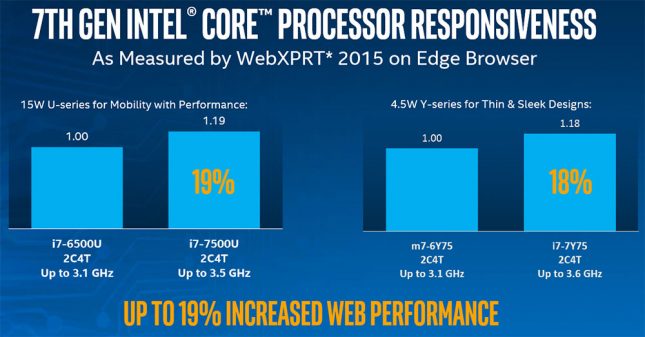 How does this impact real life usages? Intel likes using WebXPRT for responsiveness as does image manipulation and stuff that really happens in real life. They are seeing up to 19% performance gains and most of that is coming from the higher clock speeds (3.1GHz on the 6500U and 3.5GHz on the 7500U).
When it comes to a productivity benchmark Intel went with SYSMark 2014 and showed up to a 12% performance improvement due to mainly the higher clock speeds.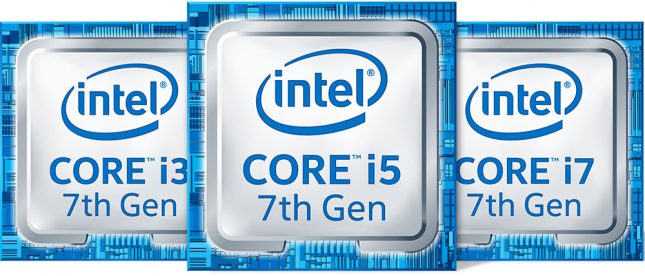 Intel is also updating the badges that they place on systems, so rather than just showing Core i3/i5/i7 on the sticker it will now also include the generation of the processor.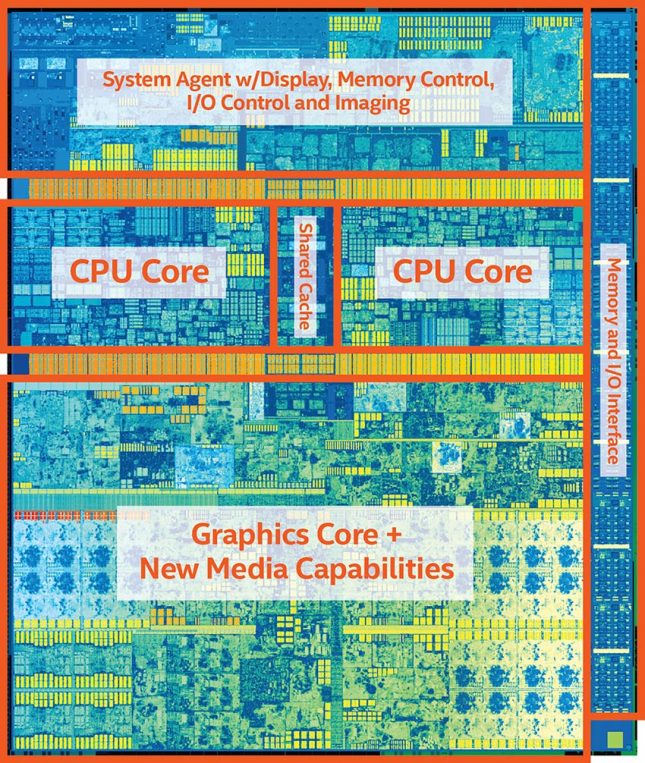 So, to wrap this up… 7th Generation Intel Core processors built on the 14nm+ process technology are Intel's most scalable yet and were designed for the immersive internet. Intel is seeing up to 15x performance gains to create and share 4K content and up to 70% faster productivity. With 7th Gen Processors you'll be able to take premium Hollywood content on the road with you and the ability to enjoy content on the web in new ways with multi-streaming and 360 degree video.
The higher boost clock speeds are exciting to see and we can't wait to see the new 7th Generation Intel Core U and Y series processors come out in September. We are also excited to see the new desktop processors when they debut in 2017! Intel appears to be ready for the immersive web with gobs of 4K content, so hopefully we'll see more mobile devices with 4K UHD displays on them when the new devices come to market. Intel put a ton of emphasis on 4K content as they put significant time and effort into the media block improvements on their 7th Gen Kaby Lake processors. We are fully aware that 4K content is becoming more popular, but not many people have 4K displays right now. The clock frequency improvements are great to see as getting 400-500 MHz higher boost clocks without raising the power envelope is impressive for both mobile and desktop users (The Intel Core i7-7700K is rumored to have a base clock of 4.2GHz and a boost clock of 4.5GHz). If you have a Broadwell or Skylake system that you've bought in the past couple of years you might not have the upgrade itch, but if you haven't updated your PC in 3+ years, the number of reasons to upgrade are most certainly adding up.