DDR2 PC2-6400 (800MHz) 7-way Memory Showdown
By
SyncMAX eXpress PC2-6400 Memory
Enthusiast computer memory that is made in Canada? You better believe it! The name SyncMAX does not come to mind when one thinks of enthusiast memory, but this Canadian company has some smoking memory. When we looked into the background of SyncMAX we found that they were connected to Concord Idea Corporation. Concord Idea Corp. is a designer, manufacturer and distributor of PC memory and PC memory-related products, with an emphasis on delivering value and performance. They are currently trying to earn a reputation as a leader in the highly competitive PC memory market by offering products, sold under the SyncMAX brand name, to keep Concord Idea Corp. at the forefront of PC memory technology. Now that we know who makes the modules we can take a closer look at them.
A big thing for consumers is customer support and the warranty that products come with. SyncMAX stands out from the crowd in a negative way when it comes to the warranty. All of the other kits in this review come with a lifetime warranty, but the warranty on Syncmax memory modules is only one year from the date of purchase. If for some reason the syncmax module is found defective, all exchanges, replacements and returns must be made through the company from whom you purchased the module and not from SyncMAX.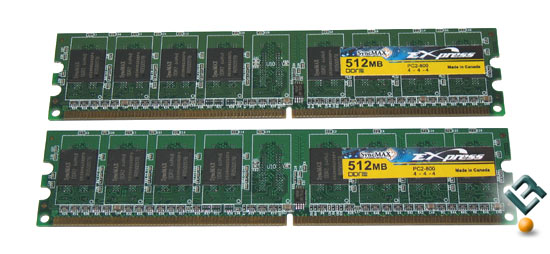 Looking at the memory modules I found that SyncMAX was using blank Elipida memory IC's on their eXpress PC2-6400 high speed memory modules. The memory was also noted as being single-sided memory modules (containing FBGA components on only one side) since they are 512MB per module. Each SyncMAX PC2-6400 module has eight 64M x 8-bit DDR2 FBGA Elpida memory IC's. The Printed Circuit Board (PCB) ID was BP MLL E186014 B62URCA, which is made by Brain Power Co. and is the same part number that OCZ technology is using on their PC2-6400 memory module.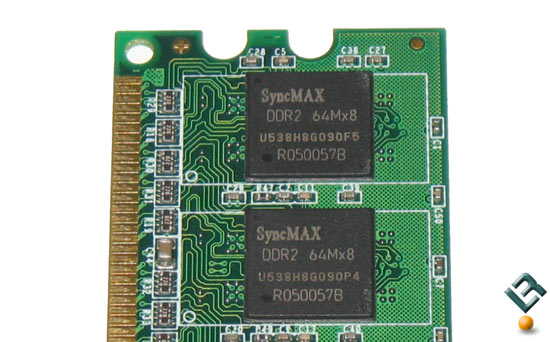 Key Features:
Memory amount: 2 x 512MB
IC Brand: Elpida
800MHz (PC2-6400) Unbuffered non-ECC DDR2 Modules
CAS latency: 4 clock cycles
RAS precharge: 4cycles
RAS active to precharge: 12 cycles
No heat spreader for thermal diffusion
Latency: 4-4-4-12
1.9V
One Year Warranty