DDR2 PC2-6400 (800MHz) 7-way Memory Showdown
By
Corsair XMS Pro XMS2-6400 Memory
The Corsair TWIN2X2048-6400PRO is a 2 GByte matched pair of DDR2 SDRAM DIMMs. This part delivers outstanding performance in the latest generation of DDR2-based motherboards. It has been tested extensively in multiple DDR2 motherboards to ensure compatibility and performance at its rated speed. This memory has been verified to operate at 800MHz at the low latencies of 5-5-5-12-T1. This module is also available in a single module part. Corsair modules are tested and carry a limited lifetime warranty.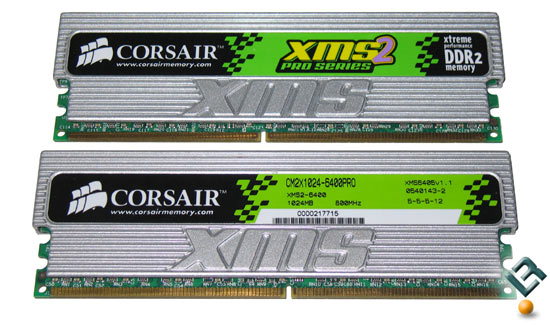 When starting to remove the heat spreaders on Corsair's XM2X1024-6400Pro memory modules I rememberd that Corsair bonds their heat spreaders on. Corsair is no longer using thermal tape on their DDR2 modules and bakes their heat spreaders on in the oven. I strongly suggest not removing yours since removing the heat spreader will void your warranty and the heat spreaders are now "bonded" to the memory IC's. After looking under the heat spreader and talking with Corair memory it was determined that Corsair is also using screened Micron "Fat Body" D9 memory IC's for their 6400 Pro XMS26400high speed memory modules. The memory was also noted as being double-sided memory modules (containing FBGA components on only both sides) since they are 1GB per module. If you order densities under 1GB they will be single sided. Each of our Corsair modules has sixteen 64M x 8-bit DDR2 FBGA Micron memory IC's.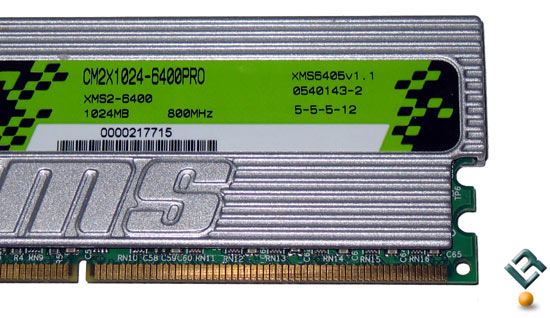 Key Features:
Memory amount: 2 x 1024MB
IC Brand: Micron
800MHz (PC2-6400) Unbuffered non-ECC DDR2 Modules
CAS latency: 5 clock cycles
RAS precharge: 5 cycles
RAS active to precharge: 12 cycles
Silver heat spreader for thermal diffusion
Latency: 5-5-5-12
1.9V
Lifetime Warranty
The Corsiar XMS2 6400 modules coem with and without the LED lights. For those who want the memory modules without the lights (non-pro model) they can be found for $328 (Current Pricing) in a 2GB memory kit and $360 (Current Pricing) in the 2GB kit with the LED's like the ones that we tested in this review.