DDR2 PC2-6400 (800MHz) 7-way Memory Showdown
By
A-DATA Vitesta DDR2 800MHz
First up to the plate is A-DATA with their Vitesta DDR2-800 module (model number ELJVE1916). A-DATA is a new comer to the North American sales market, but is quickly catching up in the cut throat memory industry here in the United States. Just two weeks ago A-DATA modules became available at Newegg, so expect see other retailers pick them up shortly.
This Vitesta DDR2 memory kit is designed to meet the 800MHz data-rate specification of the JEDEC (Joint Electron Device Engineering Council) standard, but has been also been designed with overclockers and gamers in mind. We were told to expect higher than higher than JEDEC specifications with these modules. Other than the Vitesta name the modules come with a flashy red heat spreader and a lifetime warranty.
Key Features:
Memory amount: 2 x 512MB
240-pin Unbuffered DIMM
IC Brand: Elpida (32Mx8 Configuration)
800MHz (PC2-6400) Unbuffered non-ECC DDR2 Modules
CAS latency: 5 clock cycles
RAS precharge: 5 cycles
RAS active to precharge: 15 cycles
Black heat spreader for thermal diffusion
Latency: 5-3-3-8
Power supply´1.85 +/- 0.1V
Lifetime Warranty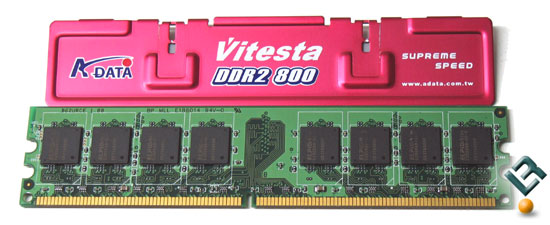 Once the heat spreaders were removed we could read that the Printed Circuit Board (PCB) ID was BP MLL E186014 B62URCE, which is made by Brain Power Co. and is a well known company among enthusiasts around the world. Since A-DATA is using name brand IC's that have been known to overclock well on other memory series we can only hope that these modules are overclocking friendly. After looking at the memory IC's they were determined to be Elipda IC's with the part number E2508AB-GE-E. After trying to look up these part numbers on Elpida's site we were unable to find the part numbers.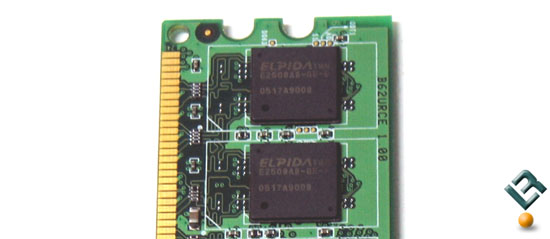 The A-DATA Vitesta DDRII 800MHz memory modules come in individual 512MB packages, which means they are not paired together like Kingston and Mushkin's 1GB kits. A-DATA is agressively pricing their PC2-6400 memory and they can currently be picked up at Newegg for just $69.82 per module shipped! Talking about dirt cheap high end memory.