DDR2 PC2-6400 (800MHz) 7-way Memory Showdown
By
SuperPi Mod / Game Testing
Super PI Mod v1.4:
Super PI is a program a lot of enthusiasts use to benchmark overall system performance, as the program is capable of calculating pi up to 33.55 million digits on a timer. Many overclockers and enthusiasts are in a battle to get the lowest 1M Super Pi time possible.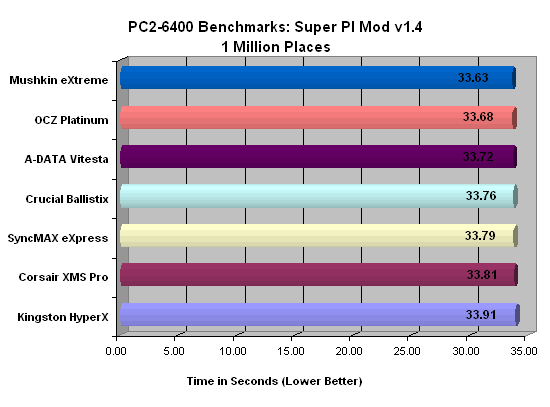 Results: Super Pi Mod v1.4 shows a very slight performance increase with increased timings. Moving from timings of 5-5-5-15 to 4-3-3-8 yielded a modest increase in performance. Mushkin and OCZ hang on to their top two ranking while Corsair and Kingston bring up the rear of the pack.
Comanche 4:
Flight simulations are notorious for their CPU-dependence, and this makes the Comanche 4 benchmark potentially a better CPU/subsystem test than it is for 3D video cards. Comanche 4 uses DX8.1 pixel/vertex shaders and was run at 640×480 32-bit with no audio.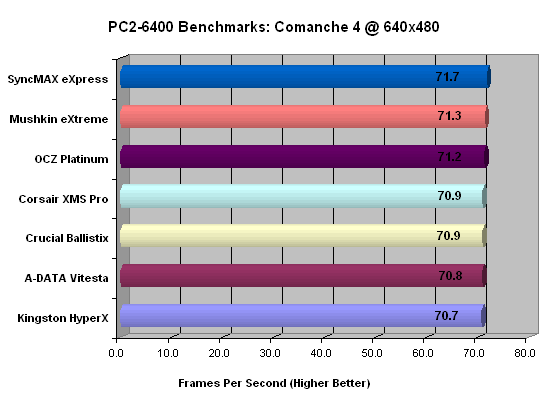 Results: Comanche 4 seemed to like the SyncMAX eXpress modules, it it was a full second faster than the other modules. We were shocked by the performance of the SyncMAX modules as they were hanging in the middle of the pack and then took the lead in a benchmark.
DOOM 3: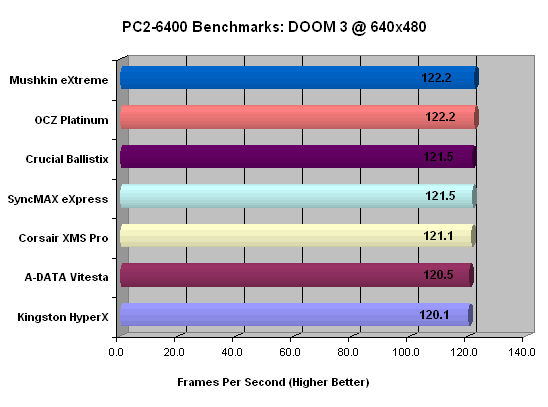 Results: Finally in Doom 3 we start to see a couple FPS difference between the modules. The Mushkin XP6400 and OCZ Platinum memory modules came in tied for first place with a two frame per second lead over Kingston modules.
Let's take a look at overclocking and then round up our final thoughts on these three PC2-6400 (800MHz) memory kits.