DDR2 PC2-6400 (800MHz) 7-way Memory Showdown
By
Mushkin eXtreme XP6400 Memory
The Mushkin Extreme Performance Black Series (XP) delivers superlative performance for the hardcore PC enthusiast, and has been THE essential ingredient in extreme rigs for over a decade. Whether you are looking for low latencies to pull the highest frame-rates from the most challenging games or overclocking your machine well past industry standards – the Mushkin Extreme Performance Black is your module! All Mushkin Extreme Performance memory modules come with an installed heat spreader to eliminate localized hotspots, further enhancing lifetime and overclockability. Mushkin modules are tested and carry a limited lifetime warranty.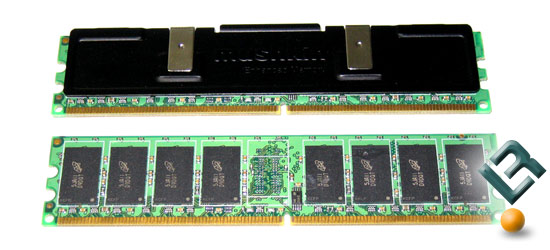 Once I removed the heat spreaders I found that Mushkin was using screened Micron "Fat Body" D9 memory IC's for their eXtreme XP6400 (991473) high speed memory modules. The memory was also noted as being double-sided memory modules (containing FBGA components on only both sides) since they are 1GB per module. If you order densities under 1GB they will be single sided. Each Mushkin XP6400 module has sixteen 64M x 8-bit DDR2 FBGA memory IC's. The Printed Circuit Board (PCB) ID was BP MLL E186014 B62URCB, which is made by Brain Power Co. and is a different part number than the PCB that A-DATA is using.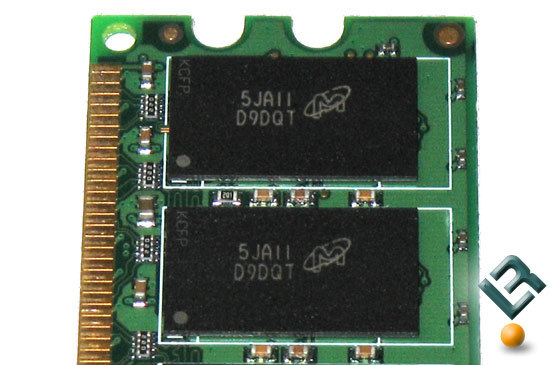 Decoding The IC:
For those of you that want to know the inside scoop on everything we broke down what the codes on the IC mean below. If you would like to do this on one of your personal modules or to double check us you can find the most current data sheet found right here on the Micron site. After looking up the our FBGA code (D9DQT) we were able to determine that our IC's were part number MT47H64M8BT-3A.
Micron MT47H64M8BT-3:A

Specification

Feature

MT47H

Micron Technologies

64M8

64 Meg x 8

BT

92-ball FBGA

3

3.0ns @ CL5 (DDR2-667)

A

Revision A IC's
Key Features:
Memory amount: 2 x 1024MB
IC Brand: Micron
800MHz (PC2-6400) Unbuffered non-ECC DDR2 Modules
CAS latency: 5 clock cycles
RAS precharge: 3 cycles
RAS active to precharge: 8 cycles
Black heat spreader for thermal diffusion
Latency: 5-3-3-8
1.9V
Lifetime Warranty
The Mushkin eXtreme XP2-6400 memory modules can be found for $229.72 (Current Pricing) in a 1GB memory kit and $440.98 (Current Pricing) in the 2GB kit that we tested in this review. This puts the Mushkin 1GB kit right between the A-DATA and Kingston memeory kits when it comes to pricing. Let's move on to testing to see how the kits perform in real life and not just on paper.