DDR2 PC2-6400 (800MHz) 7-way Memory Showdown
By
Crucial Ballistix PC2-6400 Memory
The Crucial Ballistix product line was designed to run at speeds above and beyond industry standard specifications, Ballistix is not for the mainstream computer user. The Ballistix product line was developed specifically for gamers and power users who are trying to squeeze every bit of performance out of their systems. If you're a casual computer user, sending e-mail, surfing the Web, or downloading photos from your digital camera, then Ballistix probably isn't the product match for your needs. Crucial Ballistix modules are tested and carry a limited lifetime warranty.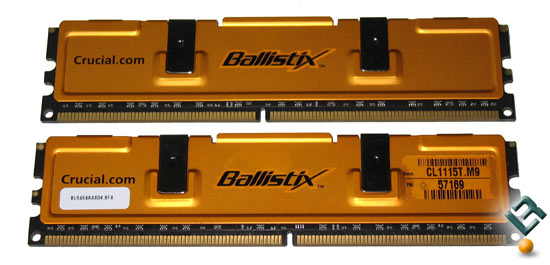 Once I removed the heat spreaders I found that Crucial was using Micron "Fat Body" D9 memory IC's for their Ballistix PC2-6400 (Part Number: BL2KIT6464AA804.8FA) high speed memory modules. Crucial laser etched over the original IC markings from Micron and put "BALLISTIX" on top. The memory was also noted as being single-sided (containing FBGA components on only one side) since they are 512MB per module. If you order densities 1GB or greater they will be double sided. Each Crucial Ballistix module has eight 64M x 8-bit DDR2 FBGA Micron memory IC's. The Printed Circuit Board (PCB) ID was D2C010 and had the word Levin on the memory PCB. Below is an image of the PCB and IC's.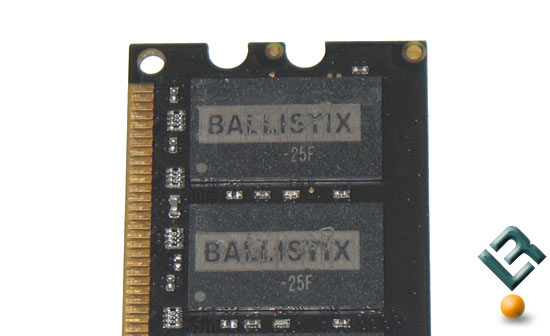 After removing the heat spreader I saw something I've yet to see on any DDR2 module including the dozens i have recieved from Crucial.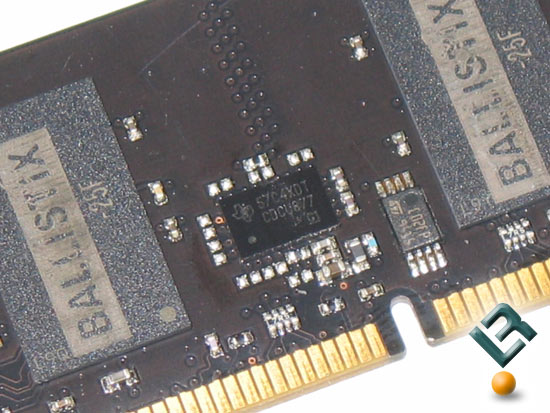 Right smack dab in the middle of the PCB was a Texas Instruments chip. It can't be the SPD chip becasue that is the other 8-pin black chip on the right hand side of the Texas Instruments (TI) chip.I looked up the part number on the TI chip (Part Number CDCU877) and found out that this chip is really a 52-Ball BGA 1.8V Phase Lock Loop Clock Driver. The phase lock loop (PLL) clock driver is used reduce loading on the module by allowing spread spectrum clocking. These texas Instrument phase lock loop clock drivers cost around $2.75 each, so using these for a dual channel kit would increase the raw build cost by $5.50. We also found out that this specific PLL is rated from 10MHz to 400MHz, so overclocking the module would also push the PLL beyond its rated specifications. I asked Crucial about the PLL and they sent me an e-mail stating: "The PLL is pretty standard, and is not used specifically to regulate overclocking tweaks. Nothing special there, sorry!" I'm not sure that it is pretty standard because only one out of the seven brands use a PLL. More on this later!
Decoding The IC:
For those of you that want to know the inside scoop on everything we broke down what the codes on the IC mean below. If you would like to do this on one of your personal modules or to double check us you can find the most current data sheet found right here on the Micron site. After looking up the our FBGA code (D9DQT) we were able to determine that our IC's were part number MT47H64M8BT-3A.
Micron MT47H64M8BT-3:A

Specification

Feature

MT47H

Micron Technologies

64M8

64 Meg x 8

BT

92-ball FBGA

3

3.0ns @ CL5 (DDR2-667)

A

Revision A IC's
Key Features:
Memory amount: 2 x 512MB
IC Brand: Micron
800MHz (PC2-6400) Unbuffered non-ECC DDR2 Modules
1.8V Phase Lock Loop (PLL) Clock Driver
CAS latency: 5 clock cycles
RAS precharge: 5 cycles
RAS active to precharge: 12 cycles
Black heat spreader for thermal diffusion
Latency: 4-4-4-12
1.9V
Lifetime Warranty
The Crucial Ballistix PC2-6400 memory modules can be found for $233.86 (Current Pricing) in a 1GB memory kit and $478.32 (Current Pricing) at the time of print. This puts the Crucial Ballistix PC2-6400 memory kit to the high side when it comes to pricing. Part of the pricing increase might be due to the use of the PLL that we found when we removed the heat spreader. Very interesting stuff!