DDR2 PC2-6400 (800MHz) 7-way Memory Showdown
By
OCZ Technology PC2-6400 Memory
The OCZ PC2-6400 Platinum EB series offers improved memory bandwidth and lower latencies (4-3-3-8) than standard DDR2-800 modules, and is offers teh tightest timings out of the seven brands we tested. The Enhanced Bandwidth (EB) optimized SPD timings help stream more data without interruption by offering the lowest possible page access times while reducing the strain on the DRAM I/O logic making this memory ideal for video editing and intensive gaming and a must have for enthusiasts who want the best of the best. OCZ offers the PC2-6400 Platinum EB memory line in 512MB modules and 1GB (2×512) Dual Channel Kits. For this review we used teh 1GB dual channel kit with a part number of OCZ28001024EBDCPE-K. OCZ modules are tested and carry a limited lifetime warranty.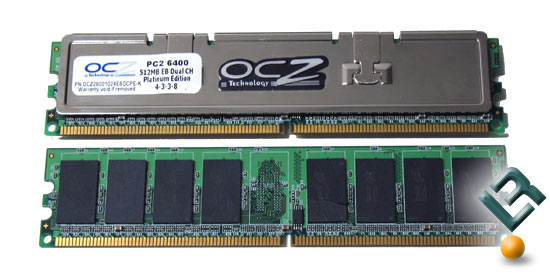 Once I removed the heat spreaders I found that OCZ was using Micron "Fat Body" D9 memory IC's for their EB Platinum PC2-6400 (OCZ28001024EBDCPE-K) high speed memory modules. The memory was also noted as being single-sided memory modules (containing FBGA components on only one side) since they are 512MB per module. If you order densities of 1GB or more they will be double sided. Each OCZ module has sixteen 64M x 8-bit DDR2 FBGA memory IC's. The Printed Circuit Board (PCB) ID was BP MLL E186014 B62URCA, which is made by Brain Power Co. and is the same PCB that SybcMax is using on their modules, but with Elpida IC's.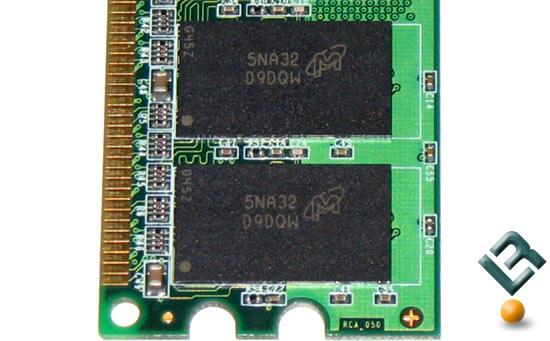 Decoding The IC:
For those of you that want to know the inside scoop on everything we broke down what the codes on the IC mean below. If you would like to do this on one of your personal modules or to double check us you can find the most current data sheet found right here on the Micron site. After looking up the our FBGA code (D9DQW) we were able to determine that our IC's were part number MT47H64M8BT-37EA. These IC's are rated at CL4 at 533MHz and are a different production run than some of the other Micron IC's we are seeing other companies use. To reach the tight 4-3-3-8 timings that these modules come rated at users must increase the memory voltage in their BIOS to 2.1V, which is above the default settings.
Micron MT47H64M8BT-37E:A

Specification

Feature

MT47H

Micron Technologies

64M8

64 Meg x 8

BT

92-ball FBGA

37E

3.75ns @ CL4 (DDR2-533)

A

Revision A IC's
Key Features:
Memory amount: 2 x 1024MB
IC Brand: Micron
800MHz (PC2-6400) Unbuffered non-ECC DDR2 Modules
CAS latency: 4 clock cycles
RAS precharge: 3 cycles
RAS active to precharge: 8 cycles
Platinum heat spreader for thermal diffusion
Latency: 4-3-3-8
2.1V
Lifetime Warranty
The OCZ Technology EB Platinum PC2-6400 memory modules can be found for $135.53 (Current Pricing) in individual 512MB modules and $257.97 (Current Pricing) for the 1GB kit that we tested in this review.