DDR2 PC2-6400 (800MHz) 7-way Memory Showdown
By
Same Frequencies, But Different Components
Editor's Note: This article is an update to the original 3-Way PC2-6400 Roundup that was published last month. This update includes four more brands, new benchmarking charts, and updated pricing/conclusions.
One might find it shocking that DDR2 memory has been on the market for over a year now, and while the initial performance levels of DDR2 memory was lackluster to say the least, that is no longer the case today. At its inception entry level DDR2 came clocked at 400MHz with CL4 timings. One year later, one of the most common enthusiast speed grades is PC2-6400 (800MHz), which is double the initial frequency with the same timings as DDR2's big debut. To make things even better DDR2 memory has achieved price parity with DDR1 memory, making the change much easier on the wallet.
Now that DDR2 memory has been around for several Intel chipsets it is becoming more common and the prices have been decreasing. With DDR2 memory hitting over 1GHz on Intel's 955X chipset we can only hope for even higher overclocking results on the upcoming Intel 975X chipset. If you are an Intel fan and been waiting to upgrade from your socket 478 chipset the upcoming socket 775 boards featuring the Intel 975X chipset might push you over the edge with their SLI and Crossfire video card support. Not to mention support for the upcoming 65nm processor family and NetBurst technology from Intel. With the way PC2-6400 memory is looking it is currently the only memory we would recommend for our readers to be able to handle current and upcoming chipsets.
Legit Reviews has recently had the opportunity to look over SEVEN PC2-6400 memory kits from some of the most popular enthusiast brand lines here in North America. Our seven memory kits came from A-DATA, Corsair, Crucial, Kingston, Mushkin, OCZ, and SyncMAX. All of the kits are rated at PC2-6400 or DDR2 800MHz and are meant to be used in overclocking situations. While all seven brands are rated at 800MHz, this is where the similarities end.
The Kingston modules use Infienon IC's and are rated with a CAS Latency of 5 at 1.95V. On the other hand the A-DATA and SyncMAX modules use Elpida IC's on Brain Power PCB's. Crucial, Corsair, Mushkin, and OCZ all use Micron IC's on their XP6400 memory lines and rates them at various timings with voltages ranging from 1.9-2.1V. Are you confused yet? Hang on and we will cover each module in depth and show you what the differences are between the kits.
Below is an image of all the memory kits together on the bench.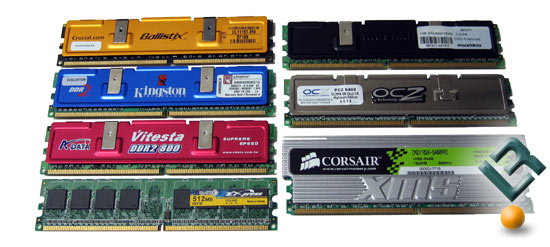 Now let's take a look at the kits starting off in alphabetical order starting with A-DATA first.