ASUS P9X79 Deluxe Motherboard Review
By
P9X79 Deluxe SATA III (6Gb/s) Performance Testing
CrystalDiskMark is a small benchmark utility for drives and enables rapid measurement of sequential and random read/write speeds. Note that CDM only supports Native Command Queuing (NCQ) with a queue depth of 32 (as noted) for the last listed benchmark score. This can skew some results in favor of controllers that also do not support NCQ.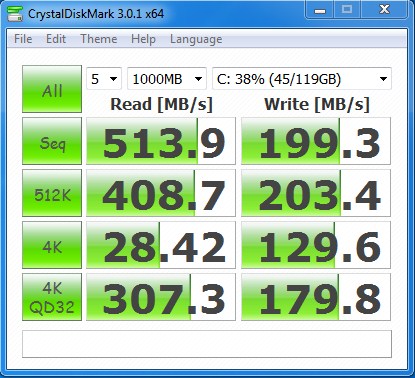 All testing was performed with a Crucial M4SSD2128 GB SATA III SSD, while the Operating System (Windows 7) was installed onto this SSD.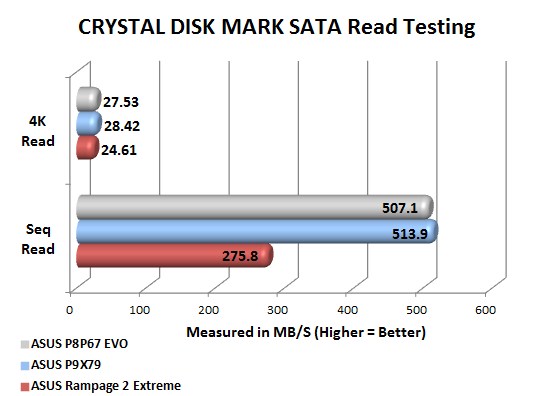 Turing our attention over to Crystal Disk Marks Read testing, we can see that the P9X79 Deluxe motherboard SATA III performance is about on par with the SATA III performance of the P8P67 EVO motherboard.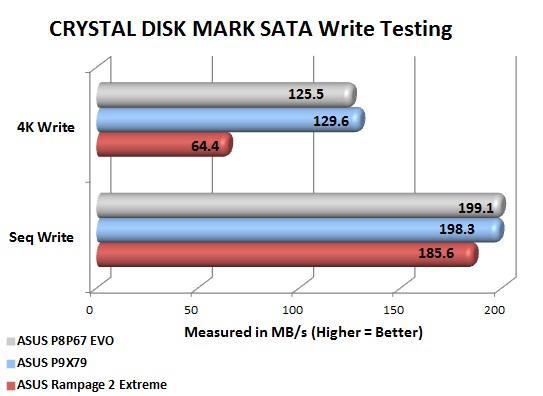 Looking at the Write portion of this benchmark testing that during the 4K write testing the P9X79 Deluxe and with the P8P67 EVO motherboards the performance is about on par with one another.
HD Tune Pro 4.01 is an extended version of HD Tune which includes many new features such as write benchmark, secure erasing, AAM setting, folder usage view, disk monitor, command line parameters and file benchmark.
Since the Operating System is installed on the Crucial M4SSD2128GB SSD I was unable to do a write test with HD Tune, because it would require a storage device that not be partitioned to perform this type of testing.
ASUS P9X79 Deluxe HD Tune Read Results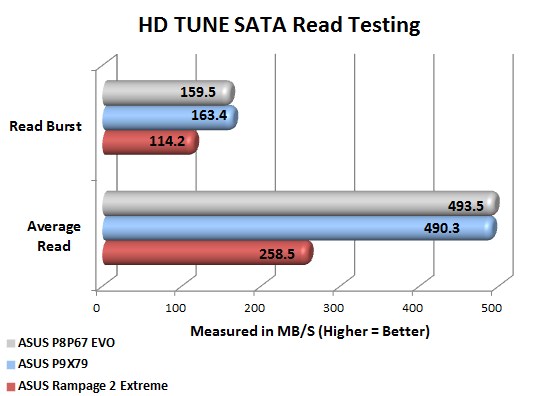 Making our way with HD Tune's performance numbers we still see that between the P8P67 EVO and P9X79 Deluxe motherboard the performance between these two is about on par with one another.
Considering I am comparing 3 very different platforms throughout this review I will not be to overly concerned with a few MB/s of transfer rates between the P8P67 EVO and the P9X79 Deluxe motherboards. What I am mainly concerned with is that the Crucial M4SSD2128 GB SSD takes a serious hit of performance while using the older Rampage II Extreme motherboard.