ASUS P9X79 Deluxe Motherboard Review
By
ASUS P9X79 Deluxe motherboard Crossfire Testing
Since my particular machine is running 2 AMD Radeon HD6970 Video cards in a Crossfire configuration I felt it be a good idea to see if the 3 tested platforms influences our performance levels. Unfortunately I do not have a pair of NVIDIA based video cards to test on how the performance of SLI is influenced by these tested platforms.
ASUS P9X79 Deluxe Motherboard 3DMark 11 Performance Crossfire AMD Radeon HD6970 Testing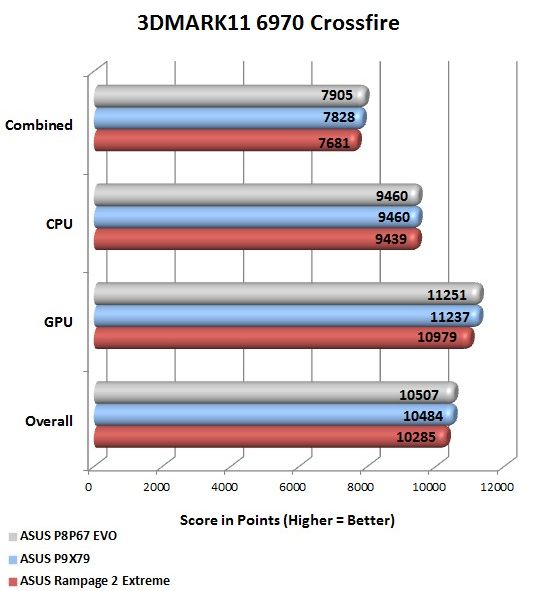 Looking at the 3DMark11 testing is when we can start to see a small lead being taken by the P8P67 EVO motherboard during the GPU and with the combined portion of testing, which will also give us a slightly better overall score.
ASUS P9X79 Deluxe Motherboard Sniper Elite V2 AMD Radeon HD6970 Crossfire Testing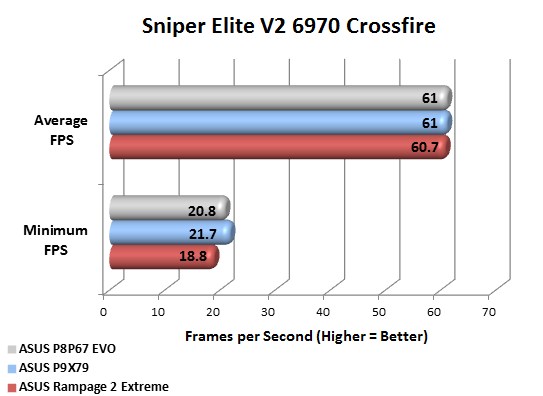 During the Sniper Elite V2 benchmark testing, the only time we can see which platform out performs the other is during the minimum FPS. This time the Rampage II Extreme falls behind the other 2 tested platforms by almost 3 FPS.