ASRock A75 Pro4 Motherboard Review
By
ASRock A75 Pro4 Socket FM1 Motherboard Layout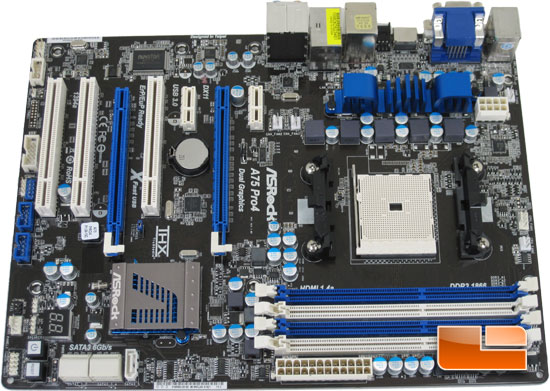 The ASRock A75 Pro4 built on a black PCB with blue and white accents. Overall it's a nice looking motherboard, though looks are always behind performance and features.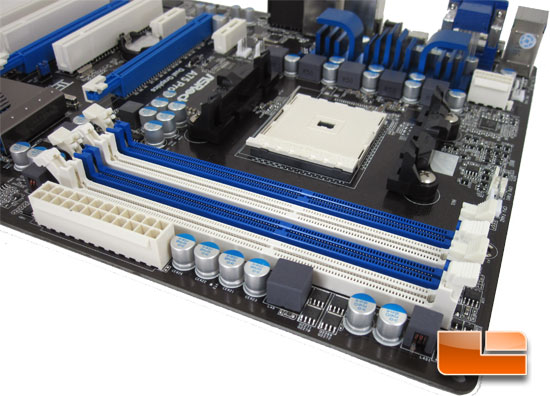 The ASRock A75 Pro4 supports DIMM's up to 2400MHz (OC) as well as a maximum of 32Gb in a 8Gb x 4 DIMM configuration. As with current motherboards we also have the 24pin motherboard power along the front edge.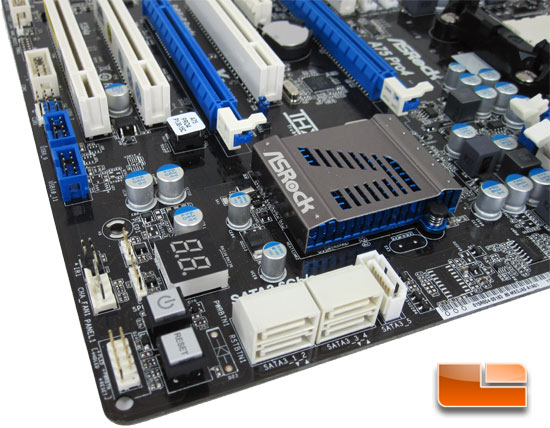 The ASRock A75 Pro4 features five SATA III 6Gbps ports along the front edge of the PCB. Four of the SATA III ports come out parallel to the PCB, while the fifth comes out perpendicular to the PCB. The fifth is off to the side of the second PCIe X16, fortunately it is on the back of the PCIe X16 slot and wont interfere with graphics cards in CrossfireX. Along the edge we have the onboard power and reset buttons, pin out for the panel, chassis fan, Debug LED, and two internal USB 2.0 headers.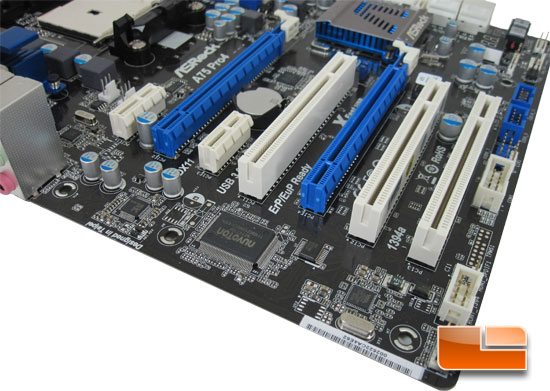 Swinging the ASRock A75 Pro4 around the most obvious feature is the expansion slots. We have a pair of PCIe X16 slots that are spaced far enough apart that the primary card has some breathing room. On either side of the first PCIe X16 slot is a PCIe X1 slot, the second PCIe X1 would have been more useful had it been swapped with the third PCI slot. Rounding out the expansion slots is three traditional PCI slots. Working our way down the edge of the ASRock A75 Pro4 we have a third USB 2.0 header with a CIR header between it and the edge, the first white header is the COM ports, while the one closest to the corner is the onboard Firewire. Working our way up the following edge we have the VIA VT6315N Firewire controller, NUVOTON NCT6776F Super I/O, followed by the Realtek ALC892 Hi-Def audio Codec.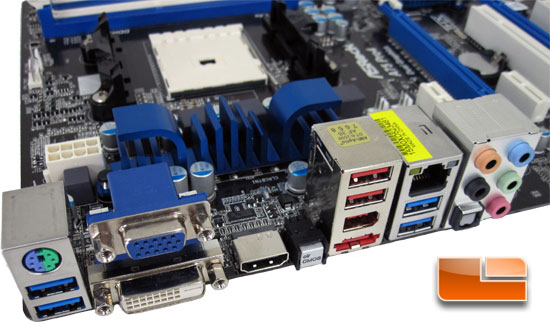 The I/O panel of the ASRock A75 Pro4 is about as full featured as you can get. There is a grand total of six USB ports, four USB 3.0 and two USB 2.0, DVI, VGA, HDMI, Firewire, Gigabit LAN, five 3.5mm audio jacks plus optical SPDIF, as well as a clear CMOS button.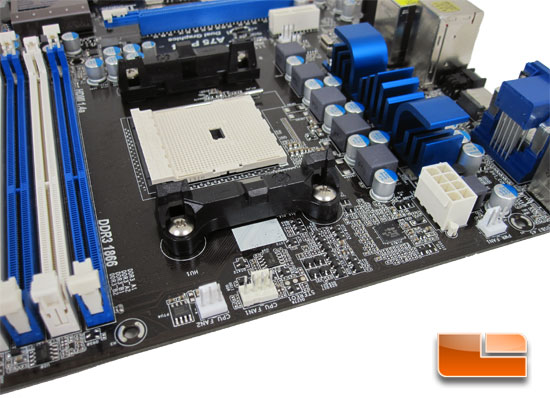 The ASRock A75 Pro4 features the same trimmed down style retention bracket that we have seen on the recent ASUS AMD motherboards. One little feature to take note of is the pair of CPU fan headers. The ASRock A75 Pro4 is equipped with a 4pin and a 3pin header for the CPU fans.