ASRock A75 Pro4 Motherboard Review
By
ASRock A75 Pro4 Motherboard Review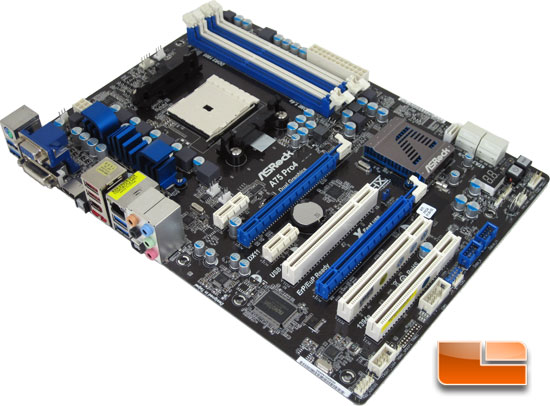 ASRock is a relatively new company when compared to some of the motherboard manufacturers out there. Started in 2002 they wanted to use a 3C model, "Creativity, Consideration, and Cost-effectiveness".ASRock has always been one of the first to implement a new technology into their motherboards. They were the first to offer a front panel USB 3.0 bundle. ASRock is also the first (and only to my knowledge) to offer an Intel P67 chipset that supports Intel Lynnfield LGA 1156 CPU's. Nope, that's not a typo, it really does use processors in the LGA1156 package! Curious, you can find details on the ASRock P67 Transformer on the ASRock website.
The ASRock P67 Transformer is just one of the many unique things that ASRock has done in the past and present. What we have today, isn't as unique as the P67 Transformer though it should be just as much fun if not more. The ASRock A75 Pro4 is one of six socket FM1 motherboards that ASRock offers up.
The prices for the ASRock line up of AMD APU motherboards range from $69.99 for the ASRock A75M-HVS to $129.99 for the ASRock A75 EXTREME6. The ASRock A75 Pro4 I have in my grubby little hands today sits pretty at only $109.99. Not a bad price for all of the features that this board has for us.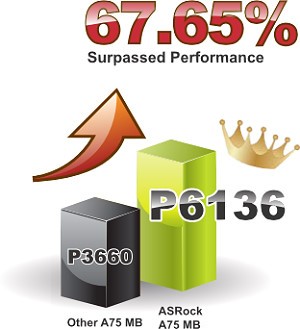 ASRock was able to hit a score of P6136 in 3DMark Vantage with the ASRock A75 Pro4. They are claiming a boost of 67.65% over other AMD A75 motherboards. On our previous socket FM1 motherboards we have seen scores hovering between P4150 and P4200, this is a far cry from the P3660 they are claiming for the other motherboards. ASRock does have a little disclaimer stating that the P6136 is achieved with an overclocked system, though they don't tell us what the overclock was. We will see what we can hit both stock and overclocked under air cooling in the coming pages.
ASRock A75 Pro4 AMD APU Motherboard Specifications
CPU
– Support for Socket FM1 100W processors
– V4 + 1 Power Phase Design
– Supports AMD's Cool 'n' Quiet Technology
– UMI-Link GEN2
Chipset
AMD A75 FCH (Hudson-D3)
Memory
– Dual Channel DDR3 memory technology
– 4 x DDR3 DIMM slots
– Supports DDR3 2400+(OC)/1866(OC)/1600(OC)/1333/1066/800
non-ECC, un-buffered memory
– Max. capacity of system memory: 32GB
BIOS
– 32Mb AMI UEFI Legal BIOS with GUI support
– Supports "Plug and Play"
– ACPI 1.1 Compliance Wake Up Events
– Supports jumperfree
– SMBIOS 2.3.1 Support
– DRAM, VDDP, VDDR, SB Voltage Multi-adjustment
Graphics
– AMD Radeon HD 65XX/64XX graphics
– DirectX 11, Pixel Shader 5.0
– Max. shared memory 512MB
– Multi VGA Output options: D-Sub, DVI-D and HDMI
– Supports HDMI 1.4a Technology with max. resolution up to 1920×1200 @ 60Hz
– Supports Dual-link DVI with max. resolution up to 2560×1600 @ 75Hz
– Supports D-Sub with max. resolution up to 1920×1600 @ 60Hz
– Supports Auto Lip Sync, Deep Color (12bpc), xvYCC and HBR (High Bit Rate Audio)
with HDMI (Compliant HDMI monitor is required)
– Supports Blu-ray Stereoscopic 3D with HDMI 1.4a
– Supports AMD Steady Video: New video post processing capability for automatic jutter reduction on home/online video
– Supports HDCP function with DVI and HDMI ports
– Supports Full HD 1080p Blu-ray (BD) / HD-DVD playback with DVI and HDMI ports
Audio
– 7.1 CH HD Audio with Content Protection (Realtek ALC892 Audio Codec)
– Premium Blu-ray audio support
– Supports THX TruStudio
LAN
– PCIE x1 Gigabit LAN 10/100/1000 Mb/s
– Realtek RTL8111E
– Supports Wake-On-LAN
– Supports LAN Cable Detection
– Supports Energy Efficient Ethernet 802.3az
– Supports PXE
Slots
– 2 x PCI Express 2.0 x16 slots (PCIE2 @ x16 mode; PCIE4 @ x4 mode)
– 2 x PCI Express 2.0 x1 slots
– 3 x PCI slots
– Supports AMD Quad CrossFireX, CrossFireX and Dual Graphics
SATA3
– 5 x SATA3 6.0 Gb/s connectors, support RAID (RAID 0, RAID 1 and RAID 10),
NCQ, AHCI and "Hot Plug" functions
USB 3.0
– 4 x USB 3.0 ports, support USB 1.0/2.0/3.0 up to 5Gb/s
Connector
– 5 x SATA3 6.0 Gb/s connectors
– 1 x IR header
– 1 x CIR header
– 1 x COM port header
– 1 x HDMI_SPDIF header
– 1 x IEEE 1394 header
– 1 x Power LED header
– CPU/Chassis/Power FAN connector
– 24 pin ATX power connector
– 8 pin 12V power connector
– Front panel audio connector
– 3 x USB 2.0 headers (support 6 USB 2.0 ports)
– 1 x Dr. Debug with LED
Rear Panel I/O
I/O Panel
– 1 x PS/2 Mouse/Keyboard Port
– 1 x D-Sub Port
– 1 x DVI-D Port
– 1 x HDMI Port
– 1 x Optical SPDIF Out Port
– 2 x Ready-to-Use USB 2.0 Ports
– 1 x eSATA3 Connector
– 4 x Ready-to-Use USB 3.0 Ports
– 1 x RJ-45 LAN Port with LED (ACT/LINK LED and SPEED LED)
– 1 x IEEE 1394 Port
– 1 x Clear CMOS Switch with LED
– HD Audio Jack: Rear Speaker / Central / Bass / Line in / Front Speaker / Microphone
Unique Feature
– ASRock Extreme Tuning Utility (AXTU)
– ASRock Instant Boot
– ASRock Instant Flash
– ASRock APP Charger
– ASRock SmartView
– ASRock XFast USB
– ASRock On/Off Play Technology
– Hybrid Booster:
– ASRock U-COP
Smart Switch
– 1 x Power Switch with LED
– 1 x Reset Switch with LED
– 1 x Clear CMOS Switch with LED
Hardware Monitor
– CPU Temperature Sensing
– Chassis Temperature Sensing
– CPU/Chassis/Power Fan Tachometer
– CPU/Chassis Quiet Fan
– CPU/Chassis Fan Multi-Speed Control
– Voltage Monitoring: +12V, +5V, +3.3V, Vcore
Form Factor
– ATX Form Factor: 12.0-in x 8.8-in, 30.5 cm x 22.4 cm
– All Solid Capacitor design
We have a lot to cover in the coming pages. Join us on the next page as we take a look at the retail package and bundle that accompanies the ASRock A75 Pro4 APU motherboard!