Xigmatek XAF Series 140mm Fan Round-Up
By
Testing Methodology & Results

Today we'll be testing 4 Aspects of this fan:
Sound Pressure Level (recorded in dBA)
Airflow (recorded in CFM)
Static Pressure (recorded in mmH20)
Heat Tolerance (testing done at 30*C)
The Testing Equipment that I will be using was purchased by myself, it includes:
Extech HD755 Pressure Meter
General Tools DCFM8906 Digital Air Flow Meter
Tenma Digital Sound Level Meter
Kintrex IRT0421 Non-Contact Infrared Thermometer
Universal Enterprises DM383B Digital Multimeter
As some folks may notice, there's a slight update to the testing equipment. The Dewyer was replaced with a new Extech HD755 so that I can get more accurate readings from a digital source that I do not have to convert by hand.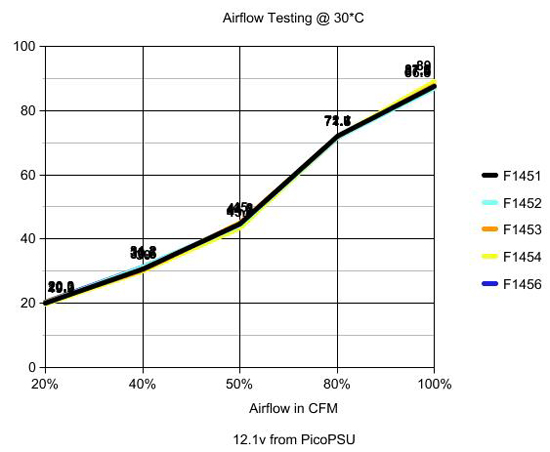 All of these fans were about dead center on one another. Around the 20% load we start off just above 20CFM for most of the fans, with one showing just shy at 19.9CFM. Moving up to our 40-80% tests, we see that the fans go from ~35CFM, to ~45CFM, and up to ~71CFM. Finally, these guys land just shy of their advertised mark at 87-89CFM.
I don't think I'll knock these guys for being just shy at such high airflow levels.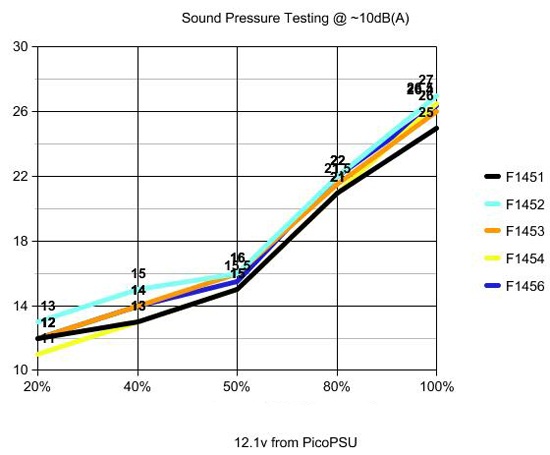 Moving on, we have the sound pressure results which show the greatest variance between all of the fans.
At the low point, we have the F1454 starting up at just 11dB(A) with one of the smoothest bearings I have ever heard. At the highest point, we have the F1452 peaking at 27dB(A). Now I am going to knock these fans for that maneuver, as Xigmatek is downright liars if they believe these fans are anywhere close to their advertised noise levels.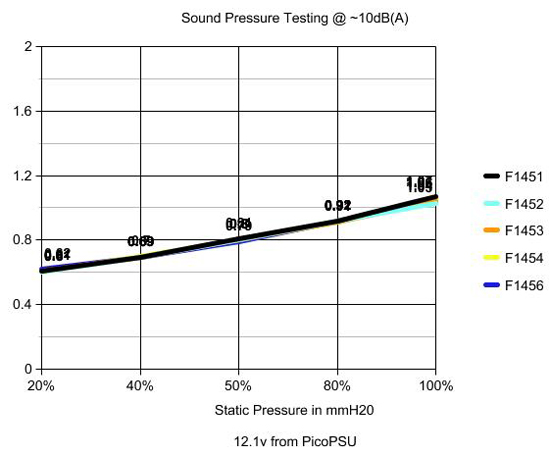 As suspected from the blad designs of these guys, they are dogs in terms of static pressure. I won't knock them for this really, even though Xigmatek & NZXT use this style of fan as a heatsink fan, and Xigmatek advertises these for Heatsink use; I don't think most people will use them for that purpose.
Let's wrap this up now.