Xigmatek XAF Series 140mm Fan Round-Up
By
Introducing the Xigmatek XAF Series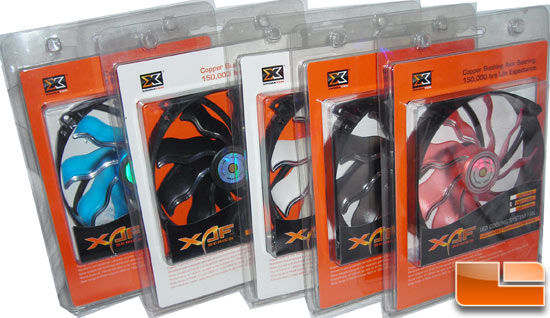 The Xigmatek XAF Series of fans is a brand new line of fans to come from Xigmatek, focusing on quiet operation with high airflow. These fans come with a 1 year warranty and range in price from $23.99 to $24.99 plus $2.99 for shipping & handling. While these are new products to Xigmatek's fan line up, we at Legit Reviews have actually seen them before on the NZXT Havik 140mm Tower Cooler. Let's just say, that cooler had some disappointing cooling performance in some regards, but perhaps that was due to fan choice and not the actual heatsink design? We'll be reviewing that topic later once we get to performance, but as it's obvious from the blade design of these fans, we do not have a design intended to produce a lot of static pressure. Xigmatek themselves is not new to the Heatsink market, and also uses these fans on their Prime SD1484 Tower Cooler.
Xigmatek had this to say about their XAF Series of 140mm fans:
XAF series, copper bushing axis, is an optimized and premium quality
140mm fan, waveform for superb quietness and outstanding aerodynamic
efficiency. Copper bushing axis can guarantee exceptional running
smoothness and provide excellent long-term stability. XAF series, able
to be installed on the holes of regular 120mm fan, achieves a superior
airflow/noise ratio and an ideal fan for upgrading your 120mm coolers or
case fans.

Two things stand out to me here, and that is that Xigmatek was aiming for a cheaper alternative to the Fluid Dynamic bearing, which would be better than the proven Rifle & Sleeve bearing types. Like wise, I wish Xigmatek (and all of those who sell 140mm fans designed for 120mm fan spots), would note that these fans are not always compatible with 120mm mounting holes or coolers since some holes do not have enough width/height to support 140mm fans, and that some heatsinks will just not perform well with 140mm attached. A minor complaint on my part though.
Xigmatek does do well to note all the important data of these fans though, so let's take a look at what they say these fans can do:
Xigmatek XAF-F145x 140mm Fan Series Specifications:
XAF-F1451
XAF-F1452
XAF-F1453
XAF-F1454
XAF-F1456
Blade Color
Black
White
Orange
Black
Blue
LED Color
N/A
N/A
White
White
White
Price
$23.99
$23.99
$24.99
$24.99
$24.99
Plastic Material
PBT
Starting Voltage
9v
Speed (RPM)
800 RPM – 1200 RPM
Bearing Type
Aeronautical Oil System Bearing
Airflow
90.3CFM
Noise
<18dB(A)
Static Pressure
1.08mmH20
Lifetime
150,000 Hours (25*C?)
Connector Type
4pin PWM Connector
Everything here is rather "standard" for a very basic fan. Most "high end" or "performance" fans start up at the 7v mark, if not lower. More so, the static pressure is obviously low. It's a good thing I updated my pressure meter though. I had to after the
Zaward review
showed a lack of "power" in my equipment.
Well, you may remember before when I said that NZXT also used this same fan on their HAVIK 140mm tower cooler? Well, as it turns out, this is not an exclusive design that either licensed off one another; but instead a standard design to come out of, Hong Sheng Electronics. Currently this model is not listed on their site, but if I was to believe NZXT's product specifications; the less than 18dB(A) claim by Xigmatek is going to be a flat out lie.
Now, I will say that Xigmatek may do their own sound measurements, but I would be more inclined to trust what Hong Sheng gets and NZXT reports, as they use ISO standards for measuring sound pressure. Conditions which I try to replicate by making my isolation chamber as close to 10dB(A) as humanly possible. Which should give the most comparable results between what I measure and what OEMs provide in terms of sound pressure figures.
On the flip side, I can't guarantee that all OEMs or ODMs follow these standards, and thus they are free to report any numbers that they feel like.
With all of that said, let's move forward and get a look at all of today's victims?