XFX R7950 Double Dissipation Video Card Review
By
Test System
Before taking a look at the benchmarks, lets take a look at the test system that was used. All testing was done with a fresh install of Windows 8.1 Pro x64, no additional software was running during the tests.
Video Cards & Drivers used for testing:
ASUS 560Ti (ENGTX560 Ti DCII/2DI/1GD5) GeForce 320.49 Drivers
Gigabyte HD7870 (GV-R787OC-2GD) Catalyst 13.152.1.8000 Drivers
XFX R7950 (FX-795A-TDKC) – Catalyst 13.152.1.8000 Drivers
Intel Z77/LGA1155 Platform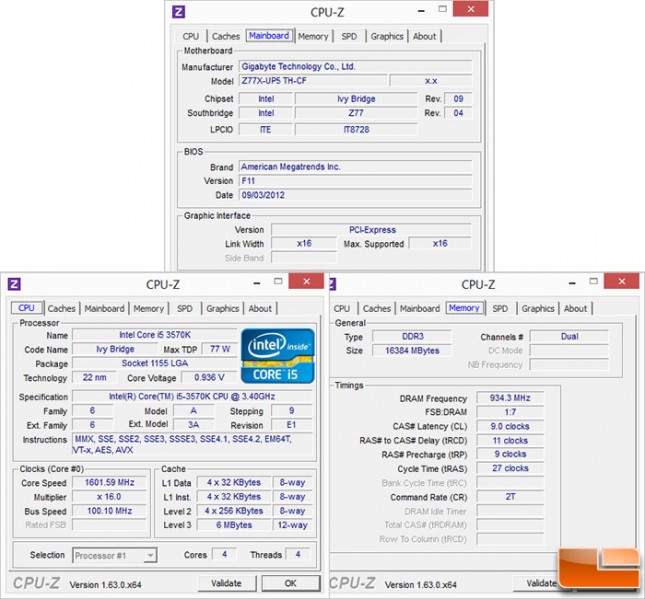 The Intel Z77 system used to test the video cards was using the Gigabyte Z77X-UP5 TH motherboard, with the F11 BIOS from 09/03/2012. Installed for memory was 16GB Kingston Hyper-X Blue 1866MHz, running at the rated speed with 9-11-9-27 2T timings. An Intel 520 series 180GB SSD was used for the OS and benchmarks. Testing was completed in a room with an ambient temperature of 65F.
The Intel Z77 Test System

Component

Brand/Model

Live Pricing

Processor
Intel Core i5-3570K
Click Here
Motherboard
Gigabyte Z77X-UP5-TH
Memory
16GB Kingston Blue 1866MHz
Click Here
SSD
Intel 520series 180GB
Click Here
Cooling
Zalman CNPS9900 MAX
Click Here
Power Supply
Lepa G650-MAS
Click Here
Operating System
Windows 8.1 Pro 64-Bit
Click Here
XFX R7950 GPU-Z Information: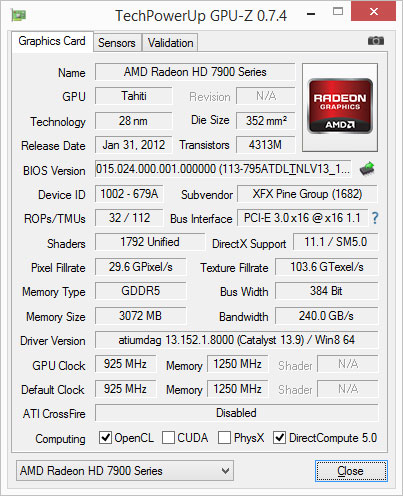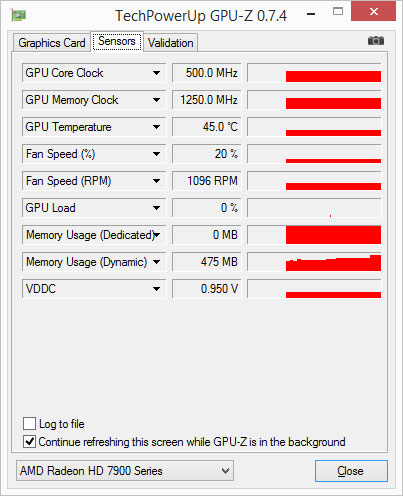 GPU-Z shows the R7950 using 0.950V while idle, which puts the card into a power savings mode. In this mode, the GPU is downclocked to 500MHz, and sits at 45C. This seems fairly warm for a card to be sitting at while idle.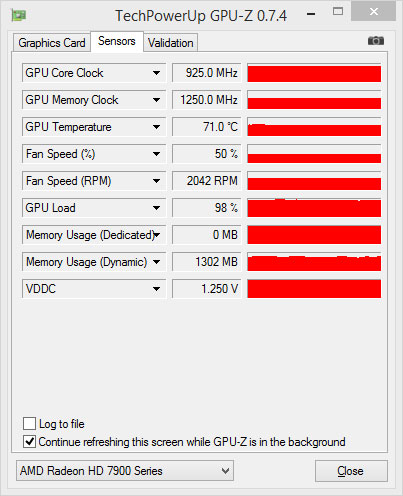 Once the GPU is pushed, the GPU is clocked to 925MHz. Under a full load for 15 minutes, the temperature settles at 71C. Power utilization goes from 0.950V up to 1.250V, an increase of 0.30V. Maybe raising the fan speed will help with temperatures.