WD My Book World Edition II External 2TB NAS Drive
By
Power Consumption and Final Thoughts
For testing power consumption, we took our WD 2TB My Book World Edition II NAS server and plugged it into a Kill A Watt power meter. This gives us an idea of the AC power entering the device. For idle numbers, we allowed the system to idle on the desktop for 15 minutes and took the reading. For load numbers, we measured the peak wattage used by the system while transferring files. The sleep numbers are just that, they number we woke up to seeing after letting power off the desktop and just letting the WD 2TB My Book World Edition II run overnight as one would on the network.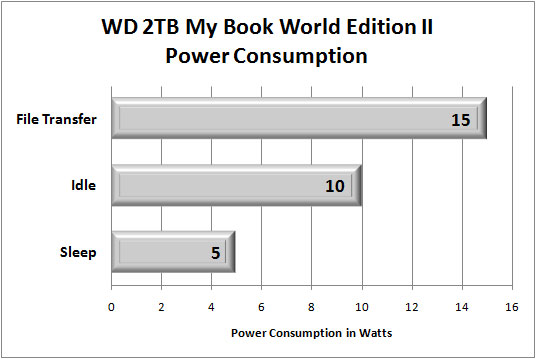 As you can see the WD 2TB My Book World Edition II doesn't really consume that much power. These low power consumption numbers are due in part to the fact that WD Caviar Green WD10EAVS SATA hard drives with 8MB of cache are being used. WD Caviar Green drives use less power, which means you get a quieter and cooler-running external storage device in this case. In fact, the dual-drive NAS runs so cool it doesn't even need a cooling fan.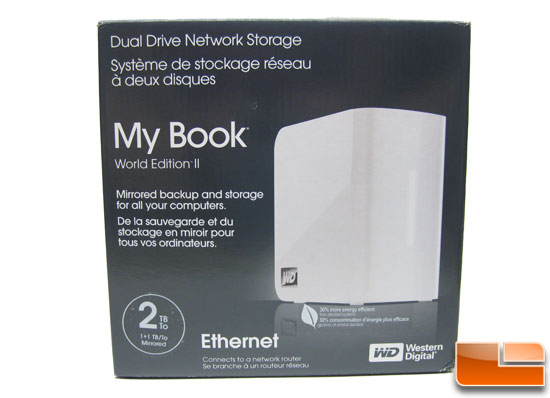 Final Thoughts and Conclusions
The WD 2TB My Book World Edition II dual drive network storage device updates the design and features of the original World Edition series very nicely. Western Digital has had great success with the My Book series over the years and it is obvious why as they are very simple to setup and use. It takes roughly five minutes to get this drive setup and it doesn't matter what your experience level is.
When it comes to pricing the Western Digitals My Book World Edition II runs at $399.99 (2TB) and $699.99 (4TB). This might seem a tad high for some, but they are priced appropriately for the intended users – enthusiasts. While the World Edition II is great for both home users and small business users as it offers data redundancy and can be installed by yourself. There isn't a need for an outside IT company to come in and set this up for you as it is fairly easy and can be down in well under half an hour.
Performance on the WD 2TB My Book World Edition II was fairly good, but just like everyone, we would have liked to see higher transfer speeds. The low power consumption thanks to the Caviar Green drives partly make up for the performance though. Overall, the WD 2TB My Book World Edition II is a solid backup server should work great on any network that has a need for data backup.
Legit Bottom Line: The WD 2TB My Book World Edition II is a very simple to use Network Attached Storage (NAS) device that you should look into if you don't backup your data on a regular basis.