WD My Book World Edition II External 2TB NAS Drive
By
My Book World Edition II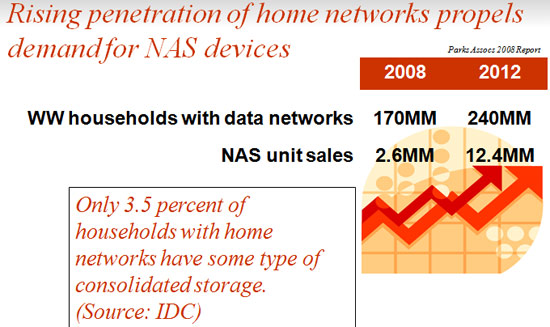 With the rapid rise of laptops and netbooks, more homes have multiple computers and gigabit data networks these days. According to a July 2008 report, 170 million households around the world have some sort of a data network, which is an impressive figure. Sadly, only 2.6 million Network Attached Storage (NAS) devices were sold in 2008. The same report by research firm Parks Associates also states that that the average broadband household will see its digital media storage needs grow to nearly 900GB by year-end 2012! This is important as many consumers need a centralized file storage option on the network for data backup and storage. The good thing about NAS devices is that they are usually low-cost and easy to use since they are not a fully configured computer with an expensive Microsoft operating system. Western Digital (WD) has come out with the My Book World Edition II dual drive network storage device today, which they hope will be the end device for the backup and storage for all your network systems.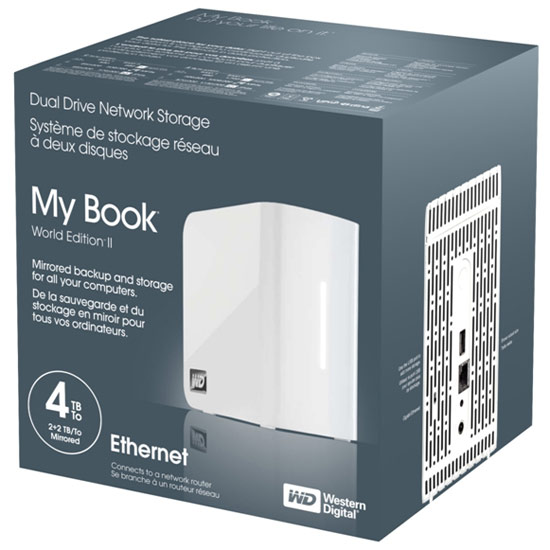 The WD My Book World Edition II dual-drive network storage system is aimed at enthusiasts and power users that have multiple computers in the household and want to keep them backed up over their home network. With the double protection of two Mirrored (RAID 1) drives and continuous automatic backup software, the My Book World Edition II network storage system provides an extra-safe place for users to back up and store the data and digital media from all the computers on their network in one central location.
The new My Book World Edition II network storage systems are available now in 2 TB and 4 TB capacities. Manufacturer's Suggested Retail Price (MSRP) for the My Book World Edition II dual-drive storage system with 4 TB (model #WDH2NC40000) is $699.99 USD and 2 TB (model #WDH2NC20000) is $399.99 USD.
My Book World Edition II Dual-Drive Features
Automatic, continuous backup for all the computers on your network
Dual-drive system that mirrors valuable data for extra safe data protection
Centralized storage and sharing for all of your familys digital content
Streaming to any connected PC, Mac or DLNA certified game console or media player
Easy remote access to all your data from anywhere, anytime
Works seamlessly on networks with both Windows and Mac computers
Ability to centralize and stream music collection to a Mac or Windows PC using iTunes software
USB 2.0 port to turn any USB drive into an instant network drive or extra capacity
Cooler, quieter, eco-friendly design with drives using WD GreenPower Technology
User serviceable
Capacity gauge to see at a glance how much space is available on your drive
High-speed data transfer with Gigabit Ethernet
3-year limited warranty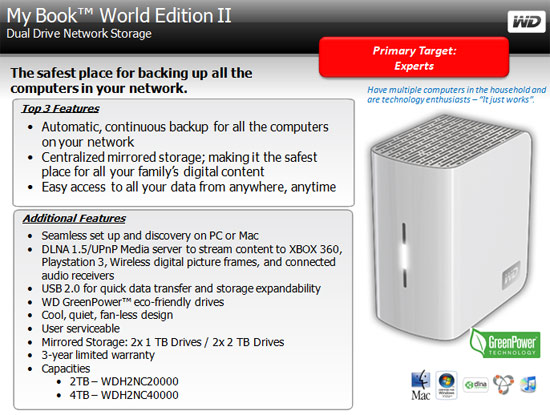 The My Book World Edition II network storage system uses RAID 1 (Mirrored) technology to automatically and continuously maintain a second copy of users data using supplied software that you need to install on each computer that you want to keep backed up. When running in RAID 1, if one drive in the two-drive system ever fails, the system continues to run and the data is safe. The My Book World Edition II storage device can be run in RAID 0 (Striped) mode as well if speed over redundancy is required. All My Book World Edition II's ship in mirrored mode, though, as the main purpose of this drive is for data security. As a result, that means you can only use half the rated capacity for file storage since one drive is used for a mirror.
Once installed and setup on your network the WD My Book World Edition II can store music, photos and videos and then stream them directly from the My Book World Edition II storage system to any PC, Mac or connected DLNA media player (such as TVs, Microsoft Xbox 360 and Sony PlayStation3 game consoles or wireless digital picture frames) using the integrated UPnP (Universal Plug and Play) media server and iTunes Music server software. Users can also securely access their files from anywhere in the world through the Internet using the free MioNet remote access service included on the software disc that comes with the NAS device.