Upgrading from Intel Core 2 Quad Q6600 to Core i7-4770K
By
GIGABYTE Z87X-UD4H vs. ASUS P5E
Here is a quick comparison of the features of both old and new motherboards:
GIGABYTE Z87-UD4H
ASUS P5E
CPU Support
4th Generation Intel Core processors
Intel Core 2 and Socket 775 Variants
CPU Socket
LGA1150
LGA775
Chipset
Intel Z87 Chipset
Intel X38 Chipset
Graphics Interface
1x PCIe 3.0 x16 + 1x PCIe 3.0 x8 (1×16/2×8 Bandwidth)
2x PCIe x16
Memory Type
2 Channel DDR3
2 Channel DDR2
Memory DIMM
4x DDR3 – 32 GB Max
4x DDR2 – 8 GB Max
Expansion Slots
1x PCIe x4 + 3x PCIE x1 + 1x PCI
3x PCIe x1 + 2x PCI
SATA Connectors
8x SATA3 (6 Gb/s)
6x SATA2 (3 Gb/s)
SATA RAID
RAID 0,1,5,10
RAID 0,1,5,10
USB
10x USB 3.0 + 6x USB 2.0
12x USB 2.0
Audio
8-Channel HD
Integrated
(Realtek ALC898 Codec)
8-Channel
SupremeFX II Audio Card
(ADI AD1988B Coded)
LAN
Intel GbE LAN
Marvell88E8056 PCIe Gigabit LAN
1394
—
2x 1394a VIA VT6308P Controller
Video Output
HDMI, DVI, D-Sub, DisplayPort
—
Features & Software
Ultra Durable 5 Plus, All IR digital power design, Durable black solid capacitors, 2-Way SLI, 2-Way Crossfire, CFOS, On/Off charge 2, 110dB
Power Saving Solutions, Intelligent Overclocking Tools, ASUS AI Booster Utility, 2-Way Crossfire
Form Factor (mm)
ATX (305×244)
ATX (305×244)
System Comparison and Cost
This is just a quick overview of what parts are being utilized with each system, and how much each part cost. For grins, I am only going to provide the prices that I paid for my Q6600 system from back in 2007, or any upgraded parts along the way will also be the then price, while the new i7 system will be todays prices. I also cannot find that I ordered a power supply, so my initial PSU must have been reused from an old build. I did eventually purchase a new one and will list it under the upgrade section.
Old PC
Component
Model
Cost
Processor
Intel Q6600
$279.99
Motherboard
ASUS P5E
$229.99
Memory
2x Mushkin PC2 8500 2GB Kit
$199.98
Video Card
EVGA 8800 GTX
$549.99
Case
Cooler Master Cosmos
$189.99
ROM Drive
ASUS DVD-ROM
$20.99
Storage
Seagate 500GB 7200RPM HDD
$119.99
Initial Cost
$1,590.92
Upgrade – Video Card
EVGA GTX 275 Superclocked
$269.99
Upgrade- Storage
OCZ Agility 2 60GB SSD
$119.99
Upgrade – Power Supply
OCZ ModXStream Pro 600w
$74.99
Upgrade – Video Card
EVGA GTX 570 Classified
$349.99
Upgrade – Storage
Samsung 840 Pro 128GB SSD
$139.76
PC Cost Total
$2,545.64
New PC
Processor
Intel i7 4770k
$339.99
Motherboard
GIGABYTE Z87X-UD4H
$197.98
Memory
Corsair Vengeance Pro PC3-15000 16GB Kit
$150.46
Video Card
REUSED – EVGA GTX 570 Classified
—
Case
Fractal Design Define XL R2
$119.99
ROM Drive
REUSED – ASUS DVD-ROM
—
Storage
REUSED – Samsung 840 Pro 128GB SSD
—
Power Supply
REUSED – OCZ ModXStream Pro 600w
—
Total
$808.42
As you can see, my old system originally netted me a cost of $1590.92. Mind you, too, that the power supply was reused from a different system that I had, so that saved me a decent amount of money. I did a bunch of upgrades along the way, which also netted me an additional cost of $944.95. So overall, I spent $2535.87 on my Q6600 system! Thats a lot of money! In case youre wondering, I also did not include the cost of the case that I worked with my system in for this review, as that was a case that I reviewed and I only recently transported my system over to it. That one is the Corsair Carbide Air 540, which is absolutely wonderful to work with. If youre interested in picking up that case, you can grab it on Amazon for $139.99 shipped. I did include the cost of the new systems case, the Fractal Design Define XL R2, as I needed a case to permanently install the components in.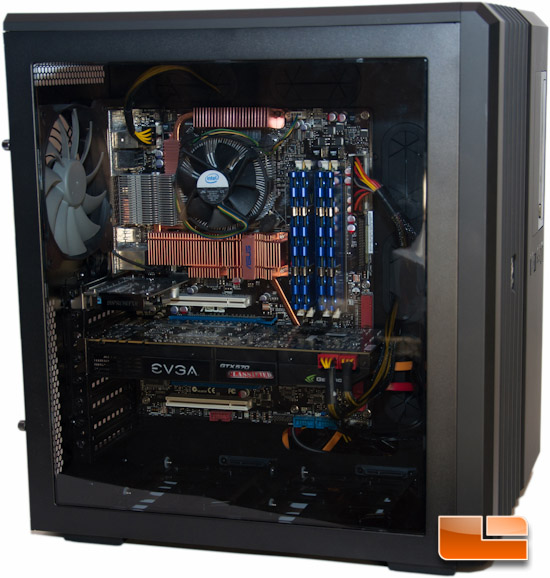 The new system had a couple reused parts, so with that said, this system cost a total of $808.42 to put together. I did reuse one of the most expensive components in a PC, the video card, so if I were to upgrade that, I could probably figure roughly another $350-400, depending on what flavor video card I opt to go with again. Right now my GTX 570 seems to run most modern games to a level that I can accept, so I do not have plans on upgrading that.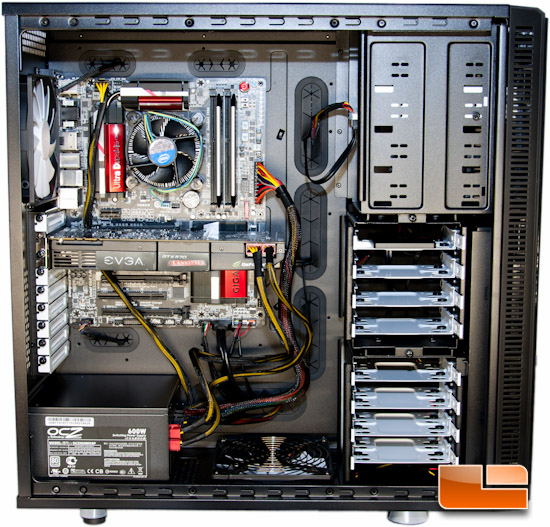 Should you include the cost of everything inside this system, the total cost to build would have cost a total of $1514.14. Not bad for a sweet system, in my opinion! Whats more interesting, though, is Im right around the same ballpark of my original systems cost.
The Test Setups
For my testing, I used the same video card, PSU, and SSD. I did remove the 500GB HDD, as that was only used for storage purposes and was irrelevant to my testing. I also ran Windows 7 Professional on both systems, as ASUS does not have any Windows 8 driver support for the P5E motherboard. All of these choices will make things easier to work with and will show you a more true representation of what a motherboard, memory, and CPU upgrade can do for you if you reused some old components.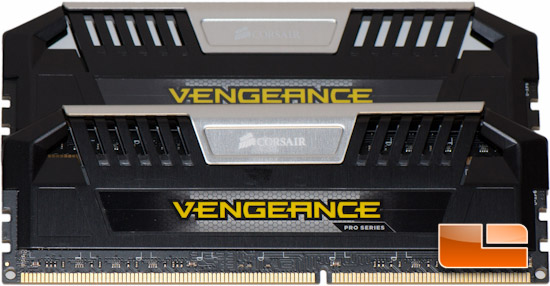 If you scroll back up a bit, you can see the various components that I used in each setup.
Anyway, lets get into the meat of this review and see how well the old Q6600 system pits against the i7 4770k system!