Upgrading from Intel Core 2 Quad Q6600 to Core i7-4770K
By
GIGABYTE Z87X-UD4H ATX Motherboard
The Z87X-UD4H is a new socket 1150 motherboard, designed to work with the Haswell line of Intel processors. This board is part of GIGABYTEs Ultra Durable series, which is designed to provide great performance, cool and efficient operation, and an extended lifespan of the board.
GIGABYTEs Z87X-UD4H board features the latest Intel Z87 chipset. With this chipset you get all of the latest and greatest features with the 4th gen Intel processors. Along with this chipset, you get up six USB 3.0 ports and six SATA 3 6.0Gb/s ports, which the Z87X-UD4H maxes out those onboard numbers. This board can be had for as low as $189.99 plus $8.99 shipping on Amazon, and carries GIGABYTEs 3 year warranty.
Z87X-UD4H Retail Packaging & Bundle
Starting off with the retail packaging of the Z87X-UD4H, you can find a nice catchy package. The color scheme follows that of the board inside, which I really liked. GIGABYTEs name is also flashy in your face. On the front of the packaging are some quick feature references, though if you flip it over, youll find even more details and a diagram outlining key features.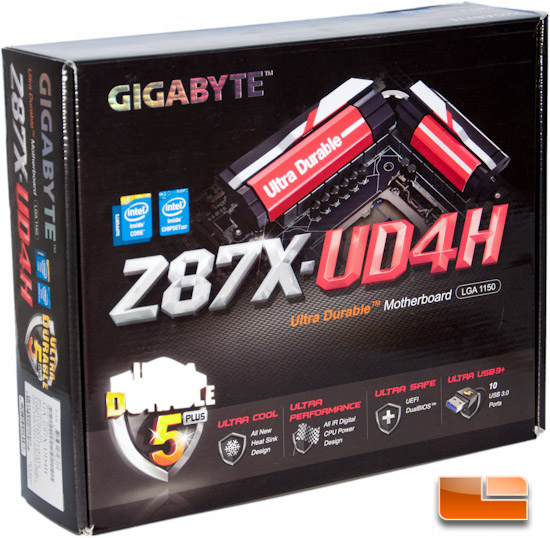 On the inside, the board was wrapped in the usual anti-static bag and the cardboard supporting the board was sturdy. Underneath, I found all of the included accessories, which included: four SATA cables, an SLI bridge, I/O shield, driver/software installation disc, users manual, and a GIGABYTE case badge.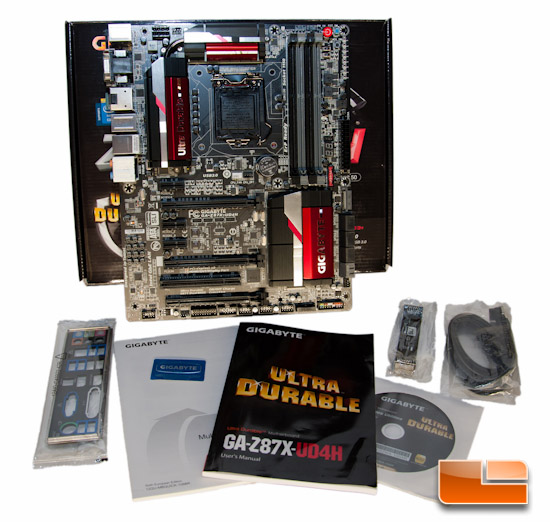 Z87X-UD4H Layout & Features
Taking a look at this boards appearance, I honestly must say I love it. Red and black is always a great combination, and this boards color scheme will run nicely with the case that I am going to use it in! But is it really the appearance that will make you want to buy the board, or is it the features? I know Ive seen a few awesome boards that are quite ugly, but Id still buy them because theyre simply awesome, so for me, it's all about the features!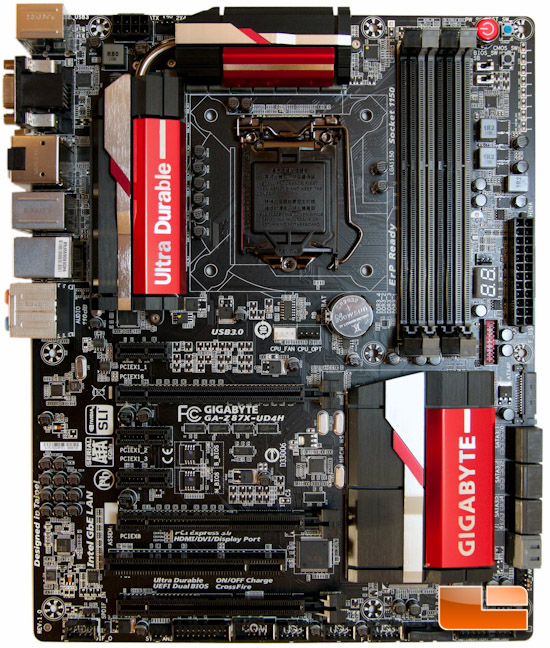 Starting with the top left corner of the board, you cant help but notice the beautiful red Ultra Durable heat sinks that surround the CPU socket. Speaking of the CPU socket, GIGABYTE equips their 8 Series boards with a 15 gold plated CPU socket, to provide reliability and longevity of the socket without having to worry about bad contacts or corroded pins. Positioned below the CPU socket are two fan headers, one being designated for the CPU fan. Right next to the top left mounting hole is the 8-pin ATX power connector and another fan header.
Moving over to the top right, you will find four DIMMs, which support up to 32GB of DDR3 RAM, which do support XMP modules. There are an assortment of buttons, which include onboard power, reset, CMOS reset, dual BIOS dipswitch, and voltage read points. Just below these is a debugging display and the main ATX power connector. Intermingled with these is the header for front panel USB 3.0 connectors. This header supports GIGABYTEs on/off charge technology, which lets you charge devices (IE: cell phone) while your computer is not powered on. Finally, there is another fan header snuck in here.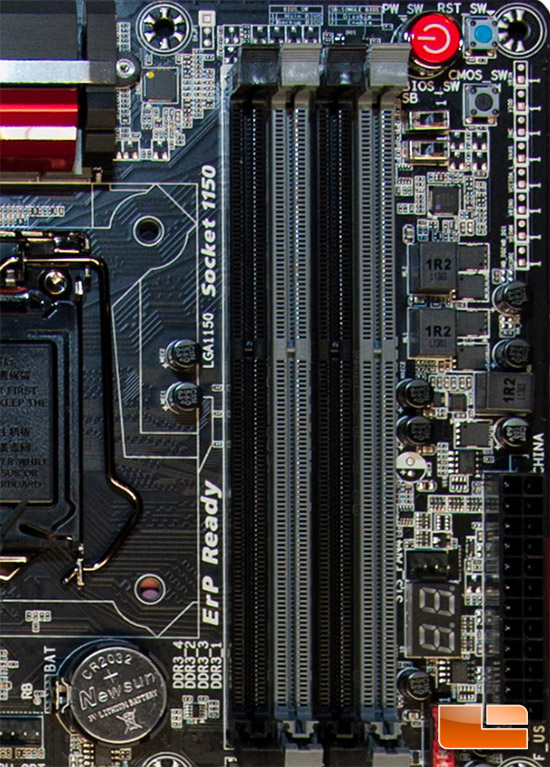 Jumping over to the bottom left you can find your expansion slots. There are a total of three PCIe x16 slots, which you can utilize the top two for SLI or Crossfire, and the three ports will run in (top to bottom) 16/8/4x respectively. Finally you can also find three 1x PCIe slots and one legacy PCI slot. Here is also the 5th of 6 fan headers.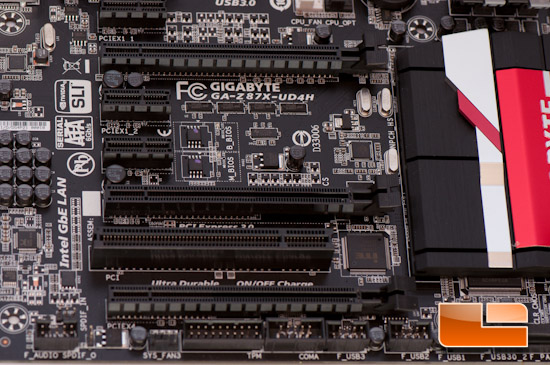 Also over here you can find a nice grouping of GIGABYTEs solid state capacitors, which are designed to give you a piece of mind when pushing your hardware to the limits, providing reliability and stability.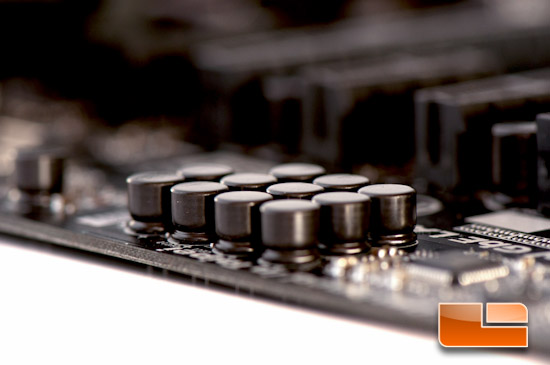 Finally on the bottom right and bottom edge, is where youll find your SATA and front I/O connectors. The SATA connectors consist of six SATA 3 6Gb/s connectors powered by the Intel Z87 chipset, and two SATA 3 6GB/s connectors powered by the Marvell 88SE9172 chip. The Z87 ports will support RAID in 0/1/5/10 configurations, while the ones powered by the Marvell chip only support 0/1. One last thing to point out with the connectors is a SATA power connector. This power connector will be used to give extra power to your PCIe lanes when using multiple demanding graphics cards.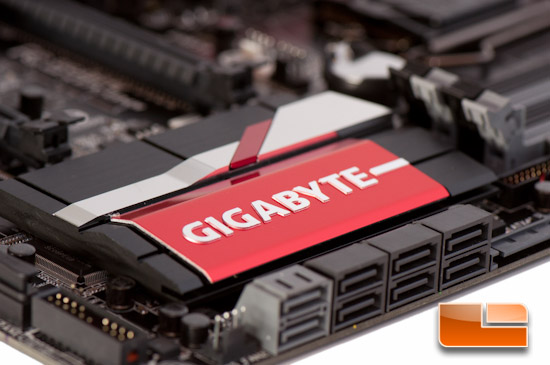 The bottom edge youll find audio, USB, and the case power/reset/etc. button header and the 6th fan header next to the Marvell SATA ports.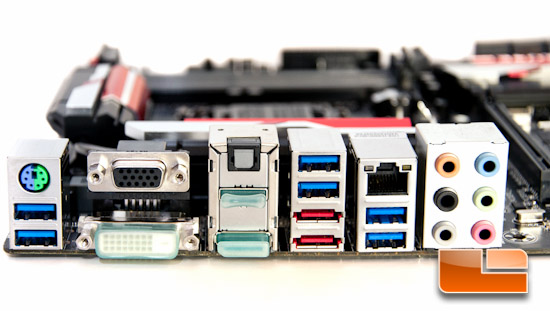 Equipped on the rear I/O panel, you can find the following ports:
1x Intel GbE Gigabit LAN
1x PS/2
6x USB 3.0
2x eSATA (Powered by the Marvell 88SE9172 chip)
1x VGA
1x DVI-D
1x HDMI
1x Display Port 1.2
1x SPDIF Optical Out
6x Audio Jacks for use with the Realtek ALC898 codec (7.1 surround)
That about wraps up the GIGABYTE Z87X-UD4H motherboard. This board looks very promising from the specs and Im pretty confident it will deliver. Before we take a look at how well everything performs together, lets take a quick look at the two setups and see what hardware I have inside.