Toshiba / KIOXIA XG5-P 2TB NVMe SSD Review
By
Final Thoughts & Conclusions
So, chances are you are on the site because you are wondering if the KIOXIA XG5-P 2TB NVMe SSD is worth it. At the end of the day the KIOXIA XG5-P 2TB is lowest priced M.2 2280 NVMe SSD on the market that is new at $219.99 shipped. They are single-sided, use TLC NAND Flash, have on-board DRAM, and are backed by a 3-year warranty. This is also the lowest price the Toshiba / KIOXIA XG5-P has ever been on Amazon! Back in 2018 this drive was commanding a whopping $699. If you are looking for a 2TB NVMe SSD with TLC NAND Flash that should have good endurance the XG5-P will be hard to pass up. KIOXIA never released endurance ratings on the XG5-P, so now TBW information is public for this series.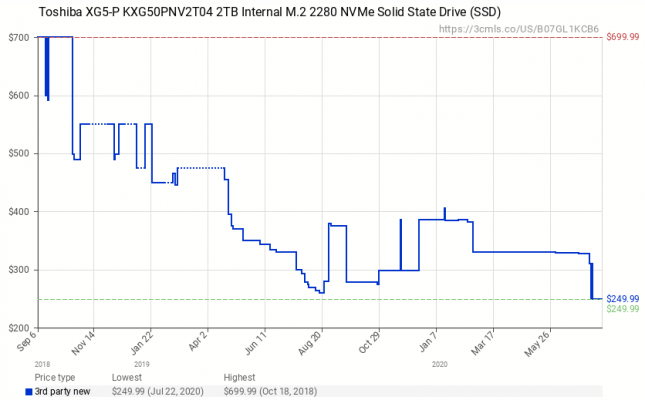 Performance of the KIOXIA XG5-P 2TB was a little underwhelming. In fact, the write speeds were practically half of what they should have been and I was concerned that I received a faulty drive. MyDigitalDiscount quickly sent over a second drive that they personally spot checked before sending. When we got the new drive, we tested it as an empty secondary drive it was getting 3,200 MB/s sequential read and 2,400 MB/s sequential write speeds. This is well above the drives rated read/write speeds of 3000/2200 MB/s.
Once we got the drive setup for testing the performance was back down to 3,000 MB/s read and 1,000 MB/s write. After filling the drive with different amounts of data we figured out that this is just drive characteristic as the XG5-P drastically slows down as the drive is filled up with data. We test all drives filled to 55% capacity for this very reason. So, if you are reading XG5-P performance reviews or any storage review for that matter, be sure to keep an eye on how full the drive is that they are testing. All the drives on Legit Reviews are tested as primary OS drives that are filled over half full!

At the end of the day the KIOXIA XG5-P 2TB drive is an OEM drive that you can get at a heck of a price from MyDigitalDiscount if you are looking for a good deal on a 2TB drive. Performance on the drive is super impressive while it is empty, but it will slow down as the drive is filled. Despite this fact, the XG5-P 2TB drive is still faster than SATA III SSDs and is available at an attractive price point. The only 2TB NVMe SSD that we could find for less was the Inland Professional 2TB with QLC NAND Flash at $199.99 shipped. Having TLC NAND Flash is still preferred by storage enthusiasts over QLC NAND Flash, so the best deal still feels like the KIOXIA XG5-P 2TB at $219.99 shipped if you can snag one before they are gone! The promo code (2TBKT219) for the XG5-P begins on 07/22/2020 at 6PM EST and is valid for 12% off on the Amazon listing.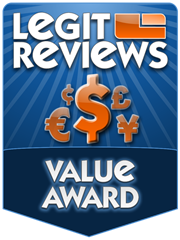 Legit Bottom Line: The KIOXIA XG5-P 2TB is an OEM drive that you can now pick up at impressive price points thanks to surplus drives coming to the market from well-known third parties like MyDigitalDiscount!