NVIDIA GeForce GTX 980 Ti 6GB Video Card Review
By
GeForce GTX 980 Ti 6GB Video Card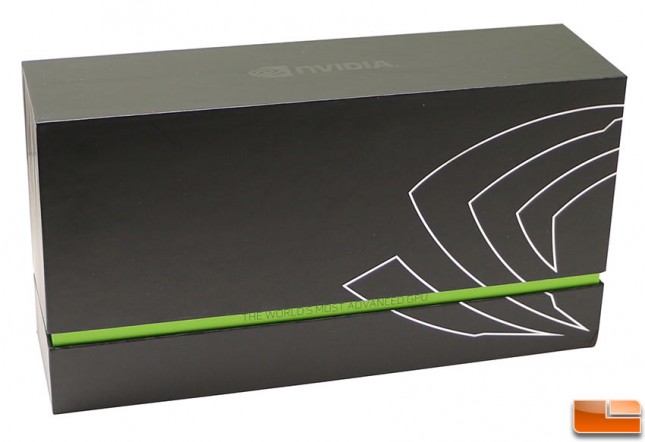 Our NVIDIA GeForce GTX 980 Ti video card showed up in a fancy presentation style box that is fit for gaming royalty!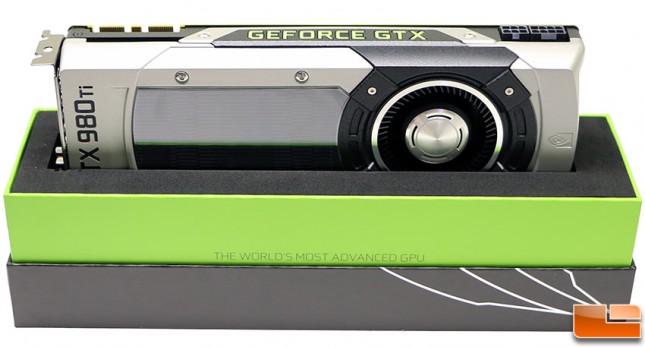 The product packaging was designed to lift off from the top and reveal the GeForce GTX 980 Ti graphics card.
The blower style fan GPU cooler used on the GeForce GTX 980 Ti remains largely unchanged since first being used on the original GeForce GTX Titan in February 2013. NVIDIA isnt getting complacent when it comes to GPU cooler designs, but rather said they came up with a good cooler and the TDP of their high-end discrete desktop cards has not really gone up. If you think about it the GeForce GTX 780, 780 Ti, Titan, Titan X and now the 980 Ti are all 250W TDP cards, so why change the GPU cooler if the temperatures and noise levels are fine?
The Titan X has a magnesium alloy fan housing with an aluminum frame that was trivalent chromium plated to look as good as possible. The aluminum housing has been painted black to give it an aggressive look or stealthy depending on what camp you are in. The GeForce logo on top of the card is still LED backlit and glows NVIDIA green.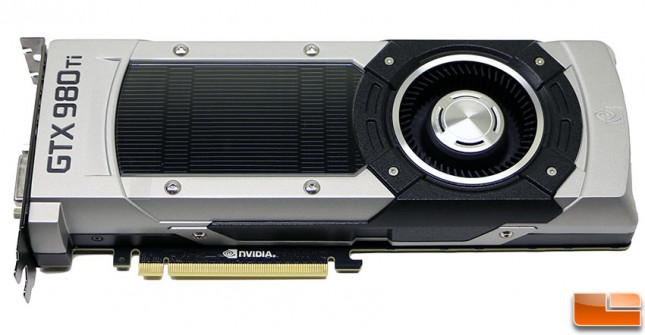 The NVIDIA GeForce GTX 980 Ti reference card measures 10.5-inches in length and takes up two PCI slots. At just 10.5 long it should easily fit inside your current gaming system or any new chassis that you are looking to purchase for your next gaming rig.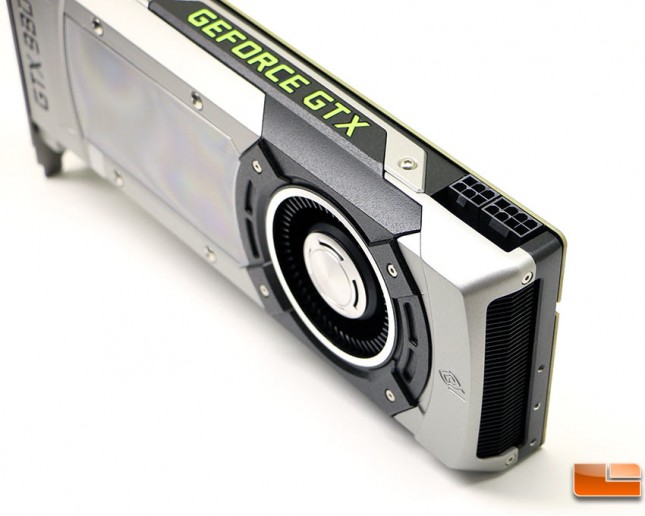 The blower style fan on the GTX 980 Ti basically brings air in from the end of the card and the opening of the blower fan itself and then exhausts said air out the back of the graphics card and outside of the PC chassis.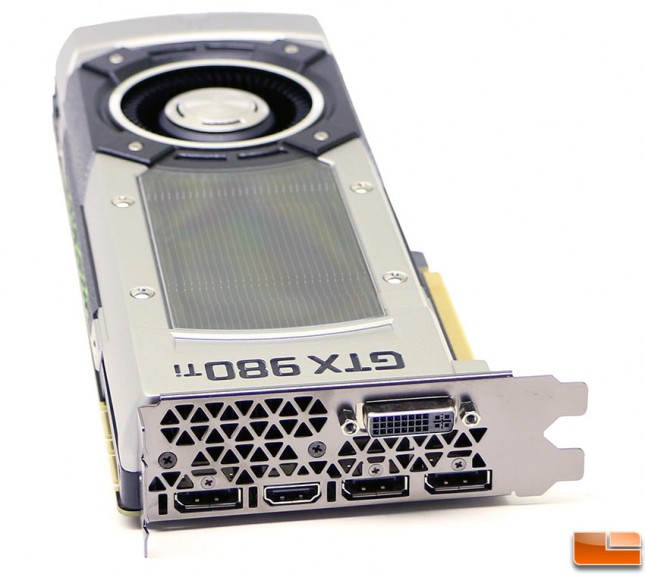 The video outputs on the GeForce GTX 980 Ti reference include three DisplayPort connectors, an HDMI 2.0 connector (supporting [email protected]) and a single dual-link DVI output. This means that NVIDIA now offers a total of five video connections, but only four can be used simultaneously. This new video output arrangement means that you can run three NVIDIA G-Sync enabled displays off of one GeForce GTX Titan Xvideo card if one desires to do so. If you want to run a multi-panel setup and don't want to sacrifice any image quality, you'll likely still need to run a 2, 3 or 4-way SLI multi-GPU setup to get the performance needed to power the resolution garnered by such a display setup. NVIDIA also changed up the way the exhaust ports are shaped on the I/O bracket to increase airflow and to reduce noise.

The ability to support HDMI 2.0 is a pretty big deal and NVIDIA has the world's first GPU that is able to support it. Previous generation GPU's supported HDMI 1.4 and could only officially support 4k displays at 30Hz for '444' RGB pixels and 60Hz for '420' YUV pixels. The GeForce GTX 970/980/Titan X support full-resolution '444' RGB pixels at 60Hz for 4k displays. All GM2xx Maxell GPUs also ship with an enhanced NVENC encoder that adds support for H.265 encoding. NVIDIA claims that Maxwell's video encoder improves H.264 video encode throughput by 2.5x over Kepler and that it can encode 4k video at 60 FPS. The max resolution supported by Maxwell is 5120×3200, so get ready for displays that go way beyond Ultra HD in the years to come!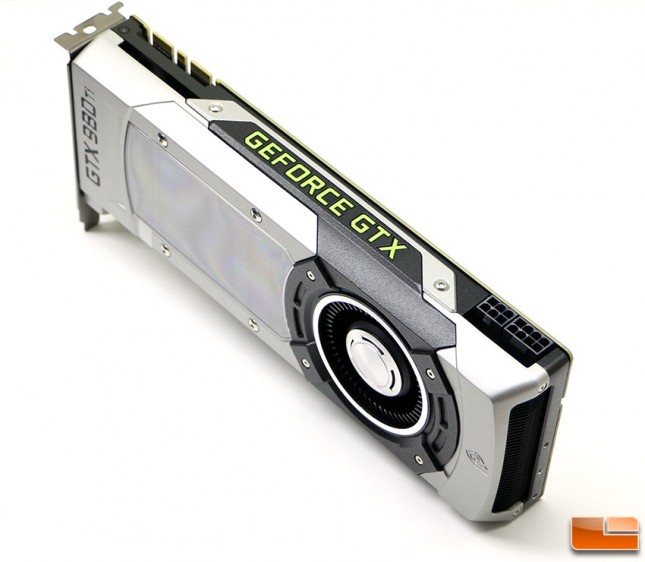 The NVIDIA GeForce GTX 980 Ti has a Thermal Design Power (TDP) rating of 250 Watts and requires one 6-pin and one 8-pin PCIe Power Connector for proper operation. NVIDIA recommends a 600W or larger power supply for a system running one GeForce GTX 980 Ti video card.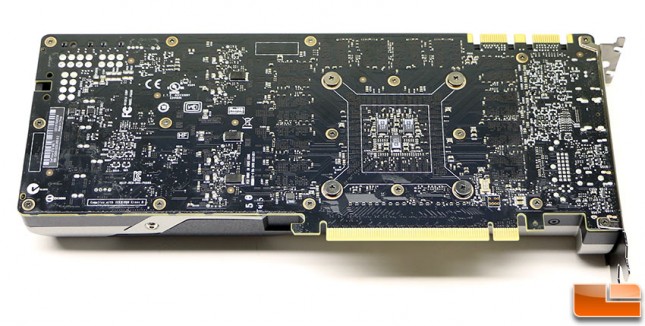 The NVIDIA GeForce GTX Titan X reference card does not come with a backplate and there are no GDDR5 memory components on the back of this reference card.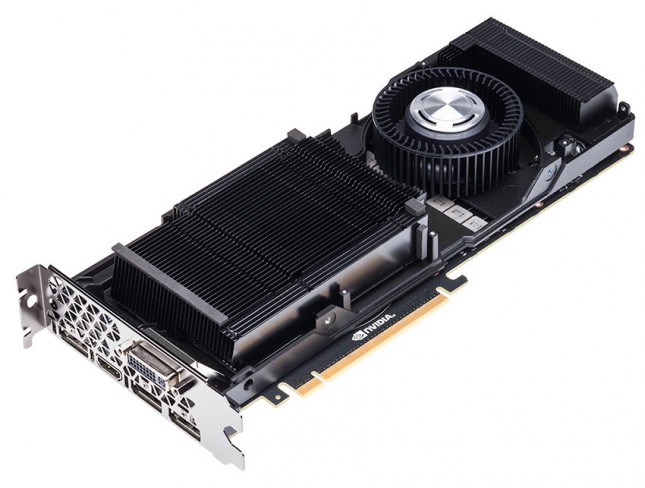 The NVIDIA GeForce GTX 980 Ti uses two sets of aluminum heatinks that has three embedded heatpipes that help keep the Maxwell GM200 GPU nice and cool. NVIDIA says that the default GPU Boost 2.0 settings will allow the GTX 980 to boost up to the highly clock frequency and remain there as long as the GPU temperature remains at or below 80C.
Once you pull the CPU cooler entirely off you can see the PCB of the GeForce GTX 980 Ti reference card along with the GM200 GPU, GDDR5 memory ICs and the 6+2 power phase design. NVIDIA went with a 6-phase VR circuit with integrated dynamic power balancing circuity for the Titan Xs GM200 GPU and there is are two additional power phases for the boards 6GB of GDDR5 memory. NVIDIA is also using polarized capacitors (POSCAPS) to minimize unwanted board noises as well as molded inductors for the very first time on a reference board.
NVIDIA says that the 6+2 phase power supply setup has the ability to supply the GPU with 275W of power at the maximum power target setting of 110% if one would like to overclock the card.
Let's move along to the GeForce GTX 980 Ti test system and then get straight on to the benchmark results!