NVIDIA GeForce GTX 1660 Ti 6GB Video Card Review
By
GeForce GTX 1660 Ti Overclocking
To overclock the ASUS ROG STRIX GeForce 1660 Ti graphics card we first turned to NVIDIA Scanner in EVGA Precision X1 v0.3.11.2 as that is the program we use the most for overclocking. This one-click overclocking tool makes overclocking easy and this is a great starting point to dialing in an overclock for your unique graphics card. After about 10 minutes of running the 'scan' test we ended up with a score of +35 with the default power target. That means we should be able to get another 35 MHz from this Turing GPU.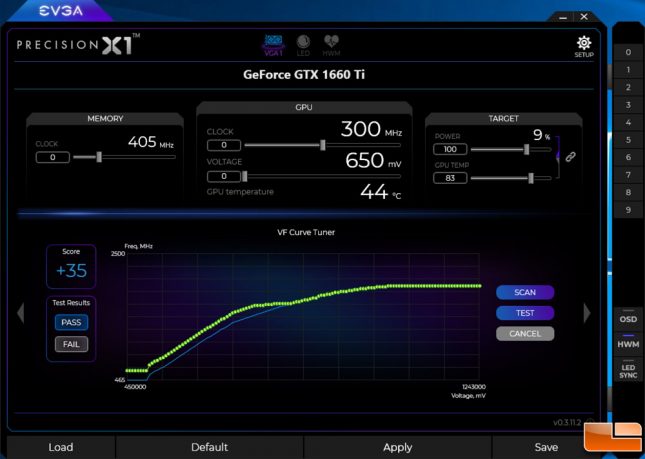 We wanted to push the card more than that, so we manually overclock using EVGA Precision X1 software. We cranked up the power target to 120%, which is the maximum value. We then slowly bumped up the GPU clock until we started getting games to hang or the dreadful on-screen artifacts, which was around +100 MHz. We then added 15mV to the GPU and was able to continue up to +125 MHz on the GPU clock. We then shifted focus to overclocking the memory and had no problems getting that up to +300 MHz. We easily could have pushed the memory further, but since we weren't trying to break any records we kept it simple and stopped at that clock frequency.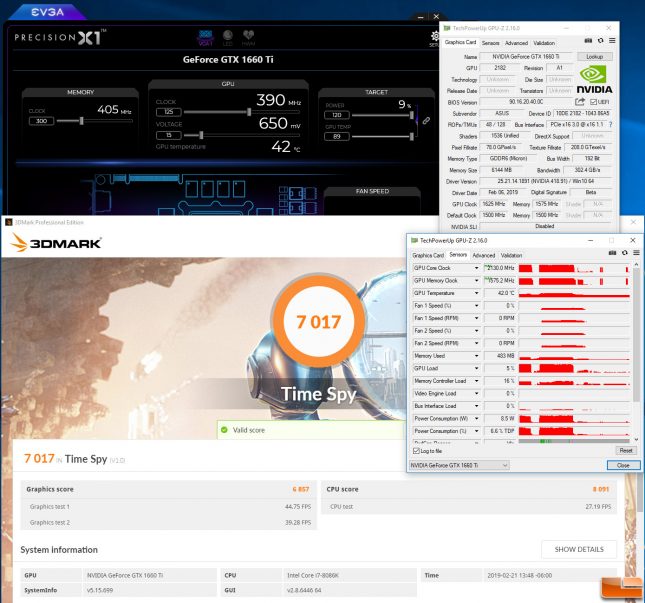 The NVIDIA GeForce RTX 2060 cards feature GPU Boost 4.0 technology, so the GPU clock frequency and voltage scales based on the workload as long as the temperature and power are within reason. This particular overclock had the card boosting up to 2,130 MHz on the Turing GPU core clock when we initially would start playing game or benchmark before settling down to under 2100MHz for the duration of usage.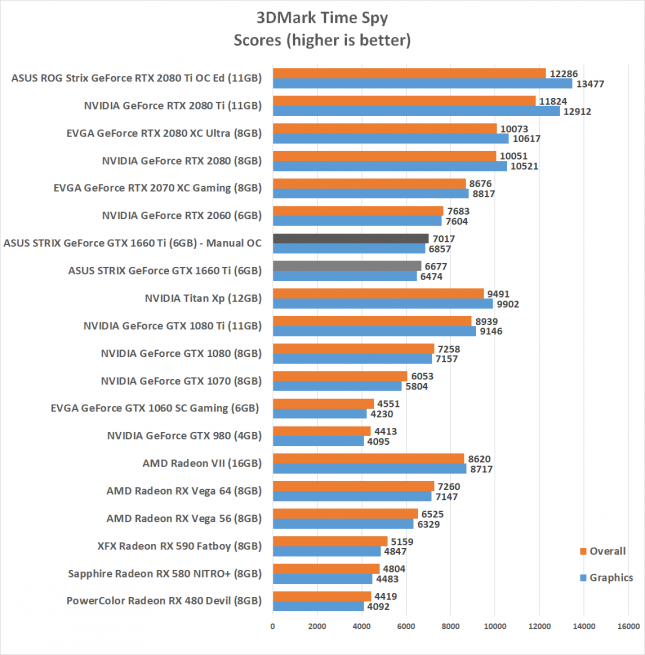 This overclock boosted our 3DMark Time Spy score from 6,677 points to 7,017 points! Being able to break the 7k mark with a graphics card series that starts at $279 is most impressive.
Let's wrap this review up!