NVIDIA GeForce GTX 1660 Ti 6GB Video Card Review
By
Temperature & Power Consumption
The gaming performance on a graphics card is the most important factor in buying a card, but you also need to be concerned about the noise, temperature and power consumption numbers.
ASUS ROG STRIX GTX 1660 Ti Idle Temperatures: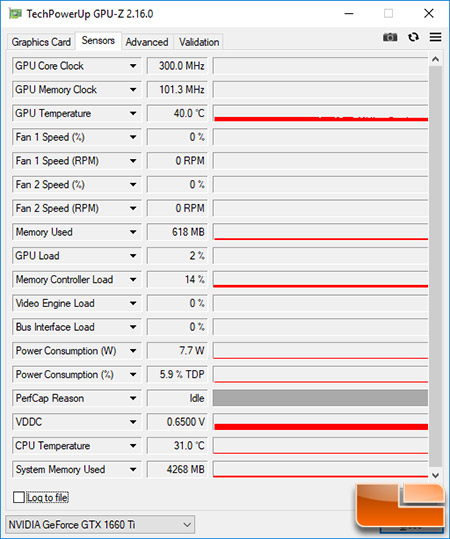 ASUS ROG STRIX GTX 1660 Ti Gaming Temperatures:
At idle after a few hours we were at 40C with no noise since the fans weren't spinning. After playing PUBG for over an hour at 1440P we found that the temperatures topped out at 59C. There was absolutely no choke whine or any noise coming from the card while gaming and this is the most acoustically pleasing card that we have reviewed in many months!
Power Consumption
For testing power consumption, we took our test system and plugged it into a Kill-A-Watt power meter. For idle numbers, we allowed the system to idle on the desktop for 15 minutes and took the reading. For load numbers we ran Rainbow Six Siege at 1440P and recorded the peak power number while the in-game benchmark was running. This is done to ensure the results are repeatable.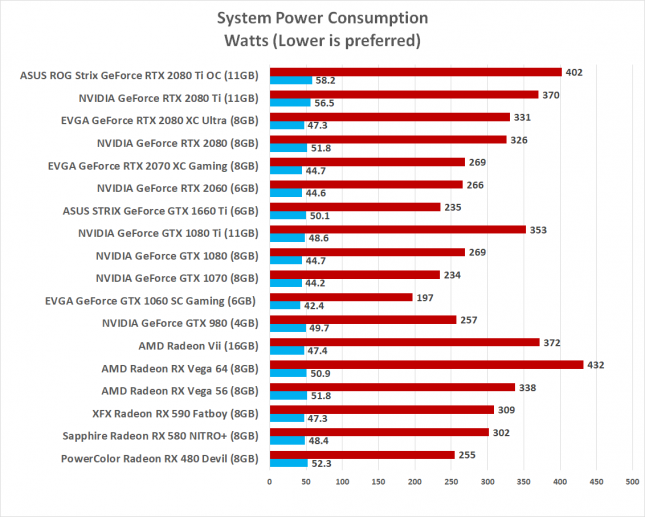 Power Consumption Results: The NVIDIA GeForce GTX 1660 Ti used slightly more power than expected at idle, but at load it did great and topped out at just 235 Watts. This puts is around 75W less power usage than the Radeom RX 590 while gaming and right at the same power draw as the GeForce GT 1070.
Let's take a look at overclocking next!