NVIDIA and EVGA GeForce GTX 1060 Video Card Review
By
Can NVIDIA's GeForce GTX 1060 Squash AMD's Radeon RX 480?
The NVIDIA GeForce GTX 1060 was announced earlier this month, but starting today you should be able to find them for sale online. The GeForce GTX 1060 features the brand new Pascal GP106 GPU that is made on the 16nm FinFET manufacturing process by TSMC. NVIDIA was able to get impressive clock frequencies out of the Pascal GP104 GPU used on the GeForce GTX 1080 and GeForce GTX 1070 series and it appears that trend will continue on the GeForce GTX 1060 as it has 1280 CUDA Cores that are running at a base clock of 1506 MHz and a boost clock of 1709 MHz. When it comes to memory you are looking at 6GB of GDDR5 memory running at 8Gbps on a 192-bit bus for 192.2 GB/s of memory bandwidth. Pretty impressive sounding specifications for a $249 graphics card!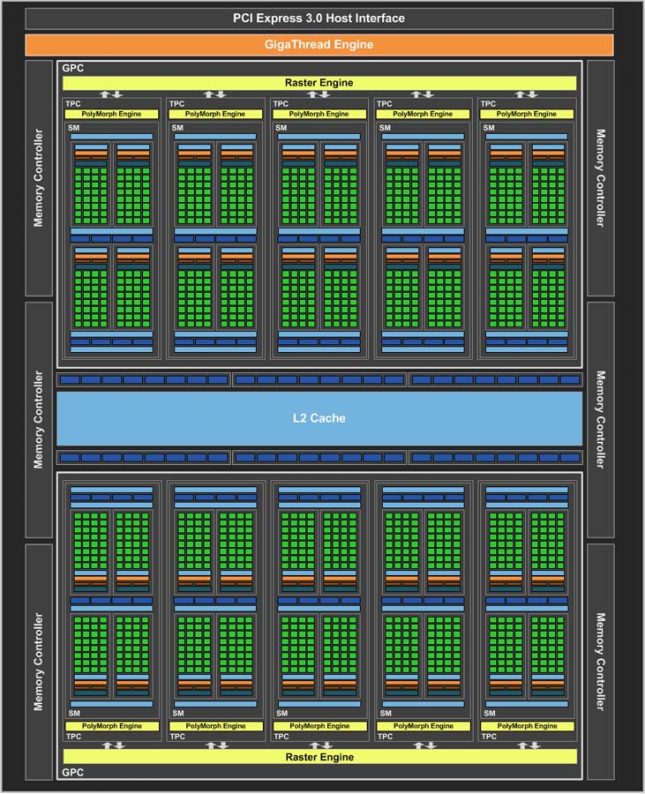 The GP106 'Pascal' GPU used on the GeForce GTX 1060 utilized two GPCs and 10 Pascal Streaming Multiprocessors (SMs). Just like the GeForce GTX 1080 and 1070, the Pascal SMs used for GP106 contain 128 CUDA cores, 256 KB of register file capacity, a 96 KB shared memory unit, 48 KB of total L1 cache storage, and eight texture units. That means the NVIDIA GeForce GTX 1060 has a total of 1280 CUDA Cores and 80 Texture Units.
The GeForce GTX 1060 features six 32-bit memory controllers (192-bit total). Tied to each 32-bit memory controller are eight ROP units and 256 KB of L2 cache. The full GP106 chip used in GTX 1060 ships with a total of 48 ROPs and 1536 KB of L2 cache.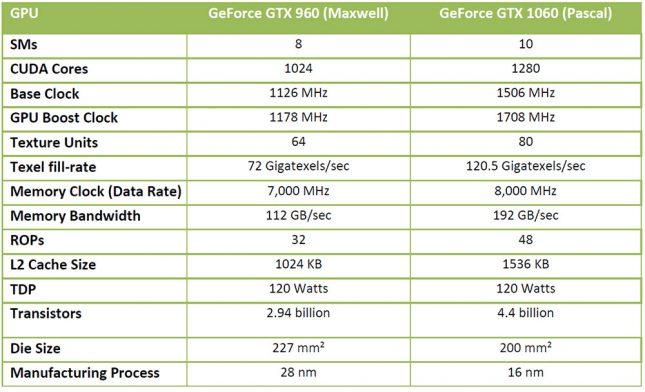 Compared to the GeForce GTX 960 'Maxwell' the GeForce GTX 1060 'Pascal' video card looks like it will be worth updating to as it has the same TDP, but more cores, texture units and ROPs, higher clock speeds, more memory memory. We have a GeForce GTX 960 in our performance charts, so it will be interesting to see how the two generation cards compare.
The NVIDIA GeForce GTX 1060 Founders Edition features a faceted die-cast aluminum body that looks good and gives the card that heavy quality feel. NVIDIA designed the GTX 1060 Founders Edition features a blower style thermal solution to help keep the GP106 GPU nice and cool without needing ear plugs. NVIDIA went with a dual-FETs power supply design for improved power efficiency, along with a low impedance power delivery network and custom voltage regulators. They believe that this is the ideal GeForce GTX 1060 and are charging the premium price of $299 for it. So, you can get the NVIDIA reference design for $50 more than the MSRP of the NVIDIA board partners base designs.
For this launch article we'll be looking at the NVIDIA GeForce GTX 1060 6GB Founders Edition graphics card ($299) and the EVGA GeForce GTX 1060 6GB SuperClocked retail card ($259 before a $10 mail-in rebate). This is EVGA's standard Superclock edition card that features their ACX 2.0 GPU cooler with a single fan design that puts the card at only 7.1-inches in length. The GeForce GTX 1060 Founders Edition is 9.8-inches in length, so EVGA's card is very small.
EVGA's custom GPU cooler features a copper core with dual heatpipes to help reduce temperatures by up to 15C compared to the Founders Edition version. EVGA ships this model with a base clock of 1607MHz and a boost clock of 1835MHz, so it has a nice GPU overclock as the reference card is clocked at 1506 MHz base and 1709 MHz boost. The good news is that the EVGA GeForce GTX 1060 uses a reference PCB layout with the exception of the 6-pin power header.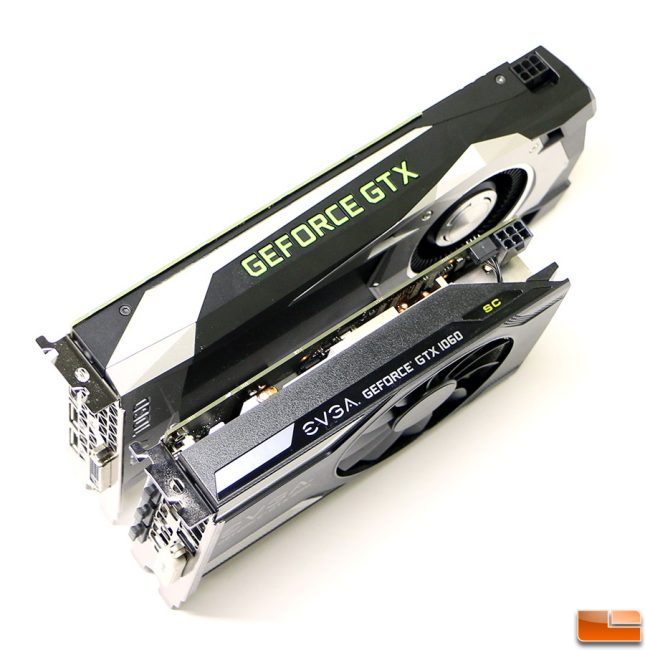 The NVIDIA GeForce GTX 1060 is rated at 120W TDP and has just one 6-pin PCIe power connector. Some custom GeForce GTX 1060 designs will feature an 8-pin connector, but shouldn't be needed unless you are doing some very extreme overclocking!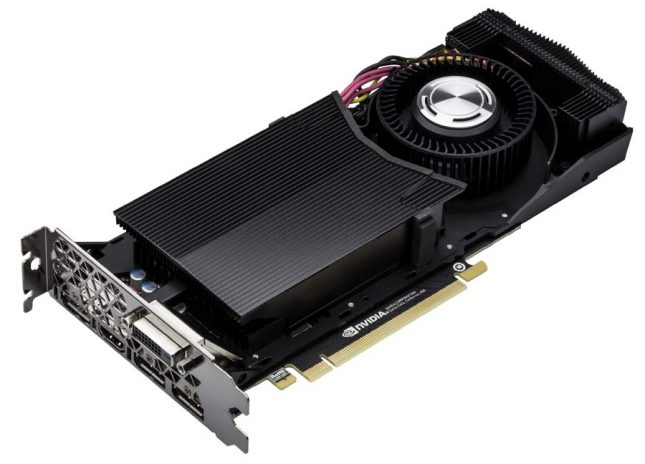 One of the interesting things that NVIDIA has done with the GeForce GTX 1060 Founders Edition is place the 6-pin PCIe power connector at the end of the GPU cooler off the fan shroud. This is interesting as NVIDIA had to solder wires to the reference board to be able to 'move' the 6-pin power connector to the end of the cards cooler for better wire management in PC cases. The concern and feedback from the enthusiast community is that this will make using a water block or custom cooler nearly impossible on the Founders Edition. On the other hand you are paying a $50 premium for the Founders Edition and the big selling point for that card is obviously the sweet looking full metal GPU Cooler!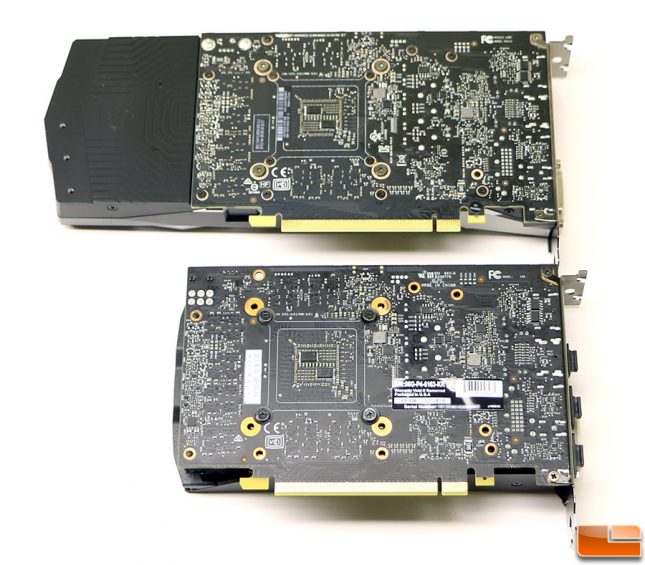 On the back of the GeForce GTX 1060 you'll find no back plate or GDDR5 memory chips, so there isn't too much to talk about. Notice that the SLI Bridge connection is missing from the GeForce GTX 1060? Sadly, NVIDIA has informed us that SLI is not going to be supported on the GeForce GTX 1060 series and we can assume that all future cards in the class will not be supporting multi-GPU technology. It appears that NVIDIA will be using SLI multi-GPU technology support to differentiate between the mainstream and high-end graphics cards.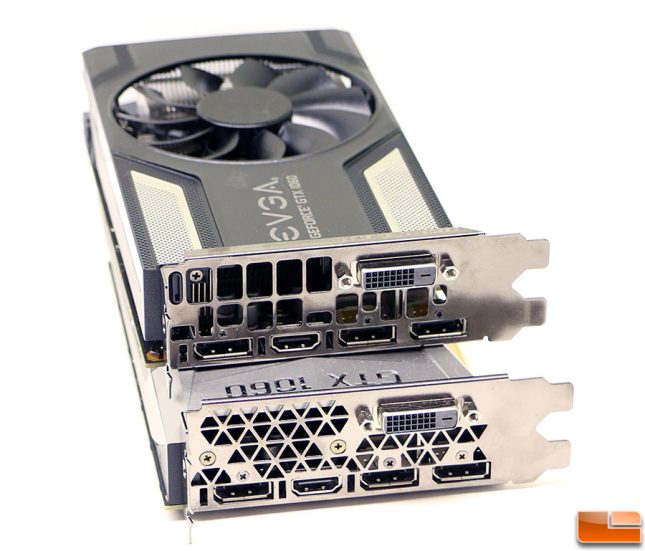 When it comes to video outputs the GeForce GTX 1060 features three DisplayPort 1.4, one HDMI 2.0b and one Dual-Link DVI to ensure that you'll be able to hook it up to your existing display. EVGA is using the reference board design on the EVGA GeForce GTX SC, so the only difference here is the exhaust bracket.
Let's move along to the test system overview and then get straight on to the benchmark results!