NVIDIA and EVGA GeForce GTX 1060 Video Card Review
By
NVIDIA GeForce GTX 1060 Overclocking
The NVIDIA GeForce GTX 1060 is a pretty fast card right out of the box, so we couldn't wait to manually overclock it to squeeze some more performance from the card.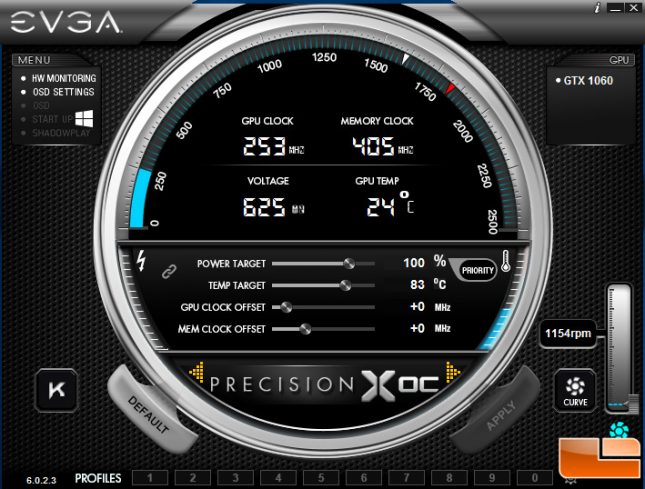 We installed a latest version of the EVGA PrecisionX OC overclocking utility to overclock the EVGA GeForce GTX 1060 video card! You can use whatever software utility you like for overclocking but this is what we wanted to use.
In case you forgot, the EVGA GeForce GTX 1060 SC graphics card is clocked at 1607 MHz base with a boost clock of 1835 MHz. The 6GB of GDDR5 memory is clocked at 2002MHz (8008 MHz effective). Let's see how much higher we can get the GP106 Pascal GPU with 1280 CUDA cores!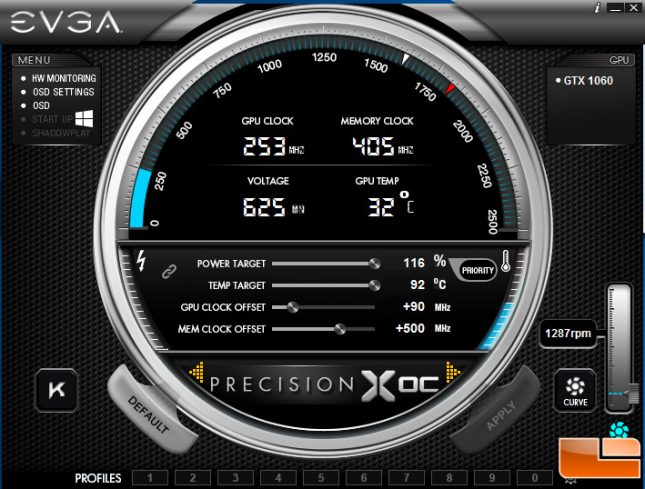 The NVIDIA GeForce GTX 1060 is pretty open when it comes to overclocking. You can increase the power target to 116% and if you leave the GPU Temp Target locked it will automatically increase to 92C. We pushed the GPU Clock offset to +90MHz and the Mem Clock Offset to +500MHz on our card and found it was stable in the game titles that we tested. If we went up to +100 on the GPU Clock Offset we'd get driver crashes in 3D applications.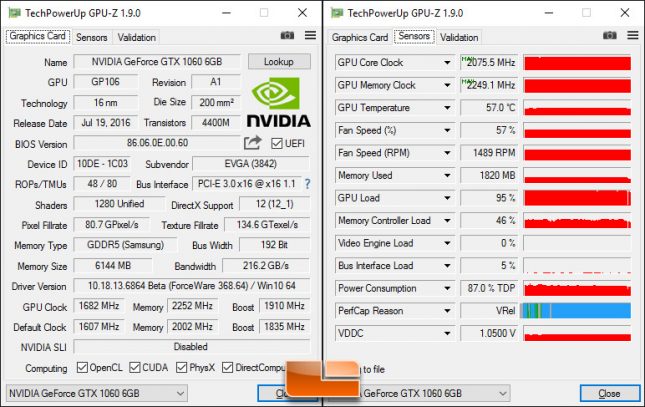 This overclock meant that we were running at up to 2075.0 MHz at times thanks to NVIDIA Boost 3.0 on the core and 2249.1 MHz (8996.4 MHz effective) on the 6GB of GDDR5 memory.
NVIDIA GeForce GTX 1060 Stock: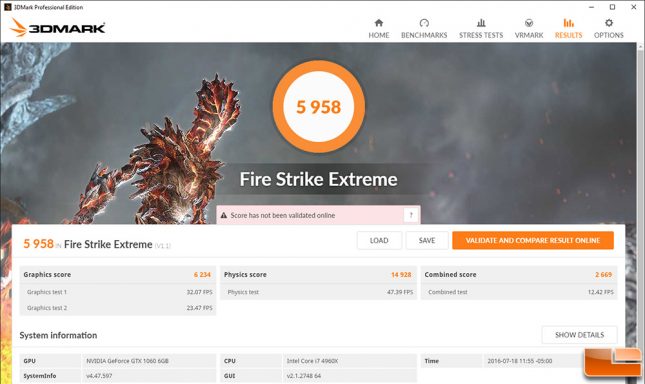 NVIDIA GeForce GTX 1060 Overclocked (+90/+500):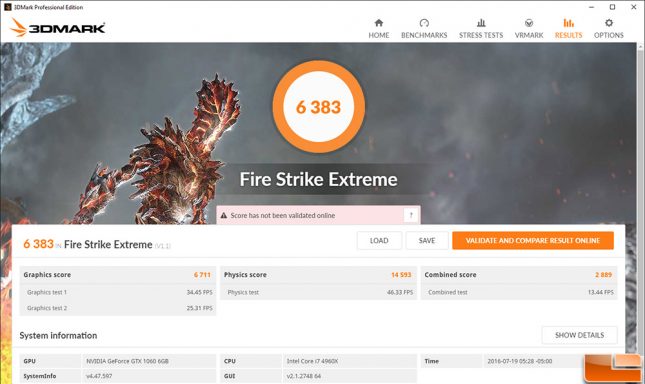 By overclocking the EVGA GeForce GTX 1060 6GB SC graphics card we were able to take the score of 5,598 on 3DMark Fire Strike Extreme and raise it up to 6,383. This is a 425 point increase in our overall 3DMark score, which represents a performance gain of 7.5 percent. The overal FPS average in Graphics Test 1 went from 32.07 to 34.45, which is a 7.4% performance gain in this particular graphics test.
We benchmarked the GeForce GTX 1060 overclocked to +90MHz core and +500MHz memory in a number of game titles and found that it was rock solid with nice performance gains.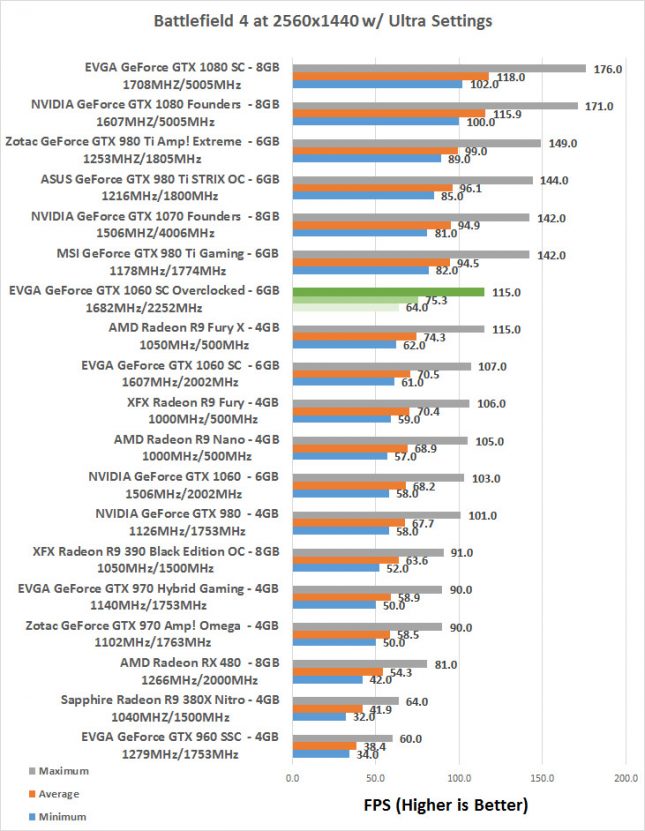 For example in BF4 at 2560 x 1440 we averaged 68.9 FPS on NVIDIA's Founders Edition card and 70.5 FPS on the EVGA GeForce GTX 1060 with a factory overclock. When we manually overclocked the EVGA GeForce GTX 1060 we were able to get the average FPS up to 75.3 FPS, which is faster than the mighty AMD Radeon R9 Fury X with HBM1 memory! Very impressive scores as we are getting 20FPS or 37% more performance than a stock AMD Radeon R9 480 reference card.
Let's wrap this review up!