NVIDIA and EVGA GeForce GTX 1060 Video Card Review
By
Temperature & Noise Testing
The gaming performance on a graphics card is the most important factor in buying a card, but you also need to be concerned about the noise, temperature and power consumption numbers.
NVIDIA GeForce GTX 1060 6GB Founders Idle and Load Temps: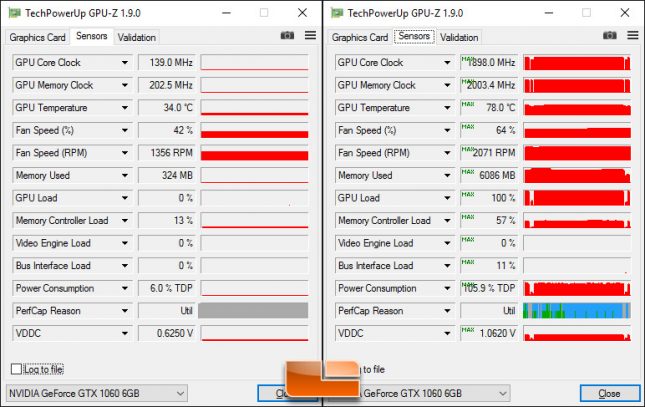 EVGA GeForce GTX 1060 6GB SC Idle and Load Temps: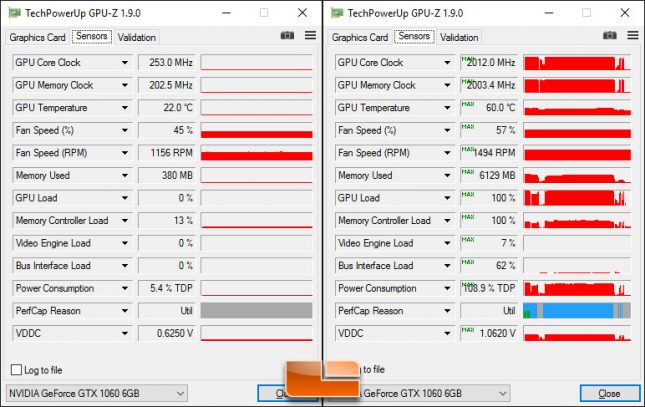 When it comes to temperatures the NVIDIA GeForce GTX 1060 with the stock GPU cooler idled around 34C on our open air test bench and then hit 78C at load while gaming.The EVGA GeForce GTX 1060 SC idled at just 22C and topped out at 60C when gaming, so there is a huge difference between GPU coolers! The EVGA GeForce GTX 1060 SC was louder at idle, but the temperatures were amazing. Both cards voltages were identical as they topped out at 1.0620V while they idled at 0.6250.
UPDATE 7/22/2016: EVGA sent over a new 'FanStop' vBIOS for the GeForce GTX 1060 SC that allows for semi-passive fan curve and also unlocked full manual control over the fan speed.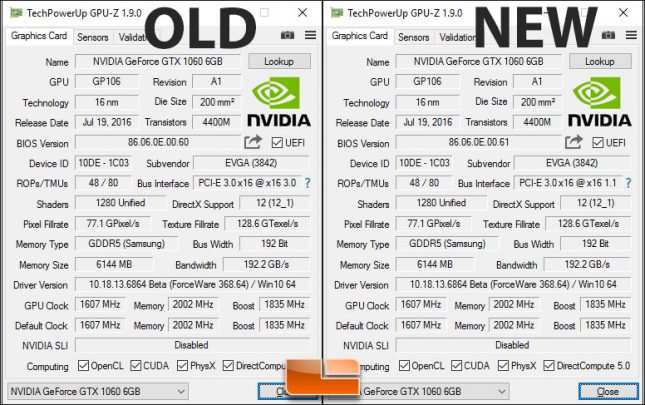 Old BIOS ID: 86.03.0E.00.00
New BIOS ID: 86.03.0E.00.01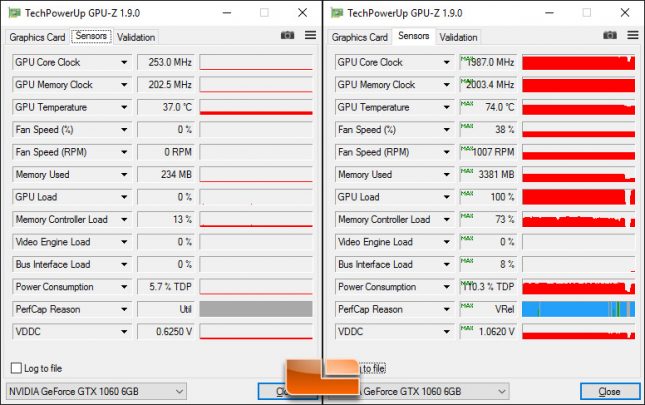 Noise is way down at idle/load, but temps are of course up. We originally got 22C at idle and 60C at load on an open air test system and that was amazing. Now we are getting 37C at idle and 74C at load, but the card is silent at idle and much quieter at load. Noise was 39.8dB idle and 43.4dB load and now they are at 37.9dB idle and 38.4dB at load. Going down 5dB is huge as the decibel scale is logarithmic! We also noticed that the idle power from 96W down to just 94-95W with the fan off, so lower noise, less power and still respectable temperatures. If you wanted to run cooler you could always adjust the fan profile with a utility like EVGA Precision X OC.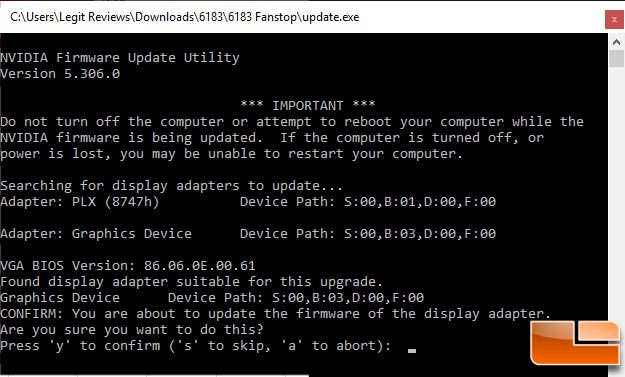 The vBIOS update process is simple…
Uninstall all NVIDIA drivers, reboot PC
Run setup file
Reboot PC again and install drivers
From what we have been told the final build of this vBIOS will be released to the public shortly after testing is complete.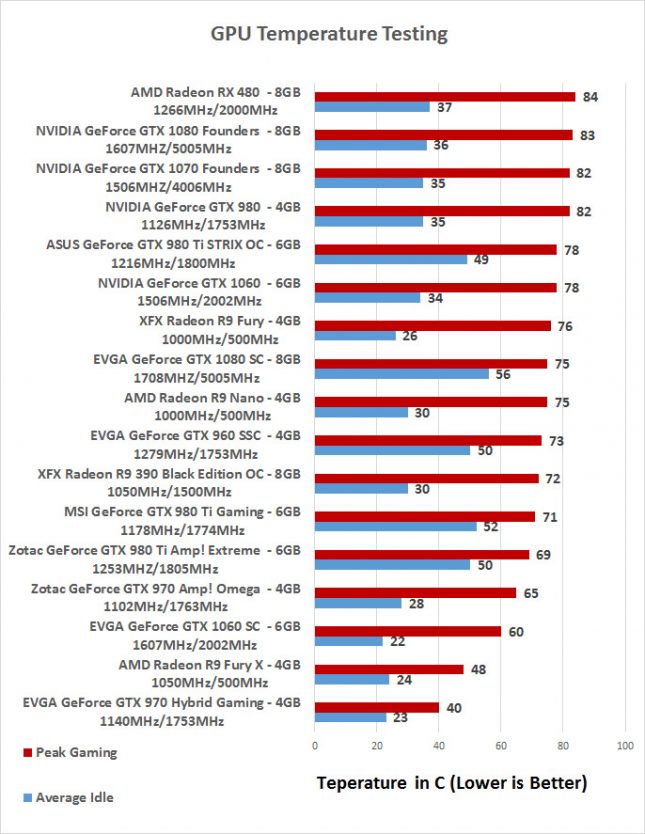 Here is a chart that shows the temperatures of the GeForce GTX 1060 versus some other high-end desktop cards and you can see the Founders Edition card is okay, but the EVGA GeForce GTX 1060 SC is rather impressive!
Sound Testing
We test noise levels with an Extech sound level meter that has 1.5dB accuracy that meets Type 2 standards. This meter ranges from 35dB to 90dB on the low measurement range, which is perfect for us as our test room usually averages around 36dB. We measure the sound level two inches above the corner of the motherboard with 'A' frequency weighting. The microphone wind cover is used to make sure no wind is blowing across the microphone, which would seriously throw off the data.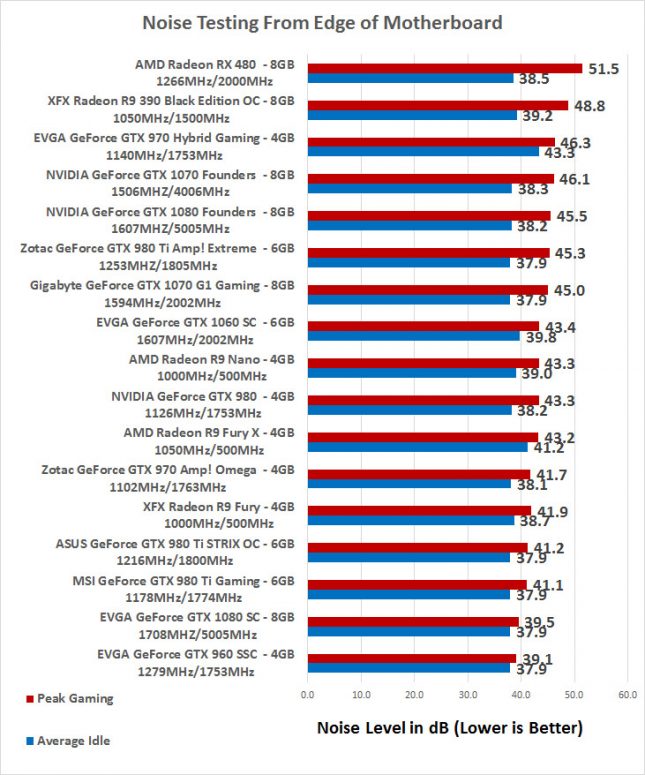 The EVGA GeForce GTX 1060 SC runs at 45% fan speed by default and it can't be adjusted lower right now. EVGA is going to be releasing a new vBIOS for this card in the days ahead that will make this card a 0dB card at idle and also allow for better manual adjustment. Right now the EVGA GeForce GTX 1060 SC is in the middle of the chart for noise, but it should get better!
** The AMD Radeon R9 Fury X reference card that we are using was the original model with a loud water pump that whines. AMD changed the pump design before the cards hit the retail market, but wasn't willing to replace ours. We expect retail cards to perform quieter for this and hopefully AMD will send us a replacement card for proper noise testing. **