NVIDIA GeForce GTX 1060 6GB Video Card Coming For $249 on July 19th
By
The NVIDIA GeForce GTX 1060 will be coming on July 19th for as little as $249 from board partners and will feature GeForce GTX 980-level performance! NVIDIA will also be releasing a special limited GeForce GTX 1060 Founders Edition, basically the reference model, that will be available only directly from NVIDIA for $299.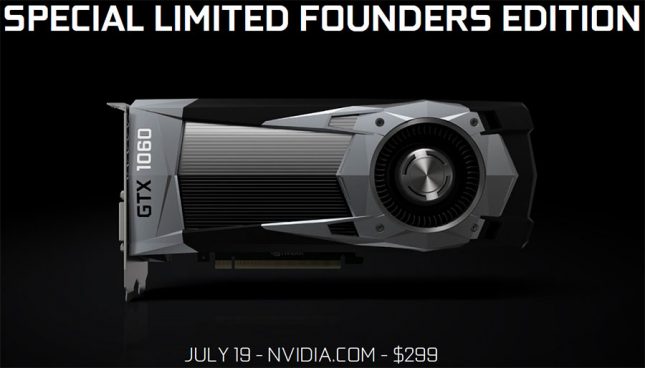 The NVIDIA GeForce GTX 1060 features the brand new Pascal GP106 GPU that is made on the 16nm FinFET manufacturing process by TSMC. NVIDIA was able to get impressive clock frequencies out of the Pascal GP104 GPU used on the GeForce GTX 1080 and GeForce GTX 1070 series and it appears that trend will continue on the GeForce GTX 1060 as it has 1280 CUDA Cores that are running at a base clock of 1506 MHz and a boost clock of 1709 MHz. When it comes to memory you are looking at 6GB of good old GDDR5 memory running at 8Gbps on a 192-bit bus for 192.2 GBs. According to leaked GPU-Z screenshots a stock clocked GeForce GTX 1060 has a pixel fill rate of 72.3 GPixel/s while the texture fill rate is 159.6 GTexel/s. The GeForce GTX 1060 would have 3.85 TFLOPS of peak compute performance. Not bad for a card that uses a single 6-pin connector and has a TDP rating of just 120 Watts!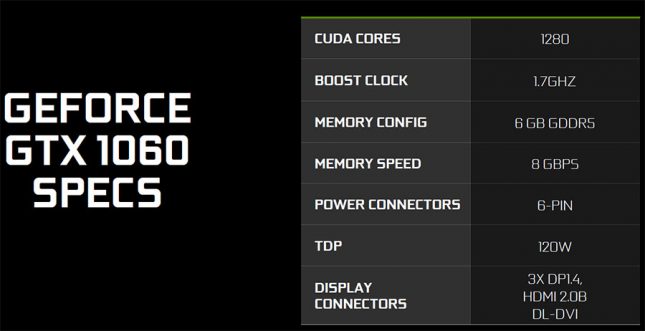 The great news is that NVIDIA says that the GTX 1060 appears to be a stellar overclocker with NVIDIA saying that you can easily overclock the CUDA cores to 2GHz and possibly beyond! NVIDIA is usually somewhat conservative when it comes to announcing overclocking performance before a product launch, so to claim it can hit 2GHz is a good sign that this $249 graphics card has plenty of headroom left in it! The GeForce GTX 1060 performs quite well at stock speeds though as NVIDIA claims it will beat the AMD Radeon RX 480 8GB graphics card ($239) by an average of 15% on top game titles and is over 75% more power efficient. We can't wait to benchmark the card and bring you the results on July 19th!
The NVIDIA GeForce GTX 1060 Founders Edition features a faceted die-cast aluminum body that looks good and gives the card that heavy quality feel. NVIDIA designed the GTX 1060 Founders Edition features a blower style thermal solution to help keep the GP106 GPU nice and cool without needing ear plugs. NVIDIA went with a dual-FETs power supply design for improved power efficiency, along with a low impedance power delivery network and custom voltage regulators. They believe that this is the ideal GeForce GTX 1060 and are charging the premium price of $299 for it. So, you can get the NVIDIA reference design for $50 more than the MSRP of the NVIDIA board partners base designs.
There have been rumors of a GeForce GTX 1060 with less than 6GB of memory for months, but NVIDIA hasn't talked about any GeForce GTX 1060 3GB models in our GTX 1060 launch conversations.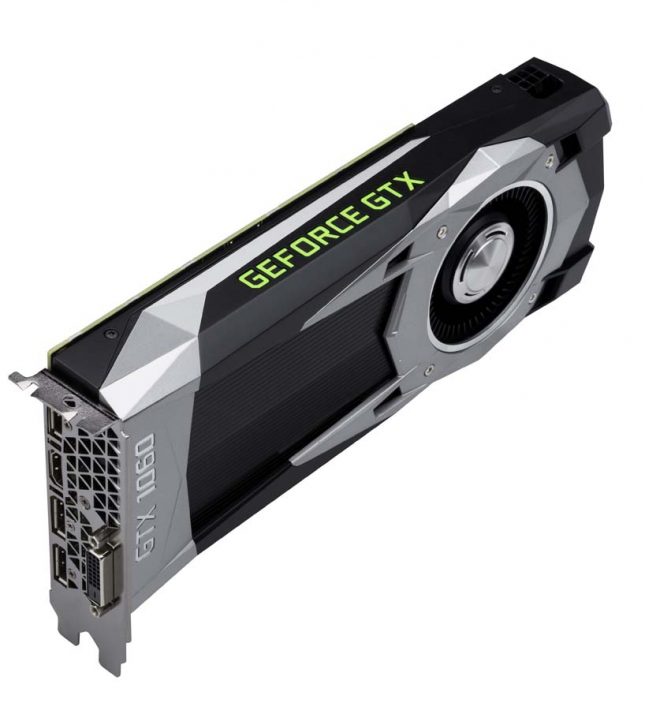 One of the interesting things that NVIDIA has done with the GeForce GTX 1060 Founders Edition is place the 6-pin PCIe power connector at the end of the GPU cooler off the fan shroud.
This is interesting as NVIDIA had to solder wires to the reference board to be able to 'move' the 6-pin power connector to the end of the cards cooler for better wire management in PC cases. The concern and feedback from the enthusiast community is that this will make using a water block or custom cooler nearly impossible on the Founders Edition. On the other hand you are paying a $50 premium for the Founders Edition and the big selling point for that card is obviously the sweet looking full metal GPU Cooler!
Notice that the SLI Bridge connection is missing from the GeForce GTX 1060? Sadly, NVIDIA has informed us that SLI is not going to be supported on the GeForce GTX 1060 series and we can assume that all future cards in the class will not be supporting multi-GPU technology. It appears that NVIDIA will be using SLI multi-GPU technology support to differentiate between the mainstream and high-end graphics cards.
Want to guess what the three mystery screw holes are for at the end of the at the end of the card? We have no clue, but NVIDIA tapped and threaded three holes there for some reason!

When it comes to video outputs the GeForce GTX 1060 features three DisplayPort 1.4, one HDMI 2.0b and one Dual-Link DVI to ensure that you'll be able to hook it up to your existing display.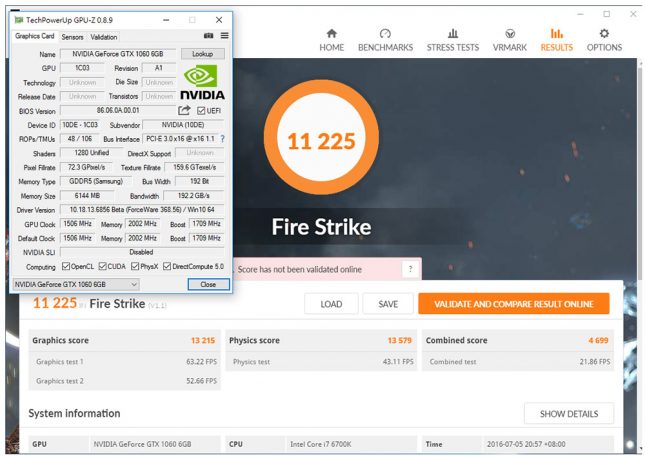 With regards to the GeForce GTX 1060's performance we don't have drivers yet, so we can't run any numbers and aren't allowed to show them to you until July 19th even if we did. Luckily, GTX 1060 benchmark results have leaked and show an overall score of 11,225 and a GPU score of 13,215 on 3DMark Fire Strike on a system running an Intel Core i7-6700K processor. Our testing with an AMD Radeon RX 480 8GB reference card on a test system powered by an Intel Core i7-4960X processor got 10,662 points in the overall test and 12,256 in the GPU test. This puts the NVIDIA GeForce GTX 1060 <10% ahead.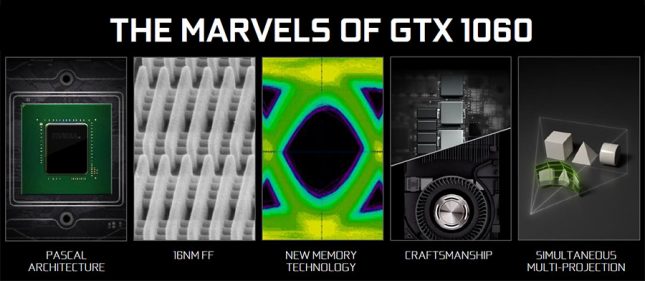 NVIDIA GeForce GTX 1060 Key Facts:
The GTX 1060 has been crafted for speed and optimized for performance per watt. Manufactured on the leading-edge FinFET 16nm process, the GTX 1060 delivers GTX 980-level performance and twice the energy efficiency in VR. It consumes only 120 watts of power while driving the latest VR and DirectX 11/12 PC games at blistering speeds
GTX 1060 custom boards will be available starting

July 19

from add-in card partners worldwide, including ASUS, Colorful, EVGA, Gainward, Galaxy, Gigabyte, Innovision 3D, MSI, Palit, PNY and Zotac. MSRP will start at $249.
Our Pascal architecture is very scalable. While 1080 and 1070 are based on the same chip (GP104), GTX 1060 is built on a new chip GP106allowing us to target the sweet spot of the market.
The GTX 1060 features 1,280 CUDA cores, 6GB of GDDR5 memory running at 8Gbps and a boost clock of 1.7GHz, which can be easily overclocked to 2GHz for further performance. Across the top gaming titles, GTX 1060 is on average 15 percent faster and over 75 percent more power efficient than the closest competitive product.
Like the entire GeForce GTX 10-series, GTX 1060 includes support for NVIDIA Simultaneous Multi-Projection technology, which allows the GTX 1060 to seamlessly project a single image simultaneously to both eyes, yielding a 3x VR graphics performance improvement over previous generation GPUs. This allows GTX 1060 users to play VR games with higher levels of detail, without sacrificing performance or quality, for a more realistic, immersive experience. Simultaneous Multi-Projection is being integrated into the worlds biggest game engines, Unreal Engine and Unity and there are more than 30 games are already in development, including Unreal Tournament, Poolnation VR, Everest VR, Obduction, Adr1ft and Raw Data.
The special limited GeForce GTX 1060 Founders Edition boarddesigned and built by NVIDIAwill be available starting

July 19

for $299 at www.nvidia.com only. The GeForce GTX 1060 Founders Edition is crafted with premium materials and components, including a faceted die-cast aluminum body machine finished for strength and rigidity and a thermal solution designed to run cool and quiet. Like the GeForce GTX 1080 and GTX 1070 Founders Edition boards, a dual-FETs power supply is used to improve power efficiency, along with a low impedance power delivery network and custom voltage regulators.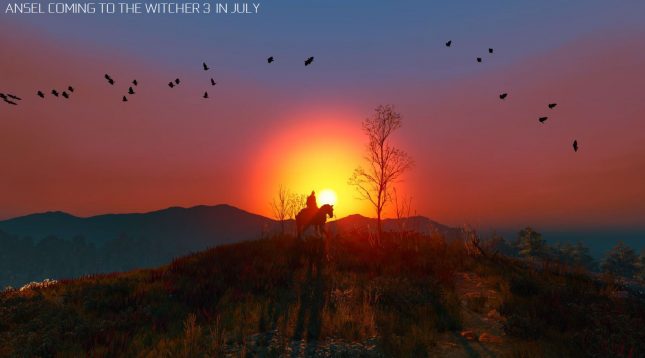 The GeForce GTX 1060 also supports NVIDIA Ansel technology, a powerful game-capture tool that allows gamers to explore, capture and share the artistry of gaming in ways never before possible. With Ansel, users can compose the gameplay shots they want, pointing the camera in any direction, from any vantage point within a gaming world, and then capture 360-degree stereo photospheres for viewing with a VR headset or Google Cardboard.
NVIDIA today is announcing the immediate availability of the first game to support Ansel Mirrors Edge: Catalyst. The second, Witcher 3: Wild Hunt, will be available later this month. More are in development, including Epic Games Fortnite, Paragon and Unreal Tournament; Cyan Worlds Obduction; Theklas The Witness; Boss Key Productions Lawbreakers; Ubisofts Tom Clancys The Division; and the highly anticipated No Mans Sky from Hello Games.